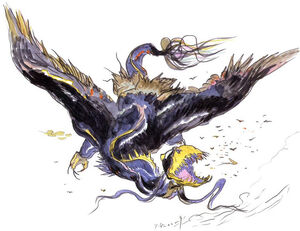 Zu (ズー, Zū?), also known as Zuu, is a recurring enemy in the Final Fantasy series, ever since its first appearance in Final Fantasy IV. A Zu is typically a gigantic black bird with a long neck. Zus have high HP and use strong physical attacks. In later games they often appear in the same genus as the Garuda.
Appearances
[
]
Zus normally appear around Mysidia in either the forests, or plains, and are easily dispatched due to their weakness of death and Cecil's recent acquisition of the Deathbringer. A stronger version of Zu, known as the Rukh, can be encountered around the Eblan area, though they do not pose much more of a threat than a Zu at the time they can be encountered. Rukhs are green.
Zus are rather strong when encountered in each tale, and can attack twice. Upon defeat, they relinquish valuable items. Zu is also fought as a boss in Izayoi's section of Edge's Tale, but due to HP and MP restoring pots placed throughout the area, as well as save points, it is easy to level grind since the enemies give decent EXP. As there are no party members to divide EXP between, it can therefore can be defeated without much effort.

Zus appear around Karnak up to the Library of the Ancients. They are moderately powerful enemies at the time they are fought, and offer a great deal of EXP and gil. They can either be fought alone or with two Aegirs. The upgraded Zu, Rukh, can be fought in the merged world on various oceans, and are a much more difficult enemy to defeat with the ability to inflict major Wind elemental damage to the party with its Breath Wing.

Zuu can be fought in either the Battle Square or on the bridge in Mt. Nibel. Tonadu can be fought around Mideel on dark areas, and aren't much more difficult to defeat than Zuu. They both can yield a Bird Wing upon defeat.

Zuus can be fought on Cleyra's Trunk. They are not a threat save for their Swallow ability, which removes a character from the battle.

Zu enemies are powerful enemies encountered solo in the Bikanel Desert, although in the section where Home is located, it is accompanied by two Cactuars.

Zu is a normal enemy. In Oversoul, they are one of the most powerful, as they can defeat the entire party with just one blow with Chicken Wing Lv.3, and they all can destroy specific items.

Zus are members of the Bird Family encountered in the Buburimu Peninsula.


Zus are normal enemies encountered on the Ozmone Plain. They fly out of reach of melee attacks, and must be hit with ranged attacks, magick or the Telekinesis technick.

Zu appears as the second boss in the level 50 dungeon Pharos Sirius. It has made a roost near the top of the lighthouse and hatches pullets and cockerels to help it in battle. Another type of Zu, called Cornu, appears in Outer La Noscea as an A-rank Elite Mark.
Smaller varieties, called Anzu, commonly nest throughout the Sea of Clouds.
Players can also obtain a Zu Hatchling minion as a prize from the Manderville Gold Saucer. Also available is a Zu Mount obtained by turning in an Iron Voyage Spoil in Idyllshire which can be obtained via Free Company Airship missions.

Zu is a large, high level enemy fought during the Feathered Giant of the Firesmoke Hunt with higher Strength than HP.

While not appearing as normal enemies, Zus are used by the Kingdom of Concordia during field battles, to attack other cities. Their appearance is based off the Zus in Final Fantasy X.
Zu appear as an enemies. The Zu resembles the Zu from Final Fantasy X.
Zu appears as a normal enemy in the Lynari Desert, having extremely high HP and elemental attacks.

Garuda, named a Zuu by Alhanalem, appears as a boss, fought at Mount Vaal and Lunite Temple. It has a more mechanical-like appearance than past Zu appearances, and is blue instead of the normal black color of previous Zu appearances as well.

Zu appear in the opening Playable Event, attacking the Alexis II. They are later encountered in the Edge of Oblivion and Yuke Sky City, and are not aggressive, allowing Layle to use them as transport. Their location hints that they may not be native to the material world.

Zuh is a boss encountered in Doom Castle, being a palette swap of the Pazuzu boss from earlier in the game. It fights just like its previous incarnation.

Zuu appear as a type of enemy.

This huge black bird bears the same name as a wicked bird of legend. It dives down from high elevations to seize its prey, and once within its fearsome talons there is no escape. Even airships have been known to fall before it.

Zu's CollectaCard
Zu appears as an enemy in Battle Music Sequences.

Zu from Final Fantasy V appears as an enemy.

Zu appears as a boss and is fought in the Living Wood areas 3 and 7.
This selfish bird attacks from above with no consideration at all for what you're doing.

Description
The Zu appears as an enemy encountered on the Troia Range and inside the Zanarkand Ruins. It uses Dive and drops the Trident.

Zu from Final Fantasy V and Final Fantasy X have Triple Triad cards in Final Fantasy Portal App.
Non-Final Fantasy guest appearances

[

]
Zu is a chance card in Dragon Quest & Final Fantasy in Itadaki Street Portable, the card's ability: Move two more steps.
Etymology
[
]
[view · edit · purge]Zu means "fire" in the Sumerian language. Anzû, before misread as Zû, is a lesser divinity or monster in several Mesopotamian religions. He was conceived by the pure waters of the Apsu and the wide Earth, or as son of Siris. Anzû was seen as a massive bird who can breathe fire and water, although Anzû is alternately seen as a lion-headed eagle (like a reverse griffin).