Series appearances
[
]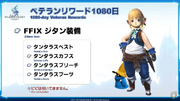 Zidane's outfit is a veteran reward for players who subscribed the game over 1,080 days. The equipment set is named "Tantalus" set.
Name
Type
iLv
Description
Equip
Patch
Materials
Crafting
Tantalus Vest
Body
1

Defense: 6
Magic Defense: 13

All Classes 1
3.15
Tantalus Cuffs
Hands
1

Defense: 4
Magic Defense: 9

All Classes 1
3.15
Tantalus Breeches
Legs
1

Defense: 6
Magic Defense: 13

All Classes 1
3.15
Tantalus Boots
Feet
1

Defense: 4
Magic Defense: 9

All Classes 1
3.15
Zidane appears as a legendary (5-stars) Triple Triad card.
Zidane Tribal Card

Card No.
76
Total stats
29
Type
None
Description
Obtain
Random from Gold Triad Card.
Zidane is one of the warriors summoned by Cosmos to oppose Chaos, and stands as the hero representing Final Fantasy IX, opposing Kuja.
Traveling with Bartz, Zidane turns their quest for the Crystals into a treasure hunt, which ends abruptly when Bartz falls into a trap and is captured. Blaming himself, Zidane meets up with Squall and reunites with Bartz, only to be captured himself. These traps have been set in place by Kuja who desires to break Zidane's spirit with hopelessness and loneliness.
His alternate form is a palette swap based on his Yoshitaka Amano artwork.
Zidane, having been through several cycles of war and recovered all his memories, is on good terms with Kuja, who seeks to betray Chaos and lead Zidane and his friends to Chaos's throne so they can defeat him together.
Kefka derails Kuja's scheme and summons manikins to attack Zidane, Bartz and Squall. To save face with the warriors of Chaos so as not to be persecuted for his betrayal, Kuja feigns having deceived the warriors of Cosmos, and reluctantly defeats the three but allow them to escape. Zidane is later incapacitated by Kain, who wishes to save him from defeat by the manikins.
Zidane's second alternate outfit is the armor he wore while disguised as a Knight of Pluto in Final Fantasy IX. As a bonus fourth outfit available for download, Zidane wears the hooded black cloak he wore to disguise himself in the ending of Final Fantasy IX.
Zidane is an playable character and a representative of Final Fantasy IX. He is classed as a Assassin/Speed-type character.
Zidane appears as an obtainable character. He retains his original appearance. He serves as a character representative from Final Fantasy IX.

A quick-witted member of Tantalus, that famous group of part-time theatre players and full-time thieves, Zidane has never been able to say no to a pretty face. In the midst of a play, he kidnaps Princess Garnet of Alexandria and soon finds himself embroiled in political plays between great nations on her behalf. What began as a scripted tale on a small theater ship will evolve into a sprawling epic which will decide the survival of an entire planet.

Online description
Zidane is a default playable character, and wears his main attire from Dissidia Final Fantasy.
Zidane is one of the fastest party members, and has a great number of useful abilities, being one of three characters to possess Hero's Rime, which increases all stats for the party. This comes at a high CP cost, however, and players must decide whether to use either his useful augment skills or item drop abilities.
The tailed thief Zidane traveled the world with his Tantalus brothers until the eve when he came to kidnap the crown princess of Alexandria. Their meeting set in motion a great journey of peril and discovery...

CollectaCard
Zidane is a default playable character. If the player did not select him among their party of four, he can later be unlocked by collecting Red Crystal Shards.
Zidane appears as a playable character.
Zidane is an ally and a summonable Legend.
Portraits
Ability Cards
Legend Cards
This Tantalus Theatre Troupe member really knows how to touch—er, treat a lady.

Description
Zidane is an exclusive character only available from the Premium Character Shop as a random downloadable content. He uses the Thievery ability during battle.
Zidane is a playable character who could be recruited during the Challenge Event A Place to Call Home as the First Time Reward for completing the event's stage Conde Petie Mountain Path on the Classic difficulty. He has also appeared in Someone to Protect, A Summoner Reborn, Angel of Death, and Show of Resolve as a supporting character.

Zidane appears as a character and summonable vision. He retains his original appearance. He serves as a character representative from Final Fantasy IX.

Zidane's attire appears as a costume for Wol.
Zidane appears in Final Fantasy Trading Card Game as Wind- and Light-elemental Forward cards. His Wind cards depict him in his Dissidia artwork and Yoshitaka Amano artwork. His Light cards depict him in a screenshot from a Final Fantasy IX FMV as well as his render and his Theatrhythm Final Fantasy artwork. Zidane's Manikin, Capricious Thief, also appears represented by a card.
Zidane appears as an opponent in PlayOnline's Tetra Master.
Zidane appears as an opponent and on Triple Triad cards in the version available via the Final Fantasy Portal App. On Easy he uses Plus. On Normal he uses Plus and Swap. On Hard he uses Three Open, Same, Chaos and Swap, and the rare five star cards of himself can be won from him, among other cards. He uses the trading rule One.
Guest appearances
[
]
Itadaki Street

[

]
Zidane has appeared in Dragon Quest & Final Fantasy in Itadaki Street Portable as a playable character and he is set to appear in Itadaki Street: Dragon Quest and Final Fantasy 30th Anniversary.
Zidane appeared as part of the Final Fantasy Collaboration. The collaboration event happened in the North American version from 2 to 15 November 2015.
Zidane appears as part of the 2018 Final Fantasy collaboration.