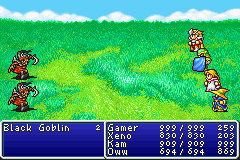 A cape alive with the spirit of wind.

Final Fantasy description
The Zephyr Cape (そよかぜのマント or そよ風のマント, Soyokaze no Manto?), also known as Zephyr Cloak, is a recurring accessory in the Final Fantasy series. It usually gives bonuses to magic and physical evasion and is a rare accessory, being used mainly by mages.
Appearances
Edit
The Zephyr Cape appears in the Dawn of Souls and 20th Anniversary editions, and may be equipped by any class except Monk and its upgrade, the Master. It is found in Whisperwind Cove, and provides +4 Defense, +1 Weight, and +10 Evasion.
Cloak inhabited by the spirit of a wind sprite. Boosts evasion and magic evasion.

Description
The Zephyr Cloak increases Evasion and Magic Evasion by 10% and can be purchased in Nikeah and Auctions. In the original SNES version, evasion is broken making the relic useless.
The Zephyr Mantle appears as a Blue Magic spell with the same effect as Blink.
The Zephyr Cloak is a basic accessory that grants Bravery Boost on Dodge by +3%. It can be obtained by trading 1,300 gil, a Resilience Powder, and a Guts Powder.
The Zephyr Cloak raises Bravery by 2% when the player successfully dodges an attack. It can be obtained by trading Reaper's Dream x3, Gunner's Dream x3, Materia x3, and 1,500 gil.
A green cape which reminds one of a sudden breeze. The cape is very light-weight, and has an unusual effect where it makes the wearer feel light as well. The cape is designed to allow ease of movement, so that it doesn't get in the way. For this reason the wearer of this cape is able to avoid attacks more frequently.

Description
Zephyr Cape is an accessory obtained from a chest in Moogle Town and as a reward for completing the quest Parts Hunter. It provides 10 DEF, 10 MAG, +20% Wind resistance, and +5% physical evasion.
Etymology
Edit
[view · edit · purge]Zephyr refers to a "light wind" or the "west wind".
Community content is available under
CC-BY-SA
unless otherwise noted.