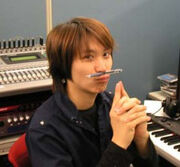 Yuzo Takahashi (高橋 雄蔵*(たかはしゆうぞう), Takahashi Yuuzou?) is a Japanese video game composer. He is responsible for the arrangements in the soundtracks for the Chocobo series of games.
Biography
Edit
Born in Kariya, Aichi Prefecture, Japan, Takahashi is a member of Joe Down Studio, a sound design studio responsible for music in media including advertisements and mobile phone games. Takahashi is selected to lead the group in arranging the soundtrack for Final Fantasy Fables: Chocobo Tales using themes from various Final Fantasy titles, and has since continued to arrange the soundtracks for other titles in the series.
He describes the experience as "pleasurable", and a wonderful opportunity to revisit the classic songs. On December 2007, his first daughter was born just as the game Final Fantasy Fables: Chocobo's Dungeon made its debut in Japan. His most favorite of all Final Fantasy songs is the "Battle with Golbez's Four Emperors". He recalls playing Final Fantasy IV in his elementary school days and getting scared when he heard the music.
Musical Works
Edit
External links
Edit