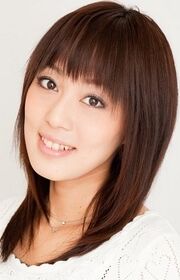 Yōko Hikasa (日笠 陽子, Hikasa Yōko?), born July 16, 1985, is a Japanese voice actress and singer affiliated with I'm Enterprise. In the Final Fantasy series, she is the voice of Alyssa Zaidelle of the Final Fantasy XIII-2 series, and the voice of Refia in World of Final Fantasy.
Roles
[
]
Biography
[
]
Hikasa aspired to become a voice actress after watching Sailor Moon, and later attended Nihon Narration Engi Kenkyūjo, a voice actor training school. She is a member of the five-girl pop music group Ro-Kyu-Bu!, along with Kana Hanazawa, Yuka Iguchi, Rina Hidaka and Yui Ogura. The group takes its name from the anime series Ro-Kyu-Bu!; the five members voice main characters in the series. Their first single "Shoot!" was released on August 17, 2011 and was used as the opening theme of Ro-Kyu-Bu!. Ro-Kyu-Bu! put out the album Pure Elements on October 5, 2011.
Background
[
]
She is best known for her roles as Mio Akiyama in K-On! series and Rias Gremory in High School DxD.