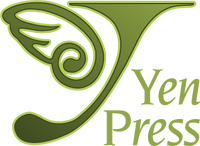 Yen Press is an American manga and novel publisher co-owned by Kadokawa and Hachette Board Group. They publish English-language versions of Japanese products.
Their first Final Fantasy product was the Final Fantasy Type-0 Side Story: The Ice Reaper, with the first volume being released on July 21, 2015. They have also published various Kingdom Hearts novels and manga.
Yen Press's works are often credited to Hachette subsidiary, Little, Brown and Company.[1]
Title
Publication (en)
Original publication (ja)
Final Fantasy Type-0 Side Story: The Ice Reaper, Vol.01
July 21, 2015
September 22, 2012
Final Fantasy Type-0
September 22, 2015
April 21, 2012
Final Fantasy Type-0 Side Story: The Ice Reaper, Vol.02
November 10, 2015
January 22, 2013
Final Fantasy Type-0 Side Story: The Ice Reaper, Vol.03
January 26, 2016
June 22, 2013
Final Fantasy Type-0 Side Story: The Ice Reaper, Vol.04
April 26, 2016
November 22, 2013
Final Fantasy Type-0 Side Story: The Ice Reaper, Vol.05
July 26, 2016
April 22, 2014
Final Fantasy Lost Stranger, Vol.1
August 21, 2018 (paperback)[2]
August 28, 2018 (electronic)[3][4]
November 22, 2017
Final Fantasy VII: On the Way to a Smile
October 30, 2018[5]
April 16, 2009
Final Fantasy VII The Kids Are Alright: A Turks Side Story
January 22, 2019[6]
December 15, 2011
Final Fantasy Lost Stranger, Vol.2
March 5, 2019[7]
May 22, 2018
Final Fantasy XIII Episode Zero -Promise-
April 23, 2019[8]
December 24, 2009
Final Fantasy XIII-2 Fragments Before
July 30, 2019[9]
December 15, 2011
Final Fantasy Lost Stranger, Vol.3
September 3, 2019[10]
January 22, 2019
Final Fantasy XIII-2 Fragments After
October 29, 2019[11]
June 21, 2012
Final Fantasy Lost Stranger, Vol.4
January 28, 2020[12]
January 22, 2019
Final Fantasy: Memory of Heroes
August 18, 2020[13]
October 31, 2012
References
[
]
External links
[
]