A scalding cavern of lava and flame rising from a rocky outcropping extending to the southeast of the skysea. Ruins fill the cavern, forming a crude trail to the temple hidden deep within.

Description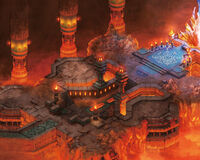 The Yapih Caverns is a location on the Muruc Cahuac Skysea, which is a island of Lemurés in Final Fantasy XII: Revenant Wings. Tomaj directs Vaan and the party to this underground shrine at the southeast of the skysea. Within the caves is the Underfane of Yaxin Qul, which houses a large, fiery crystal formation. The Yapih Caverns are destroyed by Bahamut after the final main mission that takes place there, and as such, they do not play host to any side Missions.
Main missions
[
]
Mission 18: Unrelenting Nemesis
[
]
While the others were busy with Rikken, Tomaj had his ear to the ground. His efforts discovered an underground shrine the party now moves to explore. Familiar foes and a fantastic find await.

Description
Ba'Gamnan and his siblings await once again at the entrance to the caverns.
Leaders
[
]
Monsters
[
]
Rewards
[
]
Goblin Pouch
[
]
Orichalcum Nugget/Orichalcum Ore
Mission 19: Filo in a Bind
[
]
Just when it seems Ba'Gamnan has drawn his last breath, he absconds with Filo. His motives are unclear but he's clearly up to no good.

Description
Filo is kidnapped by the band of bangaa, who withdrew deeper into the lava-filled cavern. Rikken, Elza, and Raz show up to help get the skybanditer back.
Leaders
[
]
Monsters
[
]
Guests
[
]
Rewards
[
]
3,500 gil
Protective Armlet
Auracite
Goblin Pouch
[
]
Fire Magicite/Fire Crystal
Mission 20: Rite of Despair
[
]
Ba'Gamnan is defeated with the help of Rikken and friends, and Filo is back safe and sound. But they don't have long to stop and rest, as a new darkness gathers...

Description
After Filo's rescue, the bangaa flee, and the party approaches the innermost temple of the caves, the Underfane of Yaxin Qul. The holy shrine encasing the jewel of flame is soon graced with the presence of the Judge of Wings, who summons Belias. Upon the Scion's defeat, Vaan gains his Quickening, Pyroclasm.
Monsters
[
]
Rewards
[
]
Goblin Pouch
[
]
Fire Magicite/Fire Crystal