The Xbox 360, shortened to X360 or 360, was the successor to Microsoft's Xbox video game console. It is notable as the first Microsoft console to host the Final Fantasy series.
Overview
[
]
The Xbox 360 was officially unveiled on MTV in 2005, with detailed launch and game information divulged later that month at the Electronic Entertainment Expo. It was the first console to provide a near-simultaneous launch across the three major regions, and to provide wireless controller support at its launch. It competed with Sony's PlayStation 3 and Nintendo's Wii. Its Xbox Live service allows players to compete online and download arcade games and content such as game trailers, TV shows, music videos, or rented movies.
Production of the console was discontinued April 20, 2016, per news wire reports, ending a 10-year run. Services will continue in operation for the foreseeable future. Its successor, the Xbox One, is also capable of playing select Xbox 360 titles, including the Lightning Saga games with enhancements, including higher quality cut scenes.[1]
Final Fantasy titles available on Xbox Games Store

[

]
Special Limited Editions
[
]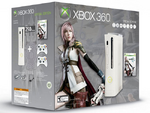 On March 9, 2010, the release of the Western version (North American, European, Australian, and New Zealand) of Final Fantasy XIII, a limited edition version of the Xbox 360 was released. As a bundle, it includes a 250GB Xbox 360, 2 wireless controllers and a copy of Final Fantasy XIII. Through special preorder, certain stores/websites also gifts a limited edition faceplate (with limited quantities), created by Tetsuya Nomura, depicting a picture of Lightning on it.

A special edition Mog Xbox 360 was available for prize winners of the "Word to your Moogle" tour.

External links
[
]
References
[
]