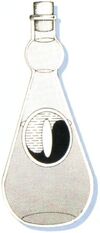 X-Ether (エーテルスーパー, Ēteru Sūpā?, lit. Ether Super), also known as Dry Ether, is a recurring item in the series. It restores all MP to the target.
Appearances
[
]
Fully restores MP.

Description
X-Ethers are medicine which restore 10% of the user's MP, up to a maximum of 1,000 MP. They can be crafted by
Alchemists, purchased for 1,108 gil in the Azim Steppe, Kugane, Eulmore, and the Crystarium, and are rewarded from various quests.
X-Ethers restore 100% MP to the entire party and can be bought from the SPP Post after acquiring 20,000 SPP.
Gallery
[
]
Etymology
[
]
[view · edit · purge]Diethyl ether was once used in pharmaceuticals. It was frequently used as a general anesthetic until the adoption of halothane in the early 1950s, and is still occasionally used as an anesthetic in developing countries due to its low cost. A mixture of alcohol and ether was known as "Spirit of ether" or Hoffman's Drops.