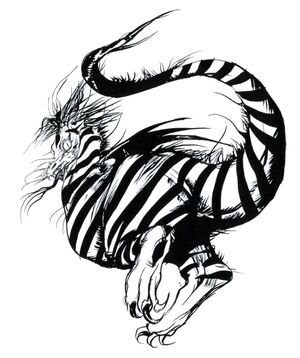 Wyverns (ワイバーン, Waibān?) are recurring creatures in the Final Fantasy series. Wyverns, in general, are considered winged dragon-like creatures without forearms or with forearms that are not independent of their wings.
Appearances
[
]
Wyverns can be found on the overworld in most areas of the northern continents.
Wyverns can be found in the Temple of Time.

Wyvern is the SNES and PS title for Dark Bahamut. It uses Bahamut's Megaflare, but also uses the normal Flare spell and does not need to charge to use Megaflare. It leaves behind the Ragnarok, Cecil's ultimate weapon in the SNES and PS versions.

Wyverns can be found in the Walse Tower.

Wyverns can be found in the World of Balance, in the Southern Continent.

There are two very distinct creatures called Wyverns. There is a creature family known as a Wyvern which meet the traditional description of a Wyvern, and then there are Dragoons' summonable pets.
The traditional Wyverns are enemy creatures that detect players by the use of their sight. They are generally found in out of the way places, like Kuftal Tunnel (where the Notorious Monster Guivre is well-known to wreak havoc), and are most numerous in Ifrit's Cauldron. They have a number of abilities, including the ability dispel up to three positive status effects from everyone in the party or alliance facing them. Wyverns also appear in the Mamool Ja-controlled areas in Aht Urghan, and make regular appearances in Besieged, where their area-effective abilities are not restricted to an alliance or party.
A Dragoon's wyvern is actually not a wyvern at all, but instead it is a dragon hatchling. The dragoon has been given this creature in trust to take care of it and raise it after completing a quest called "The Holy Crest". The wyvern fights alongside the dragoon thanks to the ability Call Wyvern. It does physical damage against the same target the player engages. It also will perform elemental breath weapon attacks when the dragoon uses a weapon skill. The type of breath weapon used is dependent upon the player's Support Job.
For the most part, the Wyvern will do a random elemental breath weapon attack (this can be enhanced to give the Wyvern somewhat of an AI when the Dragoon equips its Artifact Helm, called the Drachen Armet, which is part of a set that makes the player look like a traditional Dragoon), but with a job like White Mage subbed, the Wyvern will use healing breath abilities that can target the entire party within range. In such cases, the Wyvern will cure certain status effects for a party member or its Dragoon when a weapon skill is used.
The Wyvern pet is not only a valuable partner for a Dragoon; it is also vital for a Dragoon to use its special job ability, Spirit Surge. When used, the Wyvern is dismissed, but the Dragoon's strength stat increases by a good amount, HP from the Wyvern is used to heal the Dragoon, the Wyvern's TP is added to the Dragoon's, and jump abilities are recharged and gain special effects.
Spirit Surge's strength increase and jump enhancing effects are labeled with a status icon, and the status lasts for around thirty seconds, during which the Wyvern pet cannot be re-summoned. If the Wyvern is not summoned to begin with, Spirit Surge cannot be used, thus emphasizing the Wyvern's value to a Dragoon.
Wyverns appear as aerial enemies, and being flying enemies, can only be fought with magick, ranged weapons, or the Technicks Telekinesis and Shades of Black.
Wyverns are a subtype of enemy. They fly in the air and are capable of hitting multiple enemies at the same time. They are hunted by the Dia clan on Gran Pulse.
A small number of Wyverns appear:
The wyvern is a sinuous scalekin that cuts swiftly through the air on large, membranous wings. A less-imposing relative of dragons, wyverns often serve as frontline troops in the endless assault on the fortifications of Ishgard.

Official website
Wyverns are type of dragon that specializes in aerial combat, landing only to rest. As wyverns age, their bodies become more aerodynamic and streamlined. The oldest are the venerable ancient wyverns, who possess powerful magicks. In-battle, wyverns are known for body slamming foes with Collapse, sometimes possess fire or wind-aspected magic, and on occasion have been known to divebomb at high speeds.
Players can also obtain a Wyvern Mount by trade Clan Mark Logs in Idyllshire.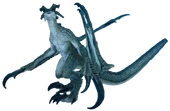 Wyverns are fought in Cleigne and during the Veinas Mart Under Threat Hunt.


The Wyvern appears as an obtainable SR monster. It is a Thunder-elemental monster whose type is Burst, class is Dragon and its specialty is Attack. Its hero tech is Rapid Shock which fires missiles upward. Its leader bonus is Gold Digger which increases coin yield by 10%. Its auto-effect is Dark Damage -15% which reduces Dark damage taken by 15%.

The Twinhead Wyvern (Wyvern in Japanese) is the reincarnation of the Dualhead Hydra, one of the Vile Four. It is fought in Doom Castle.

The Wyvern is an enemy and also a possible monster that the party's monster unit(s) can transform into.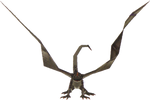 Wyvern is an enemy that is fought in the Spelvia Dungeons during Part I, and in the Mysterious Lighthouse and the Trial Tower during Part II.

Bravely Second: End Layer

[

]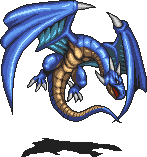 Wyvern is an enemy family. They are dragons with two legs and two wings.
Wyvern appears as an enemy, based on its Final Fantasy V counterpart.
Wyvern appears as a boss. It is fought in areas 3 and 7 of the Ancient Forest.


The Wyvern from Final Fantasy XIV appears with a fire-elemental card.

Non-Final Fantasy appearances

[

]
Wvyverns appear in Kingdom Hearts as a Heartless enemy in various worlds, shown as a purple (blue in Final Mix), dragon-like monster. They again appeared in Kingdom Hearts: Chain of Memories in Hollow Bastion.
In early Kingdom Hearts II trailers, Blue Wyverns can be seen flying in the sky in a cutscene before the Battle of 1000 Heartless; however, the Blue Wyverns were removed from the cutscene in the finalized version and were never seen in the game.
Gallery
[
]
Etymology
[
]
[view · edit · purge]A wyvern is a medieval European mythological winged creature with a dragon's head, reptilian body, two legs (sometimes none), and a barbed tail. They appear in many crests of Europe's ancient families, symbolizing strength. The word wyvern comes from wivere, which means serpent.