Cid Pollendina
:
Oh, shut up and help me remodel the World of Final Fantasy shops page!
Please expand this article into a full one. The following tasks need to be completed:This request can be discussed on the associated discussion page. Remove this notice upon completion.
The following is a list of shops in World of Final Fantasy.
Chocolatte Mart
[
]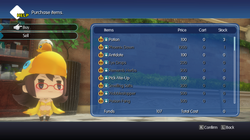 The Chocolatte Mart is located in the North Promenade of Nine Wood Hills and becomes available after Lann, Reynn, and Tama die for the first time in the Murkrift in Chapter 1. It is hosted by the otherworld shopkeeper known as Chocolatte and features items, and more are added as the story progresses. Items can be sold to Chocolatte for a quarter of the price when bought. It is the only permanent shop in the game where the player can buy regular items.
When playing a New Game+ file in the Maxima version, the Chocolatte Mart has a slightly different selection of items at the beginning of the game, and three new items are added—the Half Mega-Potion, Half Mega-Ether, and Toy Hammer—but the shop will still have the same full selection of items from a normal file when the player reaches the Postscript.
Initial selection
[
]
Full selection
[
]
Full selection, New Game+
Tearoom shop
[
]
In the Girl's Tearoom, the player can trade in

Arma Gems to the Girl Who Forgot Her Name for Champion Medals, and in the Maxima version, Champion Jewels of a character's once it becomes available to the player (excluding Noctis's, which can be gotten directly from Noctis).
Once the player obtains all the Champion Medals and finishes every Intervention quest, the player can obtain Ability seeds not sold at the Chocolatte Mart (if there are not any remaining Champion Jewels to be obtained). The player can also sell any Arma Gems to the Girl Who Forgot Her Name for 50,000 gil each.
Selections
[
]
Champion Medals and Jewels
Arma Gems
[
]
Underground Prison Shop
[
]
In Ophion 1 of the Underground Prison, the player has access to a shop ran by a prisoner (revealed to be the Captain of the Guard in disguise) at the beginning of Chapter 14, "Lost Powers". After clearing the chapter, the prisoner no longer appears as the player will have access to Gates that take them back to Nine Wood Hills and purchase items from the Chocolatte Mart.
The selection of items matches the initial selection of items from the Chocolatte Mart on a normal save file and does not change in a New Game+ file.