Balthier
:
I'm afraid the jury's still out on that one.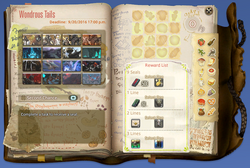 Wondrous Tails is a feature in Final Fantasy XIV that will be added with Patch 3.4. By speaking with Khloe Aliapoh in Idyllshire, players may undertake weekly challenges.
Khloe Aliapoh fears her stories are not quite what they used to be, as they no longer seem to lift the spirits of her troubled friend. Take up Khloe's journal, the Wondrous Tails, and fill it with pages of your own adventures, that she might be inspired to write new stories of her own!
Gameplay
[
]
Speak with the NPC Khloe Aliapoh in Idyllshire (X:5.7 Y:6.1) to receive a journal containing sixteen objectives. Please note that no two players will have all of the same objectives.
Upon completing the objectives corresponding to the squares in the journal, you will receive up to nine seals at random that can be added to your journal. (You can only receive one seal per objective.)
When you have received nine seals for your journal, deliver it to Khloe Aliapoh, and she will reward you accordingly. You will receive a base reward for obtaining nine seals, and additional rewards for completing rows horizontally, vertically, or diagonally. A Wondrous Tails journal can only be kept for two weeks starting from the Tuesday when it was first issued, before it must be handed in for a reward. In the case you exceed the reward period for a Wondrous Tails journal, you may speak with Khloe Aliapoh to exchange it for a new one.
Second Chance
[
]
When you complete an objective with one or more party members who are new to the duty, you will receive one Second Chance point. You can receive up to nine points, which can be used in two ways:
Retry (1 point): Restore the status of a completed duty to incomplete, while rendering the status of an incomplete duty to complete.
Shuffle (2 points): Shuffle the position of all seals in the journal. Only available when current seal count is between three and seven.
Once you have unlocked Wondrous Tails, it is possible to receive Second Chance points even if you do not currently possess a journal.
Note: You will only receive one Second Chance point per objective even if more than one party member is new to the duty. Second Chance points can only be obtained from duties that offer bonuses when one or more players are new to the duty.
This section is empty or needs to be expanded. You can help the Final Fantasy Wiki by expanding it.