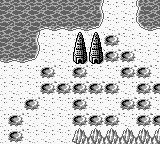 West Tower (西の塔, Nishi no Tou?) is a location in Final Fantasy Legend III. The West Towers, these twin towers are entirely optional and easy to navigate through them. These pair of linked mini-dungeons has a switch to reverse gravity and puts the player on the ceiling. The tower must be done at least twice, hitting the gravity switch in between to reverse orientation.
MummyCat
Selkie
Ameoba
150mm
Tempest
Daimyo
Searcher
Romulus
HiredGun
Community content is available under
CC-BY-SA
unless otherwise noted.