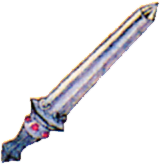 There are many mysteries surrounding werebeasts that are party human and part animal. Legends tell of the existence of such beings, but these accounts can probably be better attributed to humans falling under the influence of a curse or illness. However, when livestock begins to suddenly die of unnatural causes, it could be a sign that a werebeast is lurking nearby. It is best to tread with caution if that is the case.
The Werebuster (ウェアバスター, Weabasutā?), also called Were, is a recurring low-ranked weapon in the series. It sometimes has the capabilities to deal extra damage to werebeast enemies.
Appearances
[
]
A sword effective against werebeasts.

Description
The Werebuster is a low to mid-ranked sword that provides 18 Attack, 15 Accuracy, and 26 Critical. It can be found in the Chaos Shrine by using the Mystic Key, and it deals extra damage against Werebeasts. It can be equipped by the Warrior, Knight, Ninja, Red Mage, and Red Wizard.
A spiked mace effective against werebeasts.

Description
The Werebuster is a low-ranked staff that provides 28 Attack, 62% Accuracy, 1% Evasion, and -20% Magic Accuracy (PSX and earlier). It deals more damage to Werefiends and can be found in Kashuan Keep.
The Werebuster is a club that can only be equipped by White Mages level 75 and higher. It has a damage rating of 29 with a delay of 267 and no additional stats or properties, making it solidly mediocre as a weapon. Despite the fact that werewolf-like monsters exist, it has no special effects against them or any other monster-type. Along with the other Vigil Weapons, Werebuster is dropped by any of the bosses that are fought every 20 floors of Nyzul Isle. It is the Vigil Weapon for the Mythic Weapon Yagrush.
As such it has two special uses:
It is required as the first step to acquiring Yagrush.
By speaking to Zalsuhm in Lower Jeuno with Werebuster equipped, the quest "Unlocking a Myth" can be started. This quest requires that the player perform weapon skills with Werebuster until 250 Weapon Skill Points are accumulated, and rewards the player with the Mythic weapon skill Mystic Boon.
Were has a axe icon before its name. It is the second axe, found inside Davias' Mansion. It has an attack power of 20 and will kills Werewolves in one hit.
The Werebuster is a level 1 axe that provides -52 Bravery, +26 Attack, and Wall Rush HP Damage +5%. In the Labyrinth, it is used to get a Cottage. It can be obtained from the shop by trading 1 gil and a Joy of Conflict in the Labyrinth.
A club capable of robbing foes of their sight. Deals additional damage to bestians.

Description
Werebuster is a Mace obtained by buying it for 900 gil from Felicitas Town, by crafting it using 180 gil, x5 Thickened Hides, x1 Otherworldly Bone, and x8 Silver Ores, and as the reward for completing Beginner C-3 in the Colossuem. It provides 25 ATK and +50% physical damage against Beasts.
Gallery
[
]
Etymology
[
]
[view · edit · purge]In folklore and fantasy fiction, were- is often used as a prefix applied to an animal name to indicate a type of lycanthropy and/or shapeshifter (e.g. "were-boar"). Hyphenation used to be mandatory but is now commonly dropped, as in werecat and wererat. This usage can be seen as a back-formation from werewolf (literally, "man-wolf"), as there is no equivalent wifewolf.
[view · edit · purge]The word "buster" means a person who breaks up something, e.g. crime busters, or something big or unusual for its kind. It derives from the verb "bust".