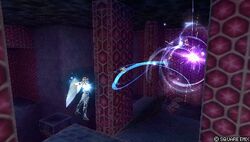 Weaponsmaster (マスターオブアームズ, Masutā obu Āmusu?, lit. Master of Arms) is a recurring ability in the series. It is an ability used exclusively by Firion.
Appearances
[
]
Weaponsmaster is an aerial physical HP Attack learned at level 38. It requires 40 CP to equip (20 when mastered), 300 AP to master, has Melee High priority, and can induce Wall Rush. The attack steals Bravery from the opponent, then inflicts 22 damage while generating 130 EX Force.
Weaponsmaster is a HP Attack for Firion, learned at level 8, requiring 30 CP to equip (15 when mastered), and 130 AP to master. It generates 30 EX Force upon damaging the target.
Weaponsmaster is Firion's EX Ability. It can be obtained by equipping his Sun Blade EX Weapon, or from the Mastery of Arms Manifold Passive Ability after performing three Limit Breaks on the weapon and levelling it up to Level 35.
Weaponsmaster can also transform into Weaponsmaster+, a stronger version of the ability that deals more damage, so long as Firion's current HP is 80% of his MAX HP or more.
Weaponsmaster is a Burst Soul Break for Firion learned through the Sun Blade. It instantly deals four ranged physical Holy and Non-elemental attacks to all enemies and enables each ally to avoid one magic-type attack, and is effective against most magic attacks. It replaces Attack and Defend commands with Chain Strike and Chain Launch respectively.
Chain Strike deals 1 to 8 holy and non-elemental attacks to a single target. The number of hits increases each time Chain Strike is used. The count is reset if the Burst Mode ends. Chain Launch deal four holy and non-elemental attacks to a single target and removes the delay of the users next action.
Weaponsmaster costs one Soul Gauge to execute and takes 30000 AP to learn.
Gallery
[
]