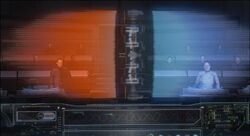 The Wave Theory is a scientific theory originating from the school of Bio-Etherics for the purpose of ending the Phantom menace in Final Fantasy: The Spirits Within.
The theory posits that a biotic wave field could counter that of the Phantoms', negating each other. To create this frequency a series of individual frequencies would have to be collected and combined.
According to Aki Ross, Dr. Sid's protege, these Spirits are:
Herself.
A fish.
A deer found in a wildlife preserve outside Moscow.
A sparrow.
The spirit of a girl.
A plant collected from Old New York's Times Square.
An Ovo-pack, containing energy from a single-cell organism.
Gallery
[
]