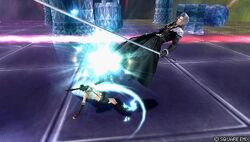 Waterkick (水面蹴り, Suimen-geri?) is a recurring ability in the series. It is often associated with Tifa Lockhart due to it originally be a Limit Break for her, and generally is a non-elemental physical attack.
Appearances
Waterkick is the first Limit Break of Tifa's Level 2 set of Limits, obtained after killing 96 enemies on Limit Level 1. It inflicts 11⁄2 times damage than a regular physical attack.
Template loop detected: Template:Video During her fight with Loz in Advent Children, Tifa uses Waterkick, along with many of her other moves such as Beat Rush and Somersault.

Waterkick is a ground Bravery physical attack for Tifa, initially learned at the start of the game. It requires 170 AP to master and 30 CP to equip (15 when mastered), has Melee Low priority, and induces Wall Rush. It can combo without having to hit the opponent.
Waterkick is the ability of one of Tifa's cards, which allows the player to choose 1 Forward, then Dull it and deal 6000 damage to it.
Gallery
Community content is available under
CC-BY-SA
unless otherwise noted.