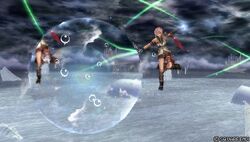 Go with the flow!
Watera (ウォタラ, Wōtara?), also known as Aquara or Water II, is a recurring spell in the Final Fantasy series, albeit not always usable by the player. It deals moderate Water damage.
It is called Aqua+ in Spanish.
Appearances
[
]
Watera is an Elemental Magic Materia.
Watera is a Black Magic spell found on Lulu's section of the Sphere Grid. It deals moderate Water elemental damage with a spell power of 24. It costs 8 MP to cast. Watera can be cast by Aqua Flan, Blue Element, Dark Element, Ghost, Maze Larva, Mindy, Seymour, Seymour Omnis, and Spirit. A version called Multi-Watera is used by Seymour and Seymour Natus, and will target two allies.
Watera is a Black Magic spell learned by the Black Mage dressphere. It costs 40 AP to learn and costs 12 MP to cast. It can also be made available via the NulTide Ring, or by passing through the green and red gates on the Menace of the Deep Garment Grid. Watera can also be used via Yuna's Festivalist dressphere ability Water Sandals. Water can be cast by a large array of enemies.
Watera
MP
68
Effect
Deals Water damage to enemies within area of effect.
Duration
Instant
Casting Time
1.5 seconds
Recast Time
5 seconds
Magic Type
Elemental Magic
Element
Water
Jobs
GEO 30
Watera is a spell available to level 30 Geomancers. The spell inflicts water-elemental damage in an area centered around the caster. The spell can only be purchased from Ledericus in Western Adoulin for 21,000 gil.
Watera appears as a enemy-exclusive ability that deals moderate water-elemental damage to all character in range. It is used by Silicon Tortoise, Gespenst, Water Elemental, Water Chaosjet, Facer, Crystalbug (blue), Crystalbug (green), Clay Golem, Wendigo, Holy Elemental, Mallicant, Adamantitan, Dark Elemental, Ixtab, Thalassinon, Judge Bergan, and Helm-Rook.
In the localization of the Zodiac Age, all versions of Watera are renamed Aquara (アクアラ, Akuara?). Players can only access Aquara through the use of the Aquara Mote, which replaces the Water Mote from the non-Zodiac versions. Despite the name, the animation is the same as the first tier Aqua spell. Despite being known as Aquara in English, the enemy version of the spell retains the name Watera in Japanese, in order to differentiate it from the player ability accessible from the Aquara Mote.
Deal water damage to targets in range. Staggered targets take more damage.

Description
Watera is a Ravager ability that deals water-elemental magical attack against the target and nearby foes. If the target is Staggered, effectiveness increases. It has an ATB cost of 2 and an Attack Power of 1.5. It can be learned by Lightning (stage 6), Snow (stage 8), Vanille (stage 6), Hope (stage 4), and Fang (stage 7).
It is also an enemy ability used by Adroa, Dahaka, and Left Pauldron.
Inflict water-attribute magic damage on target and nearby foes. Staggered targets take more damage.

Description
Watera is a dummied Ravager ability that inflicts water-attribute magic damage on the target and nearby foes. Staggered targets take more damage. It had an ATB cost of 1 and a modifier of 1.5.
Water II (Watera in Japanese) is an enemy ability used exclusively by the Water Sprite enemies fought during the "Trial by Water" level 15 Conjurer class quest. The ability deals water-elemental damage to all targets caught in the area marker surrounding the Water Sprite.
Watera is a moderate level Black Magic spell. The spell costs 3 AP to cast and it has a spell power of 10. It can only be used if the Watera Tome item is in the character's inventory. The spell can be purchased for 1,500 gil in Urbeth at night, Liberte after darkness floods the world, and in Spelvia.
A variation called Strong Watera can be used when two Psyched Up characters cast Watera during the same turn.

Watera is a Bravery attack for Lightning. It fires a large orb of water that moves slowly and tracks the opponent, launching them into the air on contact. Watera can be used for 30 CP and needs 100 AP for mastery.
Watera is a rank 2★ Black Magic ability. It deals moderate water-elemental magic damage to one target, it can initially be used twice and it can be honed to Rank 5. Watera can be created by using Lesser Black Orb x5, Lesser Fire Orb x3, Lesser Ice Orb x3, and 3000 gil.
Launch a projectile that creates a large splash on impact.

Description
Watera is an active, water-elemental magic ability that inflicts magical water damage on a single target for 5 AP. It can be used by Cenchos, Kraken, Leviathan★, Master Tonberry★, Mega Nightsqual, Mega Sharqual, Miney, Mo, Quacho, Quacho Queen★, Red Bonnotberry, Sea Serpent, Tonberry King, Ultros★, and Water Golem.
It is also an enemy ability used by Bismarck, Cenchos, and Tonberry King.
Non-Final Fantasy guest appearances

[

]
Other Square Enix titles
[
]
Water has appeared in other Square Enix titles as an ability, referencing the Final Fantasy version of the spell.
Watera appears in the Kingdom Hearts series as the first upgraded version of Water, making its proper debut as a spell in Kingdom Hearts III. Like its previous tier, Watera initially creates a barrier of water around Sora, followed by firing it as a projectile to attack enemies.
Influences in other titles
[
]
Both Watera (ウォータラ, Wōtara?) and Aquara (アクアラー, Akuarā?) appear as Black Magics in RPGs created by the Mistwalker company founded by Hironobu Sakaguchi, appearing in the titles Blue Dragon and Lost Odyssey respectively. The abilities deal water-elemental damage to targets in both titles. In order to differentiate the spell names from their Final Fantasy counterparts in Japanese, each name includes an extra chōonpu character in some fashion.
Gallery
[
]
Etymology
[
]