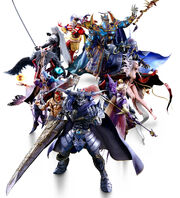 The Warriors of Spiritus are champions summoned by the god Spiritus in Dissidia Final Fantasy NT and Opera Omnia.
Some of these warriors that antagonize the Warriors of Materia were part of a similar association called Warriors of Chaos in both Dissidia Final Fantasy and Dissidia 012 Final Fantasy, which was disbanded after the defeat and death of Chaos himself.
As Spiritus stated in Opera Omnia, he chooses his warriors because of their strong wills, which led them to help mold, redefine and determine changes in their homeworlds. Also, in Opera Omnia and unlike Materia he doesn't reap the unpleasant memories of his warriors, specially considering most of them meet their demises in their worlds of origin.