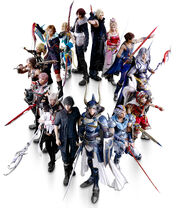 The Warriors of Materia are champions summoned by the goddess Materia in Dissidia Final Fantasy NT and Opera Omnia.
Some of these warriors were part of a similar association called Warriors of Cosmos in both Dissidia Final Fantasy and Dissidia 012 Final Fantasy, which was disbanded after the deaths of both Cosmos and Chaos. Materia's champions are antagonized by a rival conglomerate called the Warriors of Spiritus, which consist on their rivals from their worlds of origin.
In Opera Omnia, Materia reaps the memories of her champions, which later on materialize on the form of brilliance, so they can obtain their respite since that's her role in the mobile title. The memories she takes are those of when the heroes and heroines were in deep distress, mourning the fallen and facing despair. Thus why most of her champions who belong to the same world normally have different perceptions of their adventures together.
Community content is available under
CC-BY-SA
unless otherwise noted.