Ahhh, Part 1. Always a good feeling to be starting fresh and from the very beginning. Where will this adventure take us? What horrible secrets will we unveil? Will we fall in love due to our long and perilous journey through this part of the XIII universe only to be tragically separated by the cruel hand of fate? Stay tuned to find out.
Valhalla
Edit
We open to a woman's voice - one you might recognize for that matter - She speaks about time, and about how she will guard the legacy of Etro. Then we see her, yep that lady in the badass armor, that's our very own Lightning Farron. Looks like she's in a place without time, Valhalla like the one from Norse mythology. Then we see some dude with peak emo hair falling through some kinda ring device. Idk what else to call it but its wacky.
Cut to: some other dude carrying a lifeless girl into the ocean. He lays her body to rest and she fades away as he talks to her fading dust. Then he has some flashbacks and summons some monsters which go to attack the city, but good thing Lighting also has her own army of monsters and Eidolons to fight back. Purple guy pulls out his badass and clearly evil sword and Lighting counters with her not so badass but still neat gunblade featuring the Final Fantasy VIII swirling white feathers.
Fighting happens and as Lightning charges into battle purple guy summons something which rains meteors onto the battlefield. Geez we're like three minutes in and this is already remarkably epic. Turns out purple guy is called Caius Ballad, and as he and Lightning cross blades the title logo appears.
The two continue to fight and then Caius literally transforms into Bahamut. Lighting tries her darndest to fend him off but he's Bahamut and that's not something easily toppled. As Caius basically bitch slaps Lightning she effortlessly spins around in the air and calls out to Odin. As she rides her mighty steed we enter into our first ever fight for this game, which is also the first "boss."
Playable Character: Lightning Farron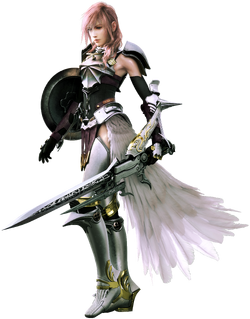 Weapon: Gunblade
Full-ATB Skill: Ullr's Shield, War's Benediction
Here she is folks the lady who started it all, Lightning Farron. I dig her change of clothes quite a bit actually, the Valkyrie aesthetic works will with her. Lightning is pretty dope, though we don't see her nearly as much as you might expect. This time around Lighting takes a more backseat supporting role, but it's not necessarily a bad thing by any means. Still, don't get too comfortable with her, she's exclusively playable in this one segment here.
That said, Lightning is awesome in combat this time around. She fights on top of Odin for one, which is already badass and she's got lots of great abilities. In a very short moment her ability line up will change but it still stays remarkably good. She also has 6 ATB segments so she can lay out a lot of hurt and her full ATB stills are extremely useful support abilities, fully healing her and providing her with buffs at the same time. Anybody who dares mess with her, is going to get their ass kicked, even Bahamut.
Boss Fight: Chaos Bahamut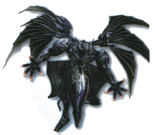 HP: 24,000
Stagger: 999%
Difficulty: Easy
Ooo boy, first fight of the game and it's already a boss. Isn't that something. Good news - even though its a Bahamut its not a tough fight at all. It actually serves as a tutorial for the ATB battle system, which you can watch if you want. Use Ullr's Shield to fully heal and grant Protect and Shell whenever you need too. You might even want to open with that just to get the buffs up right away. Otherwise just pick whatever attacks you want to beat him. You could even Auto-Battle if you're feeling exceptionally lazy. There's a cinematic about halfway through the battle, but it doesn't affect anything. Just keep attacking and you'll win before you even know it.
After he's defeated he shoots some more magic stuff at Lightning and we fade into our first "Cinematic Action" sequence or more simply its a real time command sequence kind of deal. Basically your job is to imput whatever prompts you're given fairly quickly after you see them. It's not too hard since this is the first one.
Once you do that Caius flies away only to ambush Lightning with what appears to be Megaflare. There's a huge explosion but Lightning was protected by Odin who fades away after the attack. Caius turns back into his human self and the fighting begins anew. Time for another Cinematic Action!
repeatedly
This causes our boy to go flying into the clock thing and the building crumbles around him. He comments on the Goddesses choice of a protector and then freezes time. What can't this guy do? They talk a little more about how Caius is clearly the bad guy for wanting to destroy the world or whatever and then its another Cinematic Action.
Once that's done Caius' time stop will well stop and everything falls down on top of him killing him I would assume.. As Lightning looks on at the rubble she'll notice something called "Etro's Gate" and out from it falls the man with the peak emo hair "Noel Kriss." Lightning summons a flying thing to help her out, and as she flies towards the man, Caius breaks free from the rubble by turning back into Bahamut. Guess I shouldn't have assumed a man who could become the strongest Eidolon to die that easily huh. Noel starts to plummet and is saved by Lightning. They talk for a hot minute and its us V. Bahamut once again.
Boss Fight: Chaos Bahamut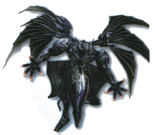 HP: 24,000
Stagger: 999%
Difficulty: Easy
Alright, round two gang and this time we're doing it in the air. Lighting's moveset has changed somewhat but its still pretty much the same. War's Benediction is the same as Ullr's Shield except this time it buffs you with Haste, so absolutely open with it and always keep that buff up its super useful. You're going to want to keep an eye on your health a bit more this time around because Megaflare can hurt but still not a tough fight at all.
Once he's defeated Lighting and Noel jump to a nearby building and have a nice little chat. Lightning tasks Noel with finding and bringing Sarah to her. She explains that together with Sarah Noel can change the future and he's all about that. She then gifts him with a moogle, who transforms into a weapon which is a neat ability to have. Then Caius reappears to resummon meteor and destroy the lifestream. Lightning valiantly tries to stop the meteor but it simply crushes Valhalla and as we freeze on a very cinematic black and white still of destruction Lightning says: "My hopes go with you, Noel Kriss."
Man that's one hell of an opening isn't it? Are you hooked yet? I know I am. Join me on the next page as we see where this adventure takes us shall we?
Community content is available under
CC-BY-SA
unless otherwise noted.