Follow the Myst
"Too late and to their sorrow do those who misplace their trust in Gods learn their fate! - Judge Bergan"
Hello and welcome to MystRay's Final Fantasy XII walkthrough! This just happens to be my first walkthrough for the Wiki. I am very excited that I can now share my knowledge of the greatest game in the series with you. The walkthrough will contain spoilers. Just got to tell you that right out front.
Introduction
[
]
Final Fantasy XII is my personal favorite of the main series. It's probably my favorite video game of all time. I first played FFVII and instantly liked it. I decided to get another game in the series and just chose a random number. It ended up being XII. It quickly became my favorite game and it ended up being my first game in the series that I won. I joined the Wiki and decided that I should do a walkthrough. I'm hoping that I will also do other games in the future. As everybody knows. This game has more sidequests than it does storyline. The storyline is massive enough. The sidequests and storyline may be huge, but I will do them all. I will also incorporate them within doing the storyline instead of making their own little section. And so, without any further ado, Final Fantasy XII.
Guidelines for the Walkthrough
[
]
This game is huge. I will do my best to try and cover every square inch of the game in its entirity.
I am using the original North American Release. I would love to play IZJS but it was never released outside of Japan. Oh well. This game's good enough.
Please, only edit grammatical errors. If you have a different strategy or something else that you think is better, post it in my talk page or message me on the IRC.
The gameplay of the characters is very vague. You can create your characters however you want to. I will give loose strategies but there are many different things you can do to get the same results.
Thank you members of the Final Fantasy Wiki for letting me do this.
Expect bashing. I love this game, but there are parts that I don't like. A certain main character comes to mind.
I seriously don't consider myself funny, but it is sort of a requirement to being a Walkthrough writer. Don't be surprised if my poor excuses of jokes, aren't funny.
I tend to be sort of inconsistent when linking to the next and previous parts on a page, so make sure you read which way you're going before you click.
Thanks to Paramina for helping out a lot with the technical stuff in this Walkthrough. It wouldn't be as good without her.
License Board
[
]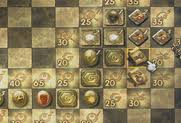 In Final Fantasy XII, the system used is the License Board, so here we go...

The license board allows you to customize your character however you want to. There are no set job classes in this game. Some characters have better stats towards different areas like magic or attack and defence, but they're still all basically the same. I tend to use people for certain things, but you can do whatever you want. It's your choice.
Towards the end, after everyone has acquired what is needed for their "job class", I'll be getting everything on the board for everyone. It's just the completionist in me.
On the board, there are two sections. A north board and a south board. On the north board, there are augments which increase different stats and items, magic which is self explanatory, technicks which are sort of the abilities of the game, and accessories which are the things you equip that have certain effects on your character.
The south board has armor, which gives you all types of defence, and weapons which are also self explanatory.
When you gain a character in your party, you gain access to their licnese board. All of the boards are exactly the same as well.
Each square on the License Board represents something. Some contain weapons, or spells, or anything else on the License Board. You need to open the squares in order to use whatever's in the square. For example, if a square contains the spell Fira, then you can't use that spell until you get the square on the License Board. Then you need to buy that spell or item from a shop. In most cities, there are shops for everything on the license board. Including spells.
You unlock squares by using License Points or LP. You gain License Points by killing enemies. You need around 13000+ LP to fill out the whole License Board. It my seem like it would take forever to get that high with only getting 1 or 2 per monster, but you will get it eventually.
When you obtain a square, you unlock all of the adjacent squares beside it.
Within different cateories, there are sub-categories. For example, there are white, black, green, arcane, and time magicks.
To get the most out of your LP, just stick with what I tell you to use it on. I will be doing minimal grinding so it won't be that hard to do what I do. I'll tell you everything at the exact moment I get it, so as not to confuse you.
If you need anymore help with it, check out Drake Clawfang's awesome in-depth License Board Guide.
Just in case you still need more help, there's an in game walkthrough in the Sandsea.
The World: Ivalice
[
]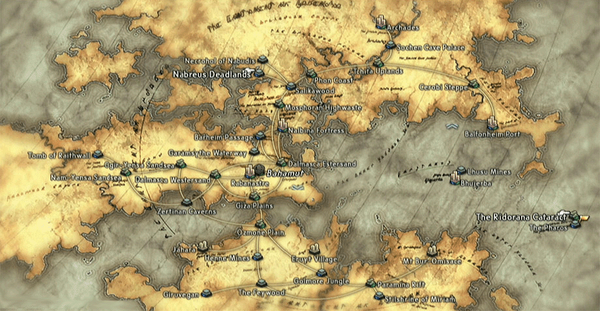 This is Ivalice. The world of Final Fantasy XII. This is usually considered to be a whole genre of the Final Fantasy games, called the "Ivalice Alliance". It is the world associated with all of the Tactics games, and XII is the first main series game, to take place here. All of the places marked on this map will be visited ingame. Ivalice has three continents, but only small portions are explored. The world goes on for a while longer outside of the map. Those three are Ordalia, Kerwon, and Valendia. You'll see just how varied the world is, when we plunge into the game.
Playable Characters
[
]
Awesome people with the exception of one of them.
File:Penelo.jpg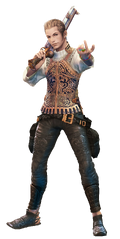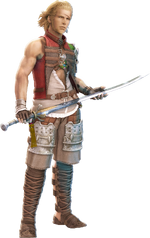 File:Ashe.jpg
Vaan - I can't stand him, and don't expect me to hide it.
Penelo - I actually like her a lot. She might not be very important to the plot, but she's still awesome.
Balthier - One of my favorite characters in the series.
Fran - The classic bunny sidekick of Balthier is awesome. Not for her looks, but her exocity and mystery.
Basch - I like him, but he's a little overrated (gasp!). The only person in this game that is a tad overrated.
Ashe - The classic princess of the game. She is awesome. I've always liked the whole cast, except for it.
Guest Characters
[
]
They're more of a nuisance than help.
File:Larsa Full.jpgFile:Reks.jpgFile:Vossler.jpgFile:Reddas.jpg
Larsa - I actually really like him, and he's saved my butt more than a couple times.
Reks - So, so. I probably wouldn't like him at all if I had to deal with him the whole game.
Vossler - He starts out great, but quickly goes downhill. You'll see why in the Walkthrough.
Reddas - He comes sort of late in the game, but he tries to help you through one of the toughest areas in the game... It's the thought that counts right?
The Villains
[
]
Awesome
File:Vayne solidor.jpgFile:Dr Cid.jpg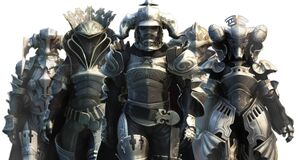 Vayne - The main antagonist. Quite possibly, the most elegant of antagonists (with the exception of Kuja of course).
Dr. Cid - The coolest Cid in the series, and the first villain Cid. Venat (who's included with him), is incredible as well.
Judges - These are the generals of the game. They're pretty cool, and one of them pulls off a great Darth Vader impression

Table of Contents
[
]
Part 1
[
]
Part 2
[
]
Part 3
[
]
Part 4
[
]