Welcome to Part 4 of Drake Clawfang's Final Fantasy VI Advance Walkthough.
This City is Occupied
[
edit source
]
Okay, Locke is stuck in South Figaro, check. Reequip his stuff, then head left. Since we're doing this for the Rages, talk to the M-Tek trooper to fight a Heavy Armor, then run because they're quite strong, although it is possible to kill them with ample healing. If you're ambitious, you can Steal a rare Iron Helmet from them, although you can buy these shortly. so just see them and run away. If at any time you die here before entering the mansion, luckily you don't get a game over, you just start over at the entrance to town.
Now, there's two types of disguises here. Trooper disguise lets you chat with soldiers, and Merchant disguise lets you chat with civilians. You must fight the owner of the disguise first to get it. Both the Grunt and the Merchant are easy to defeat. Wait a minute, we're sneaking around town stealing things and leaving people nude in the streets? This sounds like a plot for a bad porno, we just need the virgin locked up in the dungeon underneath the mansion! Wait, correction: this is a plot for a bad porno! And what's worse, that was a bad joke! Ok, let's just move on.
Head to the item shop. Talk to the Merchant to fight him and Steal from him to snag his clothes. Now as a Merchant, enter the house below the shop and go downstairs. Talk to the kid – only Merchants are allowed to pass, which is you, now. Go outside and up the stairs near the weapon and armor shop – they only sell the same stuff as before, BTW. Go all the way left and talk to the green Trooper.
Steal his clothes to become a Trooper, then go back down and directly south of where you fought the green Trooper. Talk to the Trooper near the crates to clear the path. Enter the café and go downstairs. Fight the Merchant and steal his clothes again to become a Merchant, and take his Cider on the table. As a note, if you're lucky you can swipe another Main Gauche/Guardian from the Merchants. Use this in tandem with the Genji Glove Banon gave you to give Locke a strong physical, and +20 to Evade which gives him a respectable chance of avoiding attacks. However, the Air Knife you got before is still stronger for pure power. Another rule of thumb, kiddies: additional attack strength means absolute BS when a weapon gives stat boosts. Ergo, use the Gauche/Guardian.
Take the Cider back to the house with the back door and talk to the man upstairs. Go back down and tell the kid "Courage" to open the passage. From now on, it doesn't matter which disguise you have. There's a green Trooper south of the café, and a Merchant in the Inn if you want to change clothes. But like I said, it doesn't matter. Unless you do that Kutan glitch, but we aren't. Take the passage.
Okay, remember back when we looted the basement of this place for Relics and cash? Go back to that area. Remove the disguise (or not, it doesn't matter) and walk up to the first door. Meet Celes, a traitor Imperial General. Hm, this must be the aforementioned virgin in chains. Well, she may or may not be virginal, but she's young, cute and wearing a white dress, that's good enough for me. Now, the guards are supposed to be beating her, but in the rerelease they taunt her. WTF is this? Whomever complained and got this removed, you will burn in Hell. I mean, we can watch Kefka and Leo get stabbed, but we can't see them beat Celes? What gender-equality crap is that? Anyway, once the guard leaves enter the room and release Celes to recruit her.
---
PLAYABLE CHARACTER - Celes Chere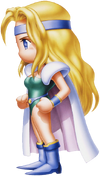 Some fans will say Celes is the hero of the game, not Terra. Some fans also say Sephiroth is a better villain than Kefka. Some fans are just plain wrong. Celes is important to the story, just less important than Terra. But don't misunderstand me, Celes is still a badass. She's just not quite as badass as Terra. And here's why. With the exception of their respective super-weapons, Celes and Terra can equip the exact same stuff. Like Terra, Celes has all-around good stats, and she to learns magic naturally. Celes' ability is Runic, which lets her absorb magical attacks. It's sometimes more of a hindrance than a help, seeing as how it also absorbs your magic, but it has its uses and magic-loving bosses are good targets. Celes is, like Terra, an excellent choice for any party, but due to her ability not being as good as Terra's, she's ultimately slightly weaker. For the most part though, they're both great characters.

---
Talk to the Trooper and swipe the Clock Key. Now leave, use the middle room to save, then enter the far room where you found all that gil earlier. Inspect the upper-right clock and wind it to open a hidden passage.
Down here you find Imperial Commanders and their Vector Hounds. Locke's double Guardian (damn GBA name) will be all the power you need to beat them. Head right and down to find Iron Armor – it decreases speed slightly, but is one of the best armors at this point in the game. Celes can use it. Now go up and right. Walk directly below the upper passage, and walk left in the passage to find another hidden area. Down the stairs here lie a Hi-Ether and a X-Potion. Inspect the wall directly below the X-Potion chest to find a Ribbon which makes a character immune to all status effects except for things that change speed (Slow, Stop, and Haste). It's quite rare and obviously a good find.
Go upstairs and head up around the corners to find three chests. One is open, but the other two have a Heavy Shield and a GreatSword for the taking. Congrats, you now have equipment for Celes. And now that she's got a sword, you'll notice the Runic command is now usable in battle. Ignore it for now. Go all the way down and left to find a chest with an Earring, which increases magic damage. Give it to Celes. Then take the stairs on the right and up the stairs. Watch the small scene and leave town.
Return to Figaro Cave
[
edit source
]
Boss
Tunnel Armor
HP
MP
Dangerous Attack
1600
900
Drill
Steal
Morph
Drops
Bio Blaster/Air Lancet
Can't Morph
Elixir
Weakness
Resistance
Difficulty
Water, Lightning
None
3/5 or 1/5
Head to the Figaro cave, now with new enemies! Only the Gold Bear poses any real threat, and a double Guardian from Locke can kill it easily. Now, remember those three chests I told you to leave alone? Enter the cave, go up and down the stairs. To the left is an X-Potion, and to the right is an Ether, but it can be upgraded to a Hi-Ether if you leave it. In the upper-left in the cave up the stairs, this chest has a Thunder Rod. Now, up ahead is a boss, and the Rod is an instant kill against it. So take it if you want, but later on, it becomes a Hero's Ring which boosts all Magic and Battle damage by 1/4. The boss can be beaten without the Thunder Rod, and Hero Rings can be bought later, so it's up to you. Take or leave the Rod and go to the entrance. Heal at the spring and try to leave.
Oh boy, Tunnel Armor. This guy is not fun, because he's the first boss to routinely use Magic on you. Now, if you got that Thunder Rod, just have Celes use it for an instant win. If not, you're in for a real battle. The boss is stocked with Poison, Fire, Blizzard and Thunder magic, and it also has a powerful physical called Drill. If it weren't for the low HP he'd be a real challenge. Have Celes use Runic every turn to absorb and negate the boss' spells, and have Locke attack with his double Guardians. With only 1600 HP the boss won't last long when you do around 400 damage a turn. Just hope he doesn't use Drill too much. If one of your characters dies, then just attack and hope you kill him before he kills you. Once he's dead, you're home free.
You're Mog again. Save and move on to Terra and Edgar's quest.

Community content is available under
CC-BY-SA
unless otherwise noted.