This is part 37 of the Walkthrough for the Super NES version of Final Fantasy VI.
Homecoming and Revenge
[
]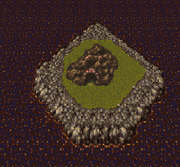 It's been awhile since you visited Thamasa, and the last time you were there, Strago and Relm weren't. So make a party with them and go to Thamasa. You'll learn that Strago's best friend, Gungho, has been injured. He set out to fight Hidon, which was a beast he and Strago hunted in his youth. And he died doing it. Strago gets pissed, and decides to go hunt Hidon himself.
Ebot's Rock is now open for you to explore (it's the small cave on the island north of Thamasa). You have to bring Strago, and since you have Relm, might as well bring her, especially if she's behind in Esper time. Since you have two Mages here, let's leave Terra behind for a change. She needs a rest since you're overworking her anyway. Since you have the Offering now, Locke and Setzer are great choices; I recommend Locke, especially since we haven't seen much of him in awhile. Your fourth character should be one of those Pearl Lance Jumpers you've grown accustomed to (Edgar or Mog, Shadow, or Gau.
The enemies in here are interesting. The Displayer only looks dangerous. It isn't. It wastes most of its turns casting ChokeSmoke, which only works on characters who are dead, and its other turns are spent using weak physicals. The Opinicus isn't dangerous either unless you let it live for four turns, at which point it'll start attacking multiple times (the individual attacks are weak). It counters spells with Sun Bath to heal and it has inherent Seizure. The Hipocampus is a strange name for a Sand Horse palette swap. It's pretty easy to kill, and is only tough if attacked with magic when it'll counter with the dangerous Acid Rain. But this guy is one of those enemies that can die from lack of MP and it only has 82 MP, so a Rasp casting should kill it. The Slatter is another uninteresting bear who apparently can stand on two feet. In fact, that's the most interesting thing about it, because hey, what does it look like, a monster that uses something that's not a weak physical? All four of the enemies in this paragraph are weak to Pearl, and all but the Slatter are undead, so attack accordingly.
T'ought ya could get away wit' easy stuff, did ya, mon? Well, TOO BAD!!!! There are three enemies in this cave that are actually threats. They are Warlocks, Clucks, and Elands, oh my! Warlocks love nothing more than to release their precious pearls they bought on the black market at you. When they run out of MP for Pearl they'll use MagicDrain to try and get some back. Elands can be dangerous because of their special, Stench, which sets Muddle. These guys should go down first. Both the Warlock and Eland are weak to Lightning, so use Bolt 3 on them. And the Clucks are dangerous because they use Quake when alone, and can use Lick to Petrify a character. These guys are weak to Ice.
There's a theme among these enemies. They all have a Warp Stone to Steal and one that you can win when they die. Against them, just exploit their weaknesses and/or use normal strategies. Locke should be loving the Offering, as his physicals are now very powerful.
Zelda: A Link to the Past players will recognize this situation. We have a dark cave where you can only see the immediate area around the character. But you have no Lamp to light torches here, nor are there any torches.
Here's how this dungeon works. It's a lot of stepping on Warp Tiles. The first time you step into one, you'll come to an open chest which is hungry for Coral found in chests in this cave. It won't let you pass until it's satisfied. To make it satisfied, you'll need to feed it 22 pieces of Coral AT ONCE. This means you can't go and get 16 pieces of Coral, feed him, get another 6, and feed him again. You'll have to feed him 22 at the same time. Now, to get this Coral, step on the warp tile you came in on, and you'll come to a completely random place. The warp tiles will either warp you to a room with a maze, chests, and warp tiles, the entrance, the room with the hungry chest, or a room with a Save Point. The chests can have one, two, three, or five pieces of Coral. Just warp, open the chests, warp, open the chests, and warp again. Rinse, lather repeat. Be sure to keep a counter of how much Coral you have because the game won't help you. Once you get 22 pieces of Coral and feed them to the chest, it'll move out of the way. Your goal, Hidon, is just a walk to the north from here. Be sure to equip Ribbons before this fight. Time for a boss!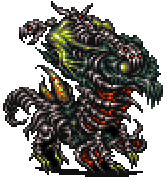 Hidom is flanked by his four Hidonites. The Hidonite on the upper right can inflict Zombie, and thus needs to be taken down first using Fire 3 and Pearl. The lower left Hidonite can Muddle characters, has auto-Reflect, and absorbs all eight elements. Use physicals against this one. The one in the bottom center can be killed with an easy Break spell, and the one on the bottom right is weak to everything, so use whatever you want.
During this time, Hidon will only cast Bio and use his physical. It'll also counter with Poison, which is weaker than Bio. If any character is dead, it'll use ChokeSmoke to turn them into Zombies, so keep your characters alive.
Now, you want to DEFEAT THE HIDONITES FIRST. This is because as soon as the Hidonites die, Hidon will glow and use its ultimate attack: GrandTrain. This is Strago's ultimate Lore and it can only be learned in this battle, so MAKE SURE HE LEARNS IT! After GrandTrain, Hidon will use Virite and Raid. It'll revive the Hidonites back after 80 seconds of fighting alone, so be aware of this. It'll use GrandTrain again if the Hidonites die again. Cast the usual stuff: Big Guard, Haste 2, and summoning Golem or Fenrir and Kirin. On it, have Strago use his favorite Lore, or have him join Relm in casting Fire 3 and Pearl. Edgar and Mog should Pearl Lance Jump, and Setzer should use his Fixed Dice+Offering. Now Locke can Steal a rare Thornlet from the Hidon, which is the Helmet with the highest defense. The catch? No Magic Defense and your character now has Seizure. If you're one of those Perfect Game people, well, that's the only use for it.
Make sure Hidon is alive long enough for it to cast GrandTrain and for Strago to survive it. He'll learn it after the battle. After the fight, you'll go back to Thamasa for a cutscene involving Strago, Relm, and Gungho. If you talk to Gungho after this, there's a 1/8 chance that "Hidon's appeared at Ebot's Rock again!" If so, you can go back and fight Hidon again. You don't need Strago to do this.
Final Preparations
[
]
Before making these preps, bet any Gauntlets you may have at the Colloseum to make them Thunder Shields. Bet those Thunder Shields and turn them into Genji Shields. If you have any extra cash, spend it on weapons for Shadow to Throw. Also, before going into the tower, make sure the last digit of your GP is equal to 1, so L? Pearl will hit everything. All the enemies in Kefka's Tower give out GP in multiples of ten, so L? Pearl will always work. Make sure every character knows at least the Life spell as well, so you're always prepared to revive fallen friends.
The next three sections of this Walkthrough will be very long, and will be devoted to covering Kefka's Tower, the final dungeon in this game. So I figured that I'd go over preparations for it here. Unlike in most dungeons, where I gave strategies for multiple characters, this dungeon will assume you made the EXACT PARTIES AS I TELL YOU TO BRING. This area will require three parties of four, meaning 12 of your 14 characters get to participate. I'll tell you right now that Umaro will be staying behind for sure. I will be doing the walkthrough as if you're leaving Cyan behind as well, but you MAY want to bring Cyan if you want to hear all 12 lines from the characters prior to meeting Kefka. If you DO bring Cyan, he should have a Scimitar on at all times, and should pretty much be in the Back Row using the piddling weak Dispatch which, even if you've been using him, you'll notice this is far behind everything else in damage. So just be aware of this. If you insist on charging up to Quadra Slam or Quadra Slice, be aware that this SLOWS DOWN YOUR ENTIRE TEAM, or you'll probably have beaten the enemies anyway. This is why I don't like Cyan. Anyway, here are the parties I recommend:
These parties are designed so that each party gets a strong physical fighter, a powerful magic user someone who has great defense, someone who can get 128% MBlock, and have people who can use similar equipment spaced out. This isn't just so you have someone who can use the same thing in two parties, but some of the equipment is unique and needs to be shared. For example, there's only one Illumina, and Terra, Locke, and Celes all have good reasons to use it (Edgar probably wants to be a Dragoon and Locke probably wants his ValiantKnife, though). Also Locke and Setzer, who are characters who may have use for the Offering, are in different parties. Mog and Gau, who each use a Snow Muffler, are in different parties (but you probably have two of these, so this is just to avoid stacking). Edgar and Mog, who each use a Dragoon setup, are in different parties. Shadow, Strago, and Relm, who I like to refer to as "One big happy Thamasan Family," also work well together. The only problem is that Strago and Relm may fight over the Magus Rod. You can get another Magus Rod by betting a Heal Rod at the Colosseum, but your opponent is a dangerous Pug and you'll have to find a way to kill it in one hit if you want to win the Magus Rod that way. Relm gets priority for the Magus Rod though, because she needs all the Magic Power she can get.
Now, I'll go through the setups your characters should use. I'll include Cyan here for those of you who want to take him. If you do, he'll be the one using the Offering in Group 2 because he'll have his Scimitar on and have a chance at Instant Death. Note that you'll pick up another Red Cap and another Aegis Shield during your exploration, but for now I'm assuming you only have one of each, and two Genji Shields. Also, EVERYBODY BUT LOCKE AND GAU SHOULD BE IN THE BACK ROW.
Terra:

Illumina
Aegis Shield
Mystery Veil
Minerva
Hero Ring/Economizer
Gem Box
This setup is based around her casting spells, but the Illumina still makes her a great fighter. She has 117% MBlock here and resists all eight elements, too, so she'll be quite the defensive Tank. If you sacrifice her Relics for a pair of White Capes, she'll get perfect MBlock, but that's not really necessary when you already have near perfect MBlock.

Sabin:

Tiger Fangs
Paladin Shield/Genji Shield
Circlet
Red Jacket
Earrings
Earrings/Marvel Shoes
This setup is designed to increase Bum Rush's output. Since Sabin has next to nothing in defenses here, we might as well power up his offense. I gave you a choice here between the Paladin Shield and the Genji Shield. Both provide great defense, but the Paladin Shield has all those elemental resists, and they may work better on another character to make him an uber-tank. It's up to you whether or not you want a defensive tank in Mog or Sabin with something to make up. I'd go with the Paladin Shield on Sabin personally.

Setzer:

Fixed Dice
Genji Shield
Genji Helmet
Force Armor
Offering
Ribbon/Marvel Shoes/White Cape
This setup revolves around Setzer getting some big damage dished out with his Fixed Dice. The Genji Shield and Genji Helmet provide the defense boosts he'll need because of the low defense the Force Armor provides. The Force armor is there for Magic Defense, MBlock, and elemental resists.

Mog:

Pearl Lance
Genji Shield/Paladin Shield
Red Cap
Snow Muffler
DragoonBoots
Dragon Horn
This is Mog's tank setup. The Paladin Shield can turn him into an uber-tank, but you might be better off giving it to Sabin, who lacks defense and elemental protection (Mog has a little in the Snow Muffler), and since Mog will be spending a lot of time airborne he'll be missing some attacks. Keep a Partisan handy for those enemies that null or absorb Pearl.

Edgar 1:

Pearl Lance
Genji Shield
Genji Helmet
Force Armor
DragoonBoots
Dragon Horn
Edgar's setup is like a combination of Setzer's and Mog's. It has Setzer's defensive setup (for a little MBlock and lots of defense and elemental resists), and it has Mog's Dragoon setup, so Edgar will be airborne a lot, dealing lots of damage while not taking much. Like Mog, keep a Partisan handy.

Edgar 2:

Enhancer
Force Shield
Bard's Hat
Force Armor
White Cape
White Cape
If you're a fan of Tools, you might want to go with this setup instead. This is because Edgar has perfect MBlock here, so it's a bit defensive. And since Tools have set Battle Powers, Edgar can focus on boosting his MBlock.

Gau 1:

Unarmed
Genji Shield
Red Cap
Snow Muffler
Hero Ring
Marvel Shoes/White Cape
Gau's setup is going to depend on the Rages you want. I didn't really bother with Elemental resists here since Gau can self apply elemental AND status protection. But he's a tank here with max defense, so physical attacks won't touch him.

Gau 2:

Tempest
Genji Shield
Red Cap
Snow Muffler
Merit Award
Offering
This is the infamous Wind God Gau setup! How does this setup work, do you ask? Well, with this setup Gau should be using the Stray Cat Rage. Catscratch has quadruple physical damage, and the Tempest's Wind Slash is not just MT, but will IGNORE the Offering's damage penalty! Here, the odds are divided so that you have a 1/4 chance of a 200 Battle Power wind elemental physical, a 1/4 chance of a 48 Magic Power Wind Slash, a 1/4 chance of an 800 Battle Power physical, and a 1/4 chance of casting a spell with 192 Spell Power (this is stronger than Ultima, by the way)! The Offering provides for four hits like this, and if you get the Wind Slashes, the half damage penalty is ignored. What a setup! And only Gau can use it (well, Gogo can, but Gogo doesn't have Gau's stats).

Celes:

Illumina
Aegis Shield
Mystery Veil
Minerva
Hero Ring/Economizer
Earrings/Gem Box/Ribbon
This is a similar setup to the one Terra has for the same reasons. I put the Ribbon in there in case you wanted to use Celes as a fighter, in which case you probably won't need another Magic Relic. The one advantage Celes has over Terra is that if she trades in one of her Relics for a White Cape, she has perfect MBlock (Terra needs two White Capes to do this) and will be near invincible.

Gogo:

Magus Rod
Paladin Shield
Circlet (Replace with Red Cap when you get the second one)
Tao Robe
Marvel Shoes/Ribbon
White Cape
Gogo NEEDS the Paladin Shield, as his defense sucks, and he has no other way of getting lots of elemental protection (unless you're using Rage with Gogo), but he also needs the defense. His best defense is his ability to get high MBlock, and this setup has him with 96% MBlock. Just so you know Gogo's Bum Rush is stronger than Sabin's with this setup.

Locke 1:

ValiantKnife
Genji Shield
Red Cap
Force Armor
Offering
Atlas Armlet/Muscle Belt
This setup revolves around Locke doing huge damage with his ValiantKnife, hence all the HP boosters. You'll get a Muscle Belt in the tower if you don't have one (you can Steal these from Borrases).

Locke 2:

Illumina
Aegis Shield
Red Cap
Force Armor
White Cape
Any Relic of your choice
This is one of several perfect MBlock setups for Locke, if you want to use him defensively. Mind, if you want to give him one, he MUST be using the Illumina, so he has several options. This one gives him the right to use a Red Cap and a spare Relic. Still, I'd prefer the first setup.

Shadow:

Assassin/ThiefKnife (Take your pick)
Paladin Shield
Genji Helmet
Genji Armor
Hero Ring
Ribbon/Marvel Shoes/White Cape
This setup assumes you're going to be using a mix of both weapons AND Skeans when you're Throwing, hence the Hero Ring. The Assassin is good for Magic Power, while the ThiefKnife gives him some extra MBlock. The Paladin Shield is for those elemental resists Shadow doesn't get with his normal stuff.

Strago:

Various weapons (unless you managed to win a second Magus Rod at the Colloseum, in which case use that)
Thunder Shield
Circlet
BehemothSuit
Earrings
Earrings/Ribbon/Marvel Shoes
Strago's setup is based on the leftovers of this party. He'll have subpar stats, but at least he'll have the mandatory things. The BehemothSuit DOES provide a HUGE stat boost to everything and has great defense, so he does have that. The Thunder Shield is so he can get some of the elemental protection he so lacks otherwise, since the Paladin Shield is already in use.

Relm 1:

Magus Rod
Aegis Shield
Cat Hood
BehemothSuit
Earrings/Economizer
Earrings/Gem Box
This is an awesome setup for Relm. She has great Magic Offense (61 base!) AND great defense, both from high MBlock AND from high natural defense. The Cat Hood also provides those elemental resists she needs. She won't be immune to or absorb anything, but she'll still be very powerful.

Relm 2:

Magus Rod
Force Shield
Cat Hood
Tao Robe
White Cape
White Cape
This setup sacrifices three points of Magic Power (and a HUGE boost from Earrings/Gem Box) as well as a lot of physical defense. The point of this setup is that it gives Relm perfect MBlock, meaning she's near invincible. Only a few physical attacks can get around it, and most of those ignore defense anyway, so the defense is no big loss. Besides, this setup halves ALL eight elements as well, and Relm STILL performs somewhat decently in offense. Mind this is for those 128% MBlock nerds out there mainly, just to show you what Relm can do. I still prefer the first setup.
Now, if you decided to bring Cyan, here's the setup he should use (He's taking Gogo's place):
Cyan:

Scimitar
Paladin Shield (since no one else is using it...)
Crystal Helmet (yeah. I know. It sucks. But you shouldn't be using Cyan)
Force Armor
Offering
Marvel Shoes/Ribbon
This setup is based on PRAYING your Instant Death with the Scimitar kicks in, since that's ALL he has.
And for those of you who are on drugs and decide to bring Umaro...
Umaro:

Bone Club
Nothing
Nothing
Snow Muffler
Rage Ring
Blizzard Orb...
(Let's face it. He's screwed with WHATEVER you give him).
With that all in mind, fly to Kefka's Tower. To get to it, land the airship on it. Now, form your groups. Terra's group should be in the left slot, Edgar's in the middle, and Locke's in the right. As a reminder for the three parties, here's who you should be bringing:
We'll actually venture INTO the Tower next time.