This is part 24 of the Walkthrough for the Super NES version of Final Fantasy VI.
And now, back to the adventure
[
]
When we last left our heroes, the world was being destroyed.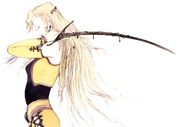 Well now, it's one year later, and we pan to a small island in a purple sea. We pan to a desolate looking house, and inside we see two familiar faces: Cid and Celes. Celes is sleeping soundly, so let's not wake her! Cid is trying to nurse her back to health. Celes wakes up, but magically Cid seems to come down with whatever Celes had. Celes wonders what happened to everyone, and we're led to believe that Cid and Celes may be the last two people left alive. Now, Celes has to heal Cid. Cid has 120 HP, and you need to get him up to 256 HP. If his HP drops to zero, he dies. If it gets to 256, he lives. The adventure continues either way, so you don't have to save Cid if you don't want to. The only thing it changes is what cutscene you'll see after this event. To heal Cid, you'll have to catch some fish down by the beach. If you want to save Cid, catch the fast moving fish. These are Yummy Fish, and will give Cid 32 HP back. The medium speed fish have a chance to be "Just a fish" which gives Cid 16 HP back, and a Rotten Fish, which will take 4 HP away from Cid. You can find out what kind of fish they are by looking at the Rare Item screen and pointing the cursor over them. The slow moving Fish, which are just "Fish" take away 16 HP from Cid. Cid also loses 1 HP every second you spend in this area (on the World Map, he won't lose any, so it's recommended to save your game there before catching any fish). You'll know how much HP has left by what Cid says to you:
0 - 30: Good-bye...
31 - 60: Cough...hack...ACK!! While I can still talk, I...wheeze...pant...want to thank you...cough!
61 - 90: My worst nightmare is to think of you alone here on this wretched island ... hack ... wheeze!!
91 - 120: I...I'm not long for this cruel new world ...
121 - 160: Cough...wheeze...I can't bear this any longer...
161 - 200: HackAck!! I feel a little better!
201 - 230: Celes, thanks for all you've done for me!
231 - 255: My dear, I ... feel I'm not going to be around much longer... (why the hell he says this when he's near full health is beyond me)
256: I feel much better! Thanks, Celes!
If he dies, Celes will throw a fit because she thinks she's the only one left alive. But a bird will swoop down and give her a bandana. All of a sudden, she realizes there are people left alive. If Cid lives, he'll present Celes with a raft and make her go out to find her friends and bring them back. If Cid dies, he'll leave a note telling Celes where the raft is.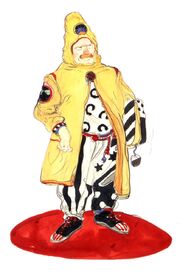 Before leaving, you may be wondering what the enemies around here are. The Peepers and Earthguard are what you'll fight here, and both have 2 HP and Seizure status. So you have no problems here. Earthguards are only fought in the desert. You can also fight Black Dragons in the desert, which are dangerous when Celes is alone as they use Sand Storm, which is deadly to Celes, and BonePowder, which will turn Celes into a Zombie, and ending the game.
Now, hop aboard that raft and travel somewhere!
The main continent
[
]
You'll arrive on the main continent. Give Celes a Ribbon or a Jewel Ring, as she'll need it in these parts. Petrification is the name of the game here, and if Celes gets hit with this, it's game over because she's alone. Of course this means there are some new enemies here. The Gilomantis and Mesosaur haunt the forests, and the Mesosaur is your first lizard like enemy you'll encounter in this game. Lizards and dinosaurs are weak to Ice often, so Celes should remember this. They run away when alone, too. Gilomantises only use their physical to fight. So they're worthless, too. Use violence.
The next pair of enemies is the Chitonid and the Gigan Toad. The Chintoid is just like its breatheren you've faced before, except its defense is lower. It still counters with the occasional Sneeze, but only when alone. Bolt 2 works against these guys. Gigan Toads are weak enemies that can try to cast Rippler and fail miserably. The final pair around these parts is the Lunaris and Osprey. The Lunaris is another crappy physical-only thing (but it can Blind you, but that doesn't mean shit in this game!), but the Osprey is the big threat here. It uses Beak to try and Petrify Celes, and always on its third turn. It also can counter Magic attacks with Shimsham. Use violence.
You'll land off your raft near the town of Albrook, so let's visit it, shall we?
Here, you'll learn all about what happened. Kefka destroyed the world and achieved "God" status. Anyone who opposes him is struck down with the Light of Judgment, and ancient monsters, such as Phunbaba, Doom Gaze, and the Eight Dragons are on the loose. The Weapon Shop sells elemental swords for the first time. You don't need these now, but remember they exist for later. The Armor Shop and Relic Shop sell nothing you haven't seen before, although if you don't have any protection from petrification, get a Jewel Ring. You'll also see someone who was searching for his friends and headed north to Tzen. But that's a story for the next part of the walkthrough.