This is part 19 of the Walkthrough for the Super NES version of Final Fantasy VI.
What a great name for a dungeon! To get here, head west from Thamasa and into the cave you see. Despite the fact that this looks like a cave, it's really a mountain! Before going in, though, I suggest summoning Phantom outside so your party can be in Clear status, as most of the monsters here attack physically.
Alright, I should probably warn you of what lurking horrors lie ahead. The first is the Adamanchyt, which I was surprised when I first saw because it's a palette swap of the Baskervor, which you just fought outside this place! It's difficult to defeat, as it has high physical defenses and counters 1/3 of all attacks with Sneeze, and you know what that does (it also takes off your Clear status). Terra will have to use her magic on them, as this is the only way to go (well, so is New Jersey Transit, but that's not in FFVI at all now is it...). Slurms are best known for being hijacked by Matt Groening and getting paid large amounts of money to make a fake soda on his hit TV series, Futurama. They're not known for much else, and are incredibly weak. A Fire spell (yes a Level 1 Fire spell) should be more than enough to take them all out.
On the slopes, you'll find the Abolisher. This thing does nothing to harm you, but it does cast Pearl Wind on its third turn, so you should wait for it to come so Strago can learn this Lore. It's one of his best, as it's a form of healing which bypasses Wall Rings. You'll need it in an upcoming battle. The Insecare is a weak enemy, and its only problem is Wing Wisp, which puts, as you would expect by the enemies you know it's a palette swap of, Berserk. Mandrakes are tough though. They can use Stonetouch, which, as the name implies, inflicts Petrify on a character. They also have a 1/3 chance of countering any attack with Raid, which is a more powerful version of the Drain spell. This is very bad as it can remove the Clear status which protected you from everything else.
Anyway, in the first cave, you'll notice that Relm won't stop bugging you! She'll pop in and out of doors here and there. There's a chest in this room with a Heal Rod, which heals whatever it hits! It even works on the undead! Now normally an item like this would seem useless, but there's a use for it, so save it. Anyway, exit the door to the east (the west and north doors just connect to the same area). Now, follow the very linear path to a room with three golden statues (make sure Strago learns Pearl Wind on the way). At this point, equip everyone with Wall Rings, then go near the statues for a cutscene. Apparently these statues have the history of the world written on them, and also talk about three other statues. They're supposed to be "representations" of the other statues. On the way out, an old friend will reappear. That's right, it's our cephalopod buddy, the Octo-Octacular, Ultros! He'll observe the statues, and ponder stealing them. Locke will bug Ultros and he'll then challenge you to a fight.
Ultros is as easy as ever. He uses the same attack script he normally uses. His physical attack, Tentacle, Ink, which sets Darkness, and he can also use Stone this time around. Just pray it doesn't hit (it has a low hit rate). After every minute of battle, Ultros uses Lode Stone, which takes away 3/4 of one character's HP. He'll also waste turns slithering towards you. If he gets close enough, he'll cast Aqua Rake, which can be deadly, or Magnitude8, which, since you're not doing drugs and are wearing Gaia Gears like you should be, will heal you. It will then slither the other way. It will also slither back if you use Magic on him, and since he's weak to fire and lightning, Fire 2 and Bolt 2 are the way to go. When Ultros loses about 1/3 of his HP, he'll cast Haste and Safe on himself. Use Dispel to take these statuses off immediately. If you hit Ultros with five spells, a message saying "Ultros' form has changed! Beware his tri-Elemental attack!" What is this tri-Elemental attack you ask? Well, he'll counter any fire Elemental attack with Fire 3, and ice Elemental attack with Ice 3, and any lightning Elemental attack with Bolt 3. Believe it or not, this is a GOOD thing. You'll cast Bolt 2 on Ultros, and he'll counter with Bolt 3. But since you're wearing a Wall Ring, the counter will be reflected right back onto him and deal massive damage to him! Once Ultros gets down to about 10000 HP, Relm will appear and use her sweet, innocent child face to convince Ultros to let her Sketch him. Relm will join your party now, and you can Sketch Ultros for a win. But I consider this cheating, and there's always that chance that the Sketch bug will kick in. So just keep casting your spells and getting them Reflected back onto Ultros (just pray none of them hit Relm, or you could cast Reflect on Relm).
Now, Relm has subpar equipment on. Give her an elemental rod, a Mystery Veil, and some Gaia Gear. Most importantly, give her an Esper. Without magic, Relm is the worst character in the game. With magic, Relm is one of the best characters in the game. So give her an Esper NOW. Preferably one that teaches a quick Level 2 spell, such as Ifrit, Shiva, or Shoat. Stick her in the Back Row once she's learned it, and have her attack with nothing but that spell. Also, teach her another one. Relm should get first dibs on every Esper, since she needs Magic to be really, really powerful. Also, teach her some healing spells if you have time. She also comes with a Memento Ring; you found one earlier.
Save your game in the next room. There are three tiles here arranged in a triangle. Jump into the top tile, and you can reach a long bridge maze which has two exits to the exterior of the mountain. Here, you'll find chests with a Tabby Suit (The description of this reads "Resembles a Tabby Cat;" my guess is that this is supposed to be a Cait Sith suit? I'm just going to call it that from now on) and a Chocobo Suit. These are great armors, with lots of stat boosts and resistance to Poison, that Strago and Relm can equip. Equip them now. I prefer to make Relm dress up as Cait Sith (because all you FFVII players out there know Cait Sith is tiny, and Relm is tiny, and Zeromus X from the Caves of Narshe forums has two loves "Kitten Sith" and "Relm-witten!" and also because it has higher Magic Power boosting) and Strago dressed as a Chocobo. Just remember that for an upcoming dungeon, they'll want Gaia Gears instead of their fancy dressup mascot costumes. Besides, if you want to play pretty princess dressup, there's always that disgrace of a game Final Fantasy X-2. They even have a Cait Sith suit you can wear! After you get these, go back to the bridge maze and jump down. Go back to the Save Point room.
The right hole leads to another bridge maze which leads to a chest with an X-Potion. Travel back accordingly to the Save Point room, and enter the lower left hole. This leads to where the Espers are. You'll meet Yura, king of the Espers, who also is interested in talking peace with the Empire.
Return to Thamasa
[
]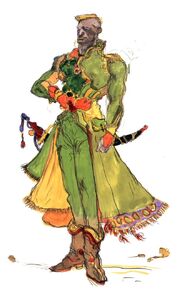 Now, you'll automatically go back to Thamasa, where you'll reunite with General Leo and Celes. Yura and General Leo will lead the negotiations, and all seems to be going well until....
You-know-who shows up with his elite Magitek cyborgs! That's right it's Kefka. He reveals that this whole plan was a setup for Gesthal and him to get Magicite, and grow powerful. They disbanded the Imperial army because they don't need it with all this power. Kefka will kill all the Imperial troops nearby and knock out all your party members (because NO ONE can kill your party members!). He'll then kill Yura and the other Espers and transform them into Magicite.
General Leo wakes up, and you're controlling him. If you try to leave town, you'll face another Guardian, which of course won't let you pass. You have to face Kefka.
Now, Leo is a powerful character. He gets the Aegis Shield for lots of MBlock, an Offering, which allows him to attack four times in one turn, and an Atlas Armlet, which further increases his physical damage. His special is Shock, which is a very powerful non-elemental magical attack. Too bad you can't remove any of this awesome stuff.
With all this stuff, Kefka is no match for Leo... until you learn that this was just Kefka's shadow you beat. And he shows off a great Gestahl impression as well. Kefka will then kill Leo in one of the saddest moments of the game (the tears don't come yet though). The Espers from the Sealed Gate will sense danger, and run to Thamasa to help. But they're no match for Kefka, who grows ever stronger with every Magicite shard he picks up. He'll stop eventually though, and get ready to make plans to invade the Espers' homeland.
Now comes Leo's funeral. This is one of the saddest parts of the game. After the funeral, Interceptor shows up, and things get even sadder, as you now assume that Kefka killed Shadow as well. Now, one can only hope nothing is wrong with Edgar, Sabin, Cyan, Gau, Setzer, and Mog! But lo and behold, they're all okay. Edgar tells you that, thanks to his womanizing, he was able to find out that this was a setup to get the Espers to a vulnerable place where Kefka could take them. Although what happened to Banon and Arvis at this point is unknown, and it can only be assumed that Kefka got to them as well.
All your former allies will rejoin you now, including Celes.
This can't be good at all...
[
]
When you board the Blackjack, you'll hear a strange rumbling. The island where the Espers live is shaking. You'll see a cutscene of Kefka and Gestahl entering the Sealed Gate and somehow using their newly acquired power to... make the island float in midair? You'll then find out what those Statues really are: stone Goddesses which apparently hold the entire world in balance. Strago says if just one of them were moved out of alignment, the resulting power would change the face of the earth. This can't be good news.
Onboard this island, which is now the Floating Continent, we see that Kefka and Gestahl now have everything they need. No more Imperial army. No more Magitek soldiers or Magitek Armor. No more General Leo. No more experiments either. Kefka and Gestahl can now just wish for something to happen, and it will happen.
When you regain control of your party, the airship will have a new option now: "Fly to the Floating Continent." Don't do this just yet, we have a lot of preparation to do! Join us next time where we'll do those preparations!