This is part 12 of the Walkthrough for the Super NES version of Final Fantasy VI.
Zozo? Never heard of it!
[
]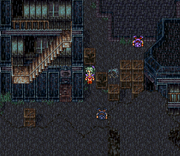 Welcome to the city of Zozo. If you listened to what the snobs in Jidoor said, they told you they expelled their poor people, who have built Zozo from the ground up. Unfortunately, Zozo suffers from urban decay and high crime. The crime is high enough that you'll have random encounters here. And the enemies are VERY tough. On the streets are the Gabbldegaks, which is another Repo Man upgrade (the GBA renamed these "Gobbledygooks," but I think Gabbldegak is more suitable for these things, as they're not nasty blob things). They attack in groups, and are the weakest enemies here. But they're still tough as they can cast Vanish, rendering them immune to physical attacks. Have Edgar use his NoiseBlaster on them, so you can be the recipient of Vanish spells! This renders you immune to some of the more powerful attacks other enemies apply.
The second enemy you'll likely face only resides in the streets. The HadesGigas is tough. Its special, Head Butt, can take away more than 400 HP to one character. It also has a 1 in 3 chance of using Magnitude8 when it dies. This is bad. This attack deals 300+ HP damage to your entire party, and if you have Clear status on, it will remove it. If you brought Gau or Celes with you, you can avoid this by having Gau use the Rhodox Rage and killing it with Snare, which keeps it from using Magnitude8. Celes can cast Imp on it, which will also keep it from using Magnitude8. Locke can Steal Atlas Armlets from them, but it's a rare Steal. I still have yet to determine whether or not Ray Lewis descended from one of these.
Harvesters are a bunch of right wing reactionaries trying to impose small town values on big cities like Zozo. They, too, are very tough if you let them live for three turns. If you do, they can Throw Dirks and MithrilKnives at you. This attack ignores defense and row, and is very powerful, so it most likely will kill a character in one shot unless they have the Clear status on. It can also use Potions to recover 250 HP at a time. Locke can Steal DragoonBoots from them, but it's a rare Steal and Harvesters can counter by stealing some GP from you (which you will win back if you win the battle). The common Steal is a worthless pair of Goggles. Harvesters can also drop Barrier Rings.
Inside the buildings, you won't fight any HadesGigases, but you will face something much worse. The SlamDancer is a tough enemy, as it uses Fire 2, Ice 2, and Bolt 2 when left alone, which if focused, will probably kill a character, and will probably deal big damage to your entire party if MT, and will take off any Clear status you may have. These things need to go down fast and first.
All the enemies in Zozo are weak to Poison, so have Edgar use his Bio Blaster on a group of enemies (the Drill is still stronger against a single opponent), and have Gau use his Trilium Rage for Bio (Stray Cat is still stronger against a single opponent).
What else did the people in Jidoor tell you, besides reveal their stinginess? Well, they'll tell you that everyone in Zozo is a liar. This means there's a riddle to solve if you talk to all the Thieves in Zozo. This riddle involves a clock at the "Inn." You need to set it to the right time. For all the clues, highlight the white space below.
That clock has no minute hand. It's never pointing to the right time anyway! (this means that the minute hand, which is pointing to :10, is on the right time).
Clock's second hand's pointin' at 30.
The seconds? They're divisible by 20!
The second hand of my watch is pointing at four.
Time? It's 4:00.
You can trust me! It's 8:00.
10:00! Time to go home!
It's already 12:00.
It's now 2:00.
The answer to the clock riddle is that the time is 6:10 with 50 seconds. This will open a path to a chest. Inside the chest is a Chain Saw, a new Tool for Edgar. This is stronger than the Drill, but has a 1 in 4 chance of inflicting Instant Death (and it's the kind that works on the Undead, too!). This is both a blessing and a curse, as if Edgar tries to inflict Instant Death on a boss or other Instant Death immune enemy, he'll have wasted a turn. The debate between which is better is still going on.
As for the other items, go to the "Cafe" and go upstairs and onto the balcony. One of the doors (the one that's not rusted) has a chest with a Tincture inside. The "Armor Shop" has a chest with a Tonic inside.
When you're ready, go to the "Relic Shop." The man at the counter will tell you that he hasn't seen a girl fly on top of the building and stop there. Since you know he's lying, Terra is at the top of this tower. So climb the tower. Go up the stairs, and then climb the exterior stairs. Jump in line with the Thieves (another question that has yet to be answered but has never been debated is what the thieves are in line for, so don't ask me...) and go up the stairs at the north end of this room. Climb some more flights of exterior stairs and you'll find a chest with a Thief Glove. This is a Relic for Locke that changes Steal into Capture, which allows him to Fight and Steal in the same turn. It has its uses, but it should never be a staple on Locke, especially since Locke's weapons lose all their special abilities (such as auto-critical, Instant Death, and ignoring defense) so he can Steal, unless the special ability is a Spell tacked onto the weapon (ie it's one of those "Randomly casts XXXXXX" weapons). None of the weapons you have right now will be affected by this, but there are some that will.
Now, go to where you see an opening in the building's wall, and jump between buildings until you get to another building with a door. Go inside, and go up the second hidden path (the first leads you nowhere), and check the pots for a Potion and a Tincture. Exit the southwest door, and climb up the rest of the flights of stairs. Jump back to the main building, and keep on climbing. Enter the door you see, and continue climbing the stairs. Go outside, and climb some more stairs. You'll find a small door here which leads to a room with a Fire Knuckle for Sabin, which is something that would almost make me want to put Sabin in the Front Row and give him a physical setup. But I'm not falling for your cheap tricks, Square! I'll hang out in the Back Row and Blitz and Blitz until the offensive line picks me up and the quarterback reads me! Anyway, you'll find that your path is blocked by a strange man. You'll learn his name is Dadaluma, and you'll have to fight him.
Hopefully, some, if not all, of your characters will start this fight off with the Clear status from the Gabbldegaks. This will render you immune to Dadaluma's worst stuff: Throwing Dirks and MithrilKnives. The only thing he has that can remove Clear is Shock Wave, which is a weak attack. He will only Throw if you attack him with the Fight or Magic commands, something which only Locke will do, and you should try to Steal from him first, as he has some nice stuff. He has a common Jewel Ring and a rare Sneak Ring. Other than that, the only characters who rely on Fight and/or Magic are Gau and Celes. But even they have some tricks up their sleeve. Gau can use his Areneid rage to use Numb, as Dadaluma is vulnerable to Stop. Celes can cast Imp on it, which will keep it from Throwing stuff. And odds are you'll have a party with at least one of these two (I have no sympathy for anyone who chose to bring Locke and Cyan, or anyone who chose to bring Cyan at all...). Once he gets below 1920 HP, he'll use either three Potions or three Tonics, and he'll cast Safe on himself. After 30 seconds, he'll summon a pair of Iron Fists into battle, but these are easy to kill and will run away when you kill Dadaluma.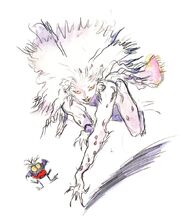 After this battle, you'll be at the top of the tower. Grab the two chests, which have an X-Potion and a pair of RunningShoes, and you'll find Terra lying in bed. Talk to her, and you'll be introduced to Ramuh the Esper. He'll tell you the story of the Espers and the War of the Magi and how the Empire is abusing Espers, and yet are doing it incorrectly. The Espers need to be reduced to Magicite in order to be usable (Magicite is what's left of the Espers when they die). He'll tell you that in order to save Terra, you have to free some Espers from the Magitek Research Facility in Vector, the Imperial capital. He'll kill himself and turn himself into a Magicite for you to use, and he'll give you Kirin, Siren, and Stray for your use as well.
Now, you'll go down to the entrance to Zozo automatically (whichever characters you didn't bring to Zozo will meet you here), and you'll choose the party you'll take down to Vector. Locke and Celes are forced into your team here, so you have to use them. Definitely take Sabin as well, as Fire Dance is ungodly in the next section. For your fourth character, you can choose between Edgar and Gau. Edgar is the best for storyline, but Gau is better for battles. The choice is yours to make. But for the love of God don't take Cyan, or take a party with both Edgar and Gau in it!