This is part 9 of the Walkthrough for the Super NES version of Final Fantasy VI.
What's up, Locke?
[
]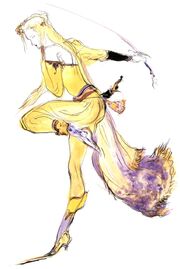 We rejoin Locke now, who we haven't seen for quite awhile. He's investigating the Imperial raid on South Figaro. After being chased around by Imperial troops, he decides it's time to go to Narshe (how the hell does he know that's where everyone is now? Maybe he heard it from Sabin as he passed by if you followed this walkthrough like a good little boy?)
So anyway, equip Locke with your Air Lancet and Ninja Gear, as well as a Green Beret and Atlas Armlet. Your second Relic depends on what kind of setup you want to give him. You can go for a Genji Glove setup if you want and give him a Guardian if you want, or you could give him a Mithril Shield and pick your own second Relic (If you go this way, I highly recommend RunningShoes). Keep him in the Front Row. Save your game in the basement of Duncan's house.
You can exploit the Kutan glitch at this point in the game, but this will result in you never having a certain character to be named later if you choose this, and it will be replaced with Kutan, one of the Moogles you met early in the game. I wouldn't advise this at all.
Now, if you try and get past the guard wearing Magitek Armor, you'll have to fight a HeavyArmor, which will kill you no matter what happens. If you lose, though, you'll just restart at the point where Locke's scenario began. Instead, go to the Item Shop and talk to the merchant there. Steal from him, and you'll steal his item (usually a Plumed Hat, but occasionally a Guardian), and his clothes (and you'll get to see a sprite in his undies). Now, enter the old man's house and go downstairs. You'll find a little boy who will let you through because you're (dressed as) a merchant. Now, go to the outer wall and talk to the green soldier. You'll have to fight him. Steal his clothes and you'll be dressed as an Imperial soldier. Now, talk to the soldier guarding the path near the rich man's house and he'll let you pass. Enter the Cafe and go to the basement. Talk to the merchant and Steal his clothes. You'll also obtain the Key Item "Cider" (I'm assuming this was wine of a sort in the Japanese version, damn soccer moms and their censoring).
Now, go back to the old man's house and give him the Cider (why you still have it in your inventory beyond this point is beyond me). Now, he'll try to tell you a password to open the secret passageway to the rich man's house, but he forgot, and he's too lazy to go tell his grandson that you can get in, so you'll have to guess. The password is "Courage." If you guess that, the grandson will open the secret passage for you. If you guess "Rosebud" or "Failure," you'll, well, fail, and have to start all over-GODDAMN IT!! So just say "Courage" and go into the secret passage. Climb up the stairs and enter the rich man's house. Go to the second floor and enter the first room. There's a hidden stairway behind the bookcase, if you'll remember, so take it. Go down another flight and you'll go down a long corridor.
You'll be asked if you want to take off your disguise. It doesn't matter if you do or not. When you come to the "T" go east to the three doors. Try to enter the one on the left, and you'll see a girl get beat up by an Imperial. You'll learn that she was a general who committed treason. After she gets beat up, the guard will leave the room. Locke will either be hiding or saluting the guard depending on what disguise he has on (if any). Now, enter the door and talk to the girl. You will take off your disguise if you have one on and learn that she is the famous general Celes. Locke will rescue her, and she'll join your party. Now, talk to the sleeping guard and you'll get an "Old clock key" and get to hear him mumbling. Exit the room and enter the middle door in the hallway. Save your game, and enter the far right door in the hallway. In the northeast corner of the room, there's an old clock that's not ticking. Wind the clock and a new door will appear. Enter it.
At this point, you should equip Celes properly. Give her your Mithril Shield, and a Green Beret and a Silk Robe. As for her weapon, if you want to put her in the Front Row and have her be a physical fighter, give her the Rune Edge. If you want her use her offense as casting Ice spells, give her a RegalCutlass and put her in the Back Row. Give her an Earring if you're going the magic route.
You'll now be in a large maze where there are random encounters. The only enemies here are Vector Pups and Commanders, which are both easy to deal with. The big thing here is that this maze has a lot of treasure for you, and there are a lot of hidden paths. Unfortunately, it's hard to describe where they are. The chests on this level have a RegalCutlass, Heavy Shield, and Iron Armor. Don't bother equipping these on anyone. They're not that great. But one of the chest does contain another Earring. Equip this on Celes as well, as the damage bonus will stack. There's also a hidden path to the basement where you'll find chests with an X-Potion and an Ether. More importantly though, there's also a hidden chest in the area south of the X-Potion chest, which has a valuable Ribbon inside. This great Relic will protect you from all status ailments except Stop and Slow. Make sure you get this! When you're done, go up the stairs in the southeast corner of the maze and you'll get a cutscene. Exit the north door and you'll be outside of town. Exit South Figaro and you'll be back on the World Map. Save your game and recover at Sabin's Cabin. Now, head to Figaro Cave in the northwest.
Back through Figaro Cave
[
]
Alright, the enemies here got a lot tougher from when you were last here. You may want to equip your Ribbon (or a Star Pendant, but why equip a Star Pendant when you have a Ribbon), because the Trilobiter enemies here can Poison you. The Primordite enemies are not lethal, but watch out for the Gold Bear, because its Gouge attack deals lots of damage. Have Celes cast Cure whenever you're low on HP, and have her use her physical or cast Ice at other times, depending on what strategy you're using. Locke should always use his physical.
Remember how I told you not to open any chests here? Well, now I'll let you open two of them. In the big cave, open the one to the west for an X-Potion. Leave the one in the east alone (it has a Tincture, but it can upgrade itself again). Now go up the northwest stairs and open the chest here for a Thunder Rod. Save this. Now, head up the stairs at the north central part of the big cave and use the recovery spring. You'll hear a massive rumbling, and you'll have to face the TunnelArmr boss.
Put Celes in the front row and give her the Black Belt here. Now, have Locke use his physical and Celes use Runic for the entire fight. TunnelArmr mostly attacks with magic, which Runic will harmlessly absorb. Locke should try to Steal from TunnelArmr for a second Air Lancet (you may get a Bio Blaster, if so just reset). If you have a Genji Glove on Locke, replace his Guardian with the second Air Lancet. When TunnelArmr gets low on HP, it will use Drill, which is a massive physical attack, but isn't lethal. Have Celes use Cure if HP gets low and you should beat the TunnelArmr.
Congratulations, you've finished all the scenarios!