This is part 3 of the Walkthrough for the Super NES version of Final Fantasy VI.
Levelling up near South Figaro
[
]
This is a good time to take a break and level up a bit. The enemies near South Figaro have lots of goodies for you. The Greasemonk, for instance, can take care of any money problems you have. They drop 256 GP when they die. Also, Locke can Steal Antidotes from Rhodoxes. Finally, the Rhinotaur has a rare Mithril Claw for Locke to Steal. You can't use them now, but you should definitely Steal some because you'll want them very soon. It may take awhile to get one, as Rhinotaurs commonly have Tonics to Steal, but if you persist you'll get your Mithril Claw. The forest is the best place to fight them, as they attack in large groups there and Edgar can use his AutoCrossbow to take them all out in one shot. They also yield lots of EXP per battle, so I suggest staying here until Terra reaches Level 12, at which she learns Drain.
Also, you can visit a house far to the north of South Figaro, at which there will be a cutscene involving Edgar. You'll also find a Tonic in the bucket near the stove in this house. And you can rest in any of the beds you find in the house for free, thus recovering your HP/MP. When you leave the house, you'll learn the story of Duncan, Sabin, and Vargas from a passerby. Now, it's time to climb Mt. Kolts!
Climbing Mt. Kolts
[
]
When you're ready, head northeast of South Figaro to find a mountain path. This is Mt. Kolts. Make sure everyone is in the Back Row, and enter the first cave. When you enter the cave, you may fight a pair of Brawlers here. Definitely do this. Locke can steal Bandanas from them, which is a hat upgrade for Terra and Locke. It's a rare steal, so it may take a long time to get one (Locke has a 1/8 chance of nabbing one). Get three of them, and equip one on Terra and one on Locke. Leave the other in your inventory for now. The other enemy in this cave, the Tusker, is weak to Fire, so have Terra cast her Fire spell. Edgar should still be using his AutoCrossbow, and Locke should be Stealing.
When you exit the cave, you'll be on the outside of the mountain. Here, you will fight some new formations. A Tusker may be accompanied by several Cirpii. They can be dangerous, as if they're left alone, their Beak attack can Petrify a character. But Edgar's AutoCrossbow should still be very effective. Even more dangerous is the Trilium. This enemy uses Bane Touch often to Poison your characters. If you have Star Pendants equipped, your characters are immune to Poison, so make sure you do this. If you don't, you'll have to use an Antidote or Terra's Antdot spell. They are weak to Fire though, so Terra's Fire spell works well.
Enter the cave to the right, and exit via the south path. This leads to a chest with the Guardian inside. This is a new weapon for Locke, which increases his Speed a bit (it also increases his Evade, but due to the Evade bug this doesn't do anything). Reenter the cave and head to the pit. Walk along the pit to the east and you'll find a hidden passage which leads to a Atlas Armlet. Replace Edgar's Hyper Wrist with this, as it's much stronger. Now, go back to the entrance to the cave and cross the bridge to the north.
When you exit, you'll see a shadowy figure go around the back of the cliff. Follow him and you'll be in an area with two caves. Enter the one on the right and go south to reach a chest with a Tent. Go back to the area with two caves and enter the left one. Cross the bridge to the east and exit. You'll see the shadowy figure cross a bridge. Follow it and you'll get to a room with a Save Point. Save your game and exit to the east. You'll be on the summit of the mountain. Take the Mithril Shield off whoever has it and give him or her your spare Heavy Shield. Follow the winding path and you'll run into the shadowy figure. You'll learn that this is Vargas, and he'll challenge you to a fight.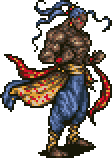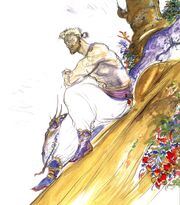 Vargas is flanked by a pair of Ipoohs. Have Locke Steal Potions from them. You won't be able to attack Vargas while the Ipoohs are still alive. Edgar should use his AutoCrossbow and Terra should be casting Fire. Locke should use his physical after stealing (move him to the Front Row first). Watch out though as Vargas uses Gale Cut, which can damage the entire party for about 40-60 HP. When the Ipoohs are defeated, focus all your energy on Vargas. Locke can steal either a Tonic or a Mithril Claw from him. Once you take down some of Vargas' HP, Sabin will appear! After a discussion about who Duncan picked as his successor, Vargas uses "Mortal Attack Blizzard Fist!" to blow everyone except Sabin out of the battle. He will then use Doom Fist on Sabin, which will put Condemned on Sabin. You now have until the counter reaches zero to defeat Vargas (don't worry, it starts near 60). Go to the Item menu and replace Sabin's MetalKnuckle with a Mithril Claw, and give him your Mithril Shield (I say give it to Sabin because he can't use Heavy Shields). Now, attack Vargas until the game gives you a tutorial on how to Blitz. Make sure you input left-right-left WHILE THE CURSOR IS POINTING AT SABIN. It's the only way it will work. Sabin will unleash his Pummel Blitz and kill Vargas. He'll then join the party.
Equip Sabin with your spare Bandana (and the Mithril Claw and Shield if you haven't already) and enter the cave. Grab the Tent from the chest, and work your way down the mountain. Now head north through the valley to the Returners' Hideout. You'll face the same enemies you faced near South Figaro on the way.