Well, once we get near to Moore, I hope you're ready for a polarizing scene coming soon. Well, polarizing by FFV standards. So not really polarizing.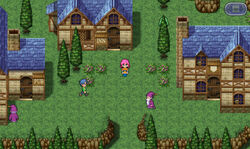 The village of Moore has a piano for you to play, which you obviously should. More importantly, it has equipment worth buying. Weapon wise, Air Knife is alright, but I wouldn't personally bother. Magic is most important. Prioritise Curaga, Hastega, Firaga, Blizzaga and Thundaga. Get the rest depending on monies. The armor here is amazing. I got all the Diamond Armor for my Mystic Knight, a Diamond Plate for my Ninja and Red Mage and a Luminous Robe for my Time Mage. Oh, I also got Diamond Armlet for my Ninja and Red Mage. I then sold all the armor I wasn't using.
If you have money problems, go outside and fight some battles. The enemies outside yield tons of Gil. It might be a good idea to fight anyway, considering how hard the next dungeon is. About 5 encounters should do it. But honestly, if you had enough Gil to get everything from Moore with a few thousand to go, it might be alright.
We will be coming back to Moore later. For now, we're only stopping by for the armor. Head back to the submarine and away again. Now, try to search for the dot underwater in the submarine, the dot in the middle of nowhere. It's Ghido's cave.
Ghido's Cave
Edit
Ghido's Cave sunk and become a dungeon. Yay. When you first arrive, go down two floors until you come to one with four treasure chests. Only the middle chest is shut. This is because it's the only one containing a rock. When you put the rock in another chest, another door opens.
First, put a rock in the top-left chest. This will open up a door to the top right of the room, go through it, hit a switch on the end, come back out. Now, put the stone in the bottom left. This opens a new door. Go through it, then go down its stairs. In this new room, go to the bottom left. There is a hidden path. Go along it and activate the switch. It reveals some stairs at the center of the room. Head down them.
Here, there is another hidden path way which you should go along. It takes you into another room. Go down. It looks like a dead end at the bottom, but it's not. There's a hidden path to another room. And that also looks like a dead end, but it's not. Actually, to the right, is another hidden passage. Now, here, there's a door leading to a pond. Jump in.
Scene plays as we learn who Ghido is. It's kind of a funny scene that is also highlighting how dumb Bartz is. Is "dumb" all there is to his personality? Could be worse.
We have to go to the Great Forest of Moore. Hey, we were just in Moore Village picking up items? Or, we were if you were reading my walkthrough, anyway. Teleport out, and head there.
Great Forest of Moore
Edit
To be perfectly frank, I'm not looking forward to walkthroughing this part, and you're probably not looking forward to playing this. Well, stick with us, and let's get through this mess, eh? This dungeon is more difficult because it's a pain to navigate and its high encounter rate than the encounters themselves. But a real annoyance is Osmose. As you'll be using magic a lot for healing, the last thing you want is to eat an Osmose on one of your Mages, which makes it really annoying. Luckily, there's an Ether amongst the treasures here.
Okay, first things first, when you try to go in and it appears blocked, the Guardian Branch will let you in. Head straight up first for 2,500 gil in the treasure. Now, head down to the center a little, then head as far right as you can, for the Ether treasure located behind a tree. This tree actually has a hole in it, which we can go through. Go through it and out the other end. Now, here, head upwards until dead end, head slightly right, and then head far up as possible for 4,900 gil. Now just head to the top right. There is a small gap between the trees above, get the treasure - it's a Phoenix Down.
Now, head to the bottom right of the screen, until you no longer can, and there will be a path upwards and to the right. Go up here, and then go above up to a tree with a treasure chest. Grab the 9,500 gil. Now, go to the left, and somewhere here should be a tree with another gap. Go through that tree.
On the other end, there should be a treasure with a Cottage to the left, grab. Now, go as far to the right as possible for a treasure with a Goliath Tunic. Head upwards, there's a save point. You probably need this pretty badly for a Tent or Cottage. If you didn't have any before, luckily, we just got one in the treasure chest. Head up, but to the very left, and there should be a treasure with an Elixir. Go right, and upwards until in the center by two trees is another Morning Star. Now downwards, and left. Go through a gap, until your characters crash, and Exdeath's totally badass theme plays. From here, to the top right behind a tree is a treasure chest, with a Flame Shield. Grab it (though if you miss it, you can get it shortly).
After a while, the Moogles are bros. They will let you down a tunnel. Wait for a while until the flames die out, and use the Recovery Spring there. When they do, go back up. Back in the forest, get the Flame Shield to the top right if you missed, but keep going left through a gap. Go up and grab the Ash treasure. Keep going left, and there is a treasure with a Flamentongue (cool weapon that deals fire damage) here. Now, head far upwards as possible until you come to what seems like a dead end. Stuff moves and lets you through. A boss is coming.
Recommended party
My strategy for dealing with this boss involves using a party similar to the main one we've used so far. It relies, however, on having a few Shurikens (which can be bought in Quelb if you want). You must have a Ninja to throw a few Shurikens. Equipping the Ninja with Dancing Dagger is almost essential; Sword Dance used twice can practically kill some of them in one hit. Dragoon is incredibly useful, as Jump is more useful than Spellblade here. Jump will not only avoid tons of damage, but deal tons. When I fought it, I tried to use my normal Red Mage here, but it's simply not feasible. The Red Mage's Magic stat is too low and Curaga is essential. A Time Mage with Hastega is absolutely necessary, and equipping them with Summon is essential too. We need Golem.
Oh, and try to give Galuf a little bit of damage in some form. Whatever you've been using him as, try to give him at least something. Not for this boss, but you'll find out soon.
Try to Float everyone if you can. Now fight:
HP
MP
Deadly attacks
Steal
Morph
Drops
Weakness
Resistance
Difficulty
7,777 x4
10,000
Aqua Breath, Firaga, Aeroga, Earth Shaker
Elixir
None (gets stronger on low HP)
Ash
None
Varies
Hard

There are four ??? of different elements. The Fire one uses Firaga and absorbs Fire, the Earth one absorbs Earth damage and uses Earth Shaker when low, the Air one absorbs Air damage and uses Aeroga when low, and the Water one absorbs Water and uses Aqua Breath when low. When not low, they deal heavy physical damage. Golem solves that problem immediately.

Due to the way these work, dealing heavy magic damage when they're low, I actually wouldn't advise trying to kill them all off quickly. Instead, kill them one by one. This means that you can't have more than one using a highly damaging skill. Killing them off one by one means that you can easily heal up afterwards. You don't want to eat Firaga and Aeroga to the face.

The Ninja should be either Throwing or just hitting normally. The Dragoon, Jump. Use Golem and Hastega immediately. As for the White Mage, Shell everyone and occasionally use Curaga. Once everyone is Shelled, and/or the Ninja has run out of Shurikens, Berserk them. Why? Because the Ninja will do nothing but attack and Berserk raises their damage. Even more importantly, that increases their Sword Dance potential damage significantly. I have seen a Ninja using Sword Dance twice followed up by a normal attack while Berserked kill one of them instantly.

It's a tough fight if you do it wrong, but taking it slowly can work wonders.
Recommended party
Here's a trick I learnt from my ol' pal BlueHighwind when I was using his walkthrough for my first playthrough. I'm going to include it because it's worked for me twice, though I do not recommend it that much. It involves four Summoners, one who can heal and one who can Time Magic, while Floated, to defeat the Crystals.
Try to Float everyone if you can. Now fight:
HP
MP
Deadly attacks
Steal
Morph
Drops
Weakness
Resistance
Difficulty
7,777 x4
10,000
Aqua Breath, Firaga, Aeroga, Earth Shaker
Elixir
None (gets stronger on low HP)
Ash
None
Varies
Hard

The way this strat works is that the Summoners can repeatedly use Titan. Titan deals tons of damage to all of them, except the Earth one. Earth is the main problem. Summoning Titan over and over won't damage it. But the party are Floating. This means it can do no damage. Hastega must be used, Golem must be used, and Slowga must be used.

The main problem is that, when multiple are damage, that gives them time to use plenty of highly damaging attacks. Hastega and Slowga should somewhat help. Once the three are finished off fast, then only one remains. The one remaining can do no damage to you. Just use whatever weak summons that aren't Earth over and over and the battle is yours.
Try to Float everyone if you can. Now fight:
HP
MP
Deadly attacks
Steal
Morph
Drops
Weakness
Resistance
Difficulty
7,777 x4
10,000
Aqua Breath, Firaga, Aeroga, Earth Shaker
Elixir
None (gets stronger on low HP)
Ash
None
Varies
Hard

Much more straightforward, while Golem and Hastega should be used, the "I'm rich" strat can probably deal with these in a few turns. Watch out for their massively damaging attacks, but use Zeninage - Gil Toss - repeatedly until they die. Of course, it's expensive as hell. But it might be worth it.
And now the huge scene comes as we walked into Exdeath's trap. Scene plays and then Galuf challenges Exdeath to a "1v1 me bro" battle.
HP
MP
Deadly attacks
Steal
Morph
Drops
Weakness
Resistance
Difficulty
Irrelevant
Irrelevant
Flare, Holy (meaningless)
None
None
None
Holy (meaningless)
Poison (immune)
Cannot lose

This is a scripted fight. This is where the game shows you why Galuf is a complete and utter boss and much better than the rest of the cast. It is slightly important to have damage.

All of Exdeath's attacks will destroy your HP pool in 1 hit. Galuf fights on at 0 HP. He doesn't care at all. Use your best attacks, heal up MP pool if you have to. The fight may last a while, depending on how strong your attacks are. Eventually, Exdeath is 'defeated' and runs away.
The scene following is possibly the saddest scene in FFV.
See you on the next page of DOOOOOOOOOOM.
Community content is available under
CC-BY-SA
unless otherwise noted.