This next part is cruel in the sense that it doesn't really tell you what to do. No worries. That's what I'm here for!
Castle Tycoon
Edit
With the airship, it might be a good idea to go to Castle Tycoon. Stay the night for a free inn and a scene with Lenna and Faris (it's nothing too interesting). After it's over, head back to your airship.
Gohn & Adamantite
Edit
Actually we aren't doing anything in Gohn. Just fly over. CUE DRAMATIC MUSIC. Scene plays, stuff happens. The Earth Crystal is in a floating fortress. Oh well. Fly back and talk to Cid. You learn that you need to get Adamantite to go up and get the Earth Crystal. Meh, ok. Go back to the Tycoon Meteorite.
When you get there, walk right up to it. Galuf will remember how to get in. Now, a secret entrance is open, and you can grab the adamantite inside. Then a boss battle begins! Who doesn't love boss battles?
Awesome, he's dealt with. You got yourselves a free inn.
Ronka Ruin Defences
Edit
Preparations
Edit
Before that, go back to the Chocobo Forest and fly your Black Chocobo to Bartz' hometown, Lix. Go to the shop, and buy 15 Lightning Scrolls. They will be super effective. Now:
Fly back and land the Black Chocobo on Crescent where you left the Airship. Fight here for a bit until your Ninja is level 1, then use Inn and now head up.
Wing on the left
Edit
You will fight two cannons, the Missile and the Flame Thrower cannons. Fighting them is simple. Have your Ninja throw Lightning Scrolls, the Monk use Kick, the Red Mage use Thundara, and the Time Mage/Summoner just summoner Ramuh. They will end quickly. Now, fly back down to the surface and use the Inn.
Wings on the right
Edit
Eh, may as well.
Strategy against the next two is the same, just now you have a Blue Mage being useless. Make sure the enemies use the Missile and Flame Thrower spells, then you're done with them. When the cannons are destroyed, we learn of a bigger one. Go down, Inn up, and get ready.
Soul Cannon
Edit
Before we fight...
And get ready because this fight is harder.
Has it dawned on you that your once amazing Monk is now less useful than before? It's this point where the Monk gets weaker. Don't worry, it's also this point where we get new jobs. Use an Inn, then head inside the Ronka fortress. This place has the same feel to it that Catapult has, but make no mistae, this time it's a dungeon. UUsing Lightning Scrolls against sme enemies is not a bad idea.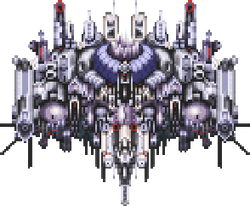 It's a good idea to have someone equip the ability Find Passages, as many places here are, indeed, secret passages. Invisible paths are everywhere. Otherwise, you can tell where a hiddden passage is through a) my (horrible) descriptions, or b) the tiles without green surrounding them.
First room with hidden passages is basic, go straight across. At the bottom edge, go down, and left, and down again, then left. Get the treasure - Golden Armor - and now down the stairs to another room. This time go far bottom left as possible, now head right to the secret passage and down. Go left and up, and when you see three different paths, go for the one in the middle. The one on the right is useless, on the left, is one about to be useful. Head up, across one path, then head left to another, then head up and right for a treasure, Elixir. Go all the way back and go to the far left, and up and across. From there, head to the far right, grab Phoenix Down, and head down the stairs.
Next room, just head up another stairs to go back to the same floor you were on but in a different part. Head right and up, and at the end of that platform, go across the path on the tile to the right of the platform but not quite at the edge. Head up, and now go up and to the left to get the Golden Shield. Head all the way back, down the stairs, up the other stairs, and now go to the point where we got the Phoenix Down. Two stairs here. The one in the centre lead to a Save Point, which will come in handy. Use that, then go to the staircase to the top left. Follow a linear path up a few stairs to Level 5.
Go right, as going to the left leads to a dead end. Up a few stairs, grab the treasure*(I forgot what it was, but I didn't want to lie and say it was something it wasn't), now don't go down trough the door, go right down the stairs. Go along a long path, and up some stairs to get to a room with 5 treasures. DO not go through the center, it leads to a trap door. Go left and up for 5,000 gil, right and up for Shuriekn, right and up to the center for an Ancient Sword, right for a Moonring Blade, then down and right for a Power Armlet. Now fall through the trap door, and go up the stairs.
Back in the same room, where you could chose to go down stairs to the right or donwn through a door, go through the door this time. Go down the stairs, and then go up another flight of stairs. Now go right through a door and down. Avoid the (obvious) black hole, and go around and through a door on the left.
The next path is linear, through the door until a staircase is reached, go through those stairs. The next room consists of a set of stairs and a door; firstly take those stairs to find a much-needed Save Point, and using a Cottage here would be very useful. Around here, you can fight a Lamia, and switch to a Blue Mage to try and learn it. If you do:
Go back and take that door to reach yet another flight of stairs, then go though the door and then the stairs on the right. Go down, and down a hidden path which leads to a few treasure chests, which contain a Cottage and an Ether. Then go back up those last stairs and then head down, through the door, and hit a button which reveals stairs going down, which you should, well, go down.
Talk to King Tycoon. He's obviously brainwashed. Now, battle! Woo!
Well, now let's head into the crystal chamber. And boy, this bit makes me happy and sad. I won't spoil the scene for you, but:
There's another character, but more on her later. Galuf's memory is back. Galuf leaves party.
Ronka Jobs
Edit
We got four.
Alright, so we got 3 people and new jobs. They're all ok. Now, enjoy the next page with three party members!
Community content is available under
CC-BY-SA
unless otherwise noted.