With Walse completed and new jobs, it's time to head off to save the Fire Crystal, which is being amped up in power, blahblahblah. New jobs are pretty neat of course.
Off to Karnak
Edit
Firstly, get your dragon back to Walse for a second just to use the Inn, possibly get weapons for your new job changes, but then there's another boss here, who we'll fight later. We need a spell before we do, and it's not too much backtracking. Anyways, fly your dragon to the Walse Meteorite and go inside. In here, you'll use a warp thingy to go to another contient. This continent contains Karnak. On the world map, directions to Karnak are simple. Go up and left and then down and eventually you'll find the town and a castle. You cannot go to the castle yet.
Before you go to Karnak, fight a little bit. Get a level on your chosen new jobs (any recurring jobs from before you don't need levels on though). And now head inside.
Karnak and Karnak Castle
Edit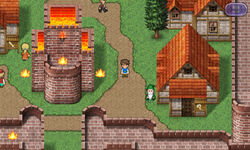 Awww, hell yeah. Badass music from the Ship Graveyard returns!
Head to the inn and heal, of course. Now head to the weapons shop. Buy anything that's useful. Then you'll get cornered by people who think you're aliens from outer space because you came from the meteor. They don't listen to reason, they lock you in prison. In the same cell...what idiots.
Oh well, you can't get out. Boo. Just walk arond for a while, it shouldn't be long. Someone in the next cell will blow up the wall...into your cell. His awesome escape plan ruined. Laugh at him, then talk to him. He's the Cid of this game.
You learn about how Cid is responsible for all our problems, but he's willing to fix them. Chancellor lets us go, blahblahblah. Now go out and explore the castle. Ignore the treasures, trust me, you can't get them yet. The Queen of Karnak isn't here right now.
The game tells you to go outside to the Fire-powered Ship at the dock. Don't go yet. Go back to Karnak, go to the magic ship. Get Blizzara and Fira, then Cura and Raise, and everything else is then a bonus. Got money to spare? Buy all the magicc you don't have yet. No go to the weapons shop. Flail is really neat for your Mage. When it comes to Armor, get whatever your jobs can equip. Silver Plate is neat for Monks and Red Mages. Sell the stuff you're not using.
Now, head back to the meteor. We're going back to Walse (again).
Back to Walse for Shiva
Edit
Inn at Walse, if you like.
Anyway, go to Walse Castle. Go to the floor below. Now follow these directions: Go to the bottom right door and outside. Then go around, and through the waterfall at the end. Climb the tower of Shiva.
Now:
You now have an item for Shiva, which when used, means a Summoner can summon her.
This comes in real handy for that dungeon back in Karnak. Now, go down, to the exit located at the bottom, and go through. Fall through a waterfall, go around and get out.
Leave, Inn, Dragon, meteorite, Karnak, boom. Onto the next dungeon!
Fire-Powered Ship
Edit
Before you do anything else, head to the pub in Karnak and play the piano to level your skills up. Then, go outside, and try to get a level in your jobs. Level 3 on everyone, and 4 on monk, would be very nice. For the Red Mage, it's fine to stay at 2. That job is a pain to level. Hopefully by the end of the dungeon. Needless to say, we'll get jobs at the end of this dungeon.
---
Now, go to the Fire-Powered Ship and talk to Cid, and learn the ship is full of monsters. What a surprise! Monsters in a dungeon! Keep heading down until the place you are in is no longer made of wood, but of metal.
The metal door up ahead contains a chest, with a Mythril Glove. Grab. Now, to the bottom left, there are stairs. Go up them, go around to the right and through the door, to get another chest. Now head back down to the ground floor. Go to the top left and down those stairs for another chest then head up right. Head to the top right, but before you go up to the elevator, first check the stairs down to find a room with an Elixir. Leave the room then go up the elevator to a new floor. Up there, grab the Phoenix Down chest to the right, then go left and up. Through that elevator, go down.
Bleh, this part is annoying. For now, go left and up through a vent, follow its path to another room, then go through that to yet another room, and through the door. Now go up the elevator to a place with three doors. First, go to the middle one. Elevator down, go to the right and down the stairs in a vent. Follow a path of stairs and vents, and you'll get a Green Beret treasur. Go to the right across the conveyor belt, throug the door and go back up the elevator. In the room with 3 doors, don't go to the one on the right. Instead, check the 4 vents. The 4th across leads to nowhere useful. 3rd across leads to a treasure - Thief's Gloves - that we could not get earlier, go to that. Then go back up the way you came to this 3 doors place. Go again to the vents. Right, the 1st on the left is useless. 2nd is not.
You should end up down a place you could not go before. Head to the stairs to the very right, go to a room and hit a switch. It will open another room to a treasure with a Moonring Blade. Cool, head out. Just head through the door metal door that was directly in front of you. Go to the save point, use tent and save, then go through the door up.
Now here's a puzzle. It's slightly hard to solve. Hit a switch and go across on the platform. Then go up and left and hit that switch, now go down and to the left of the screen to hit another. It should make a path across. At the end there should be a place with two switches. Hit the left one, that path will be gotten rid of. Right one, and a path will be made down. The switch at the very bottom is useless. But the one next to the platform, hit. It should take you up. Now grab the elixir, ignore the switch, go up and right to the power room. No, none of those vents or paths around are useful. Head up.
Anyways, minor party change.
Now head up.
We now learn it isn't all Cid's fault. Something evil is stirring. Head through the vent to the end. Galuf apparently knows some werewolf, controlled soldier destroys crystal. YAY MORE JOBS :D awww crystal destroyed :(
Escaping Karnak Castle
Edit
[[ ROFL, you can use a tent here and it doesn't use up much time. Phahahaha, that's amazing. You endup at the save point, use tent, then go up. Keep going up, but go to the right to get a treasure chest. Then go out, around and up, but before going to the staircase out, go down and into the room with a treasure chest. It's a Monster Attack, just a fight with Gigas. Who is fairly easy, so now go up the stairs and out.
In here, just go to the chest to the left previously blocked by flames. Two Sorcerors, both easy, kill with Blizzara or physicals. You get a RIBBON. These items are the best in the game, but you can't equip them yet. Chest to the right contains Gigas and a Shuriken which is about to come in handy. Go up and around, up a few floors. Eventually end up in the place leading to the throne room. Before you go down and outside, head left, fight two Sorcerors for Esuna. That's a super useful White Magic that you would otherwise have to buy. Head to the right, fight Gigas for a Lightning Scroll, something that is also about to come in handy. And now head down and outside.
Now here you'll fight 4 weak enemies and a guy called Iron Claw. He's not difficult. Shiva summons and Blizzara deal with him easily. SOME FAMED BOUNTY HE WAS EH
Castle was destroyed, aww. We have NEW JOBS THOUGH WOO
New Jobs
Edit
And now, click here for an amazing prize! That amazing prize is the next walkthrough page.
Community content is available under
CC-BY-SA
unless otherwise noted.