Here's what I love about this game. My two favourite dungeon themes appear in two dugeons in a row. In between, my favourite World Map theme and my favourite Town theme in this game. The music on this page owns. To Carwen and the North Mountain!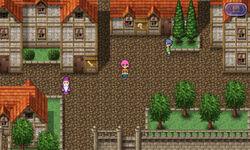 Head down and try to fight along the way. Keep going down until you see a town to the left. Welcome to Carwen! The town with the awesome town theme! As well as admiring the badass music, head to the Pub and play the piano to level up your skills and play something slightly less terrible than before. Then, head to the Magic shops. Poisona and the rest of the Black Magics are essential, and Silence is super nice, and the rest are very useful. Chances are that this time, you can afford it. Really, all Magic purchases are the best, as unlike item and weapon purchases, they are permenant.
Buy the latest weapons and armour for your jobs. As it's early, don't be afraid to unequip and sell your old equipment that you don't use, I would encourage that, in fact. With that, you're basically done. Talk to the town folk if you like. They don't do much other than give an indicator of where next to go, which I'll tell you anyway.
World Map and To Next Dungeon
Edit
You'll find by exploring outside that you're stuck without any form of transport. We're gonna fix that, but bare with me. Use this opportunity to be free. FREEDOOOOOOOM
Using the same jobs as you did last page, go outside and fight. Try to get level 2 on everyone with these jobs. It's not essential, of course, but it's really nice. Just fight until each of them filled ABP and are Level 2. Don't worry about Level 3 yet. There's no major reason in particular for level 2, it's just a nice point to be at.
Shortly after...
Only 10 fights or so, head to Carwen's Inn and you're done. Change jobs back to Knight and Monk at the end, though.
Not a lot else for you to do here. No major Blue Magics to learn or anything. Head right, then up, and follow some path all the way up to a mountain. This is North Mountain.
North Mountain
Edit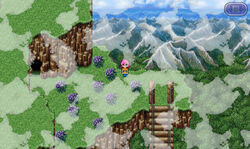 Follow the yellow brick road! Follow the yellow brick road! Not only does the dungeon itself, but this song, gives a Wizard of Oz feel. I hate musicals. But this is ownage. The theme rules and I love this dungeon. This is North Mountain.
First, go through the cave, then go down until you get a Phoenix Down from the treasure chest, and now go up and around to the left. Now, first head down from here for a Gold Needle, then back up, left and leave the cave. Follow the linear path upward until you get to another cave. Just pass through it.
On the other side, your path is still linear, but avoid the blue plants. They poison your party. However, hopefully you bought Poisona on your White Mage to heal them after. From there, it's a linear path up and around. And then Save, heal, and get ready. Anyways, go left to see a scene play. Faris is a sis, basically, and there are some nasty people in the world, that's all you learn.
Recommended party: Same. But switch to a Blue Mage if you really want to learn one spell. I don't think it's worth it as that can be gotten later.
Bosses are getting progressively harder. Head left and up, but I'd recommend going back to save first. Now head straight up. Watch another scene. Lenna is also a sis. When's it Bartz' turn to be a bro, huh? He's the main guy, right?
Well, that was fun! Now you get a DRAGON WOOOOO...and you can use him next page.
Community content is available under
CC-BY-SA
unless otherwise noted.