I, TenzaZangetsu, I'm very excited to present this page where we can finally meet the main characters of a slight overrated game but still pretty awesome: Cloud Strife!.
Recruiting Cloud Strife
[
]
To recruit the main character from FFVII, several things needs to be done. First of all, you must have completed every Sidequest that I gave you in this Walkthrough until now and have Mustadio in your party, still. You also need to have the Zodiac Stone of Cancer and you must buy Aerith's flower at Sal Ghidos for the quest. If you have all those things, go to Goug one more time. A scene will happen if you have all those things.
Besrudio use the newest Zodiac Stone to activate the Artefact and out of nowhere, from the world of Final Fantasy VII: Cloud Strife! As usual, Cloud suffers from mental issues and he doesn't remember anything until he remembers that he was a SOLDIER (another lie of his brain) and Mustadio says what everyone thinks of Cloud: He isn't stable. But then he starts acting like a dick, saying that our names couldn't care less to him. Okay, man, that wasn't necessary, just because you came from a overrated game of the main series, you think you are better than us, uh? Idiot.
Afterwards, Cloud disappears. Go to the Trade City of Sal Ghidos one more time and a battle will start.
---
Battle Number: 57
Tinder-Box o' Yours
Location
Sal Ghidos
Foes
3 Thieves, 1 Squire, 1 Monk
Allies
Cloud
Formation

X X X X X
X X X X X
  front  


Objective
Protect Cloud
Terrain
Stone, Man-made
Geomancy
Contortion, Tremor
Difficulty
Easy as hell.
Recommended Level
Level 47.
Enemies
[
]
Belmont
Air Knife
none
Thief's Cap
Black Garb
Elven Cloak
Steal
Items
'
Defend
Jump +1




Eustace
Air Knife
none
Thief's Cap
Black Garb
Elven Cloak
Steal
Fundaments
'
Reequip
'




Baldric
Air Knife
none
Gold Hairpin
Gaia Gear
Leather Cloak
Steal
Items
'
Poach
'




Lars
Batlle Axe
none
Thief's Cap
Black Garb
Elven Cloak
Fundaments
Counter Tackle
'
Reequip
'




Hadrian
Batlle Axe
none
Thief's Cap
Black Garb
Elven Cloak
Fundaments
Items
'
Reequip
'




Khellus
none
none
none
Black Garb
Elven Cloak
Martial Arts
'
'
Reequip
'



Allies
[
]
Cloud

none
none
Thief's Cap
Black Garb
Featherweave Cloak
Limit
'
'
Reequip
'
Strategy
[
]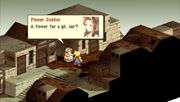 In somewhat a tribute to FFVII, Cloud meets the Ivalice Aerith in the same way as the FFVII Aerith: Walking through the streets of a bad neighborhood and because this Aerith is also riding the old horse of being a flower girl, Cloud prefers to stay far as possible from her. Come on, Cloud, it's not like Sephiroth is going to appear out of nowhere and kill her, that will never happen. Some Thieves try to steal/rape Aerith and that's when Cloud decides to protect her and Ramza comes to help him. This would have make a kickass FMV but Square get lazy on this remake.

The goal of this battle is to win the battle and keep Cloud alive. If you played FFVII, you will think that Cloud is a badass fighter here too, no? WRONG! Cloud is in freaking level 1 and he doesn't even have a Sword to fight and he is no Monk to fight with his fist, so he is pretty much screw. And unlike every other storyline fight, the levels of the enemy's units are average to yours, making the duty to protect Cloud harder. The good thing is that the enemy's team suck heavily and you can kill them real fast.
Send your best stuff to this fight. Ramza, Agrias, Balthier, Thunder God, Beowulf, your Dragoon/Thief, your Black Mage, Construct, anything that help you to kill them. One hit to Cloud and he's dead. But, overall, this fight is too easy, getting to the point that is boring to do fights like this one at this point of the game.
After Battle
[
]
After getting his ass save, Cloud has a change of heart and he's willing to listen us. Ramza wants to help him to get back to his world to impossible Sephiroth's dreams of ruling the universe and that is when the EX-SOLDIER joins our party after a long Sidequest:
Playable Character: Cloud Strife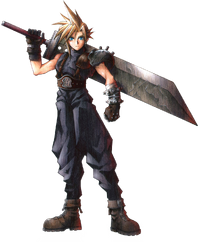 Cloud Strife: Is the main character of Final Fantasy VII, the man who some people called "Lame" or "Emo". My opinion about Cloud is full of ups and downs but overrall, he is pretty cool and has a great story. He's also the only man who have defeated Sephiroth, he was a great character in Advent Children Complete and don't believe what people say of him, he's not an Emo. Sorry for using the Nomura artwork, Yoshida didn't made an artwork of him, bummer. I'm not going to go too much on the details about Cloud in this Walkthrough, wait for my FFVII Walkthrough to hear my full opinion of him.
Cloud is an interesting unit, I must say. His Special Job Class, Soldier (how original) is kinda like Ramza's Special Squire Class in the fact that they both have great stats in the Physical and Magical department, making Cloud a good option for a Mage. To use the abilities of the Command "Limit", you need to find the Materia Blade (a good tribute to the Materia system of FFVII) in Mount Bervenia with the help of the "Treasure Hunter" ability. Also, the attacks of the "Limit" set take a long time to charge and work and at top of hall, Cloud starts at Level 1 but he levels up real fast, making that issue easy to solve. To solve the problem of the Charge Time, make Cloud a Time Mage until he learns "Haste" to raise up his speed and "Stop" to delay the enemy and make the "Limit" command work. Cloud has low Jump, teach him "Teleport" to not worry about that, "Swiftness" is really necessary to lower the CT to half, making "Limit" an actual useful command. I know that's a lot of things to do but if you do those things and you give Cloud a chance, he can be one of your strongest fighters.
With the EX-SOLDIER in our party, we can continue in the page.