You may not believe this but I it is hard for me to find something to edit around here right now so to face my own boredome, I'll continue my TenzaZangetsu's Walkthrough.
Eagrose Castle
[
]
Battle Number: 55
What it is to be a God
Location
Eagrose Castle Keep
Foes
1. Dycedarg, 5 Knights

2. Adrammelech

Allies
Zalbaag
Formation

X X X X X
X X X X X
 front 


Objective
Defeat Dycedarg
Terrain
Stone
Geomancy
Contortion
Difficulty
Medium
Recommended Level
Level 44.
Enemies
[
]
Battle 1:
Dycedarg
Defender
Aegis Shield
Circlet
Carabineer Mail
Power Gauntlet
Swordplay
Magicks
Sticky Fingers
Defend
Move +1




Eldred
Diamond Sword
Crystal Shield
Crystal Helm
Luminous Robe
Diamond Shield
Arts of War
Steal
'
Defend
Jump +1




Guston
Platinum Shield
Crystal Shield
Crystal Helm
Wizard's Robe
Leather Cloak
Arts of War
Jump
Reflexes
Brawler
'




Thrydwulf
Icebrand
Crystal Shield
Crystal Helm
Luminous Robe
Magick Ring
Arts of War
Geomancy
'
Reequip
Ignore Terrain




Frederick
Platinum Sword
Crystal Shield
Circlet
Wizard's Robe
Japa Mala
Arts of War
Martial Arts
Critical: Recover HP
Brawler
'




Ricard
Runeblade
Crystal Shield
Crystal Helm
Luminous Robe
Mage's Cloak
Arts of War
Items
'
Equip Heavy Armor
'



Battle 2:
Adrammelech

Swiftness
Petrify
Fowlheart
Aphony
Befuddle
Holy
Firaja
Blizzaja
Thundaja
Flare
Graviga
Bahamut
Odin
Leviathan
Salamander
Allies
[
]
Zalbaag
Runeblade
Crystal Shield
Crystal Helm
Crystal Mail Mail
Germinas Boots
Blade of Ruin
'
Auto-Potion
Safeguard
Move +1
Strategy
[
]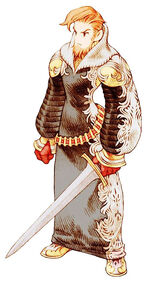 Ramza finally gets to Eagrose but he finds nothing but a Chocobo with Zalbaag's mount, after wards, he enters to the Castle. Meanwhile in the depths of the castle, Zalbaag attacks and wounds Dycedarg and demands answers from his action, the assassinations of Larg and Barbaneth, everything. Dycedarg only claims that Larg was weak and that he was his destiny to die there. When Zalbaag was going to finish the Job, soldiers of the Order of the Northen Sky appear to support Dyce while Zalbaag is totally surrounded. Ramza appears too, to make Dycedarg pay.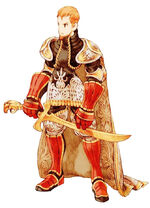 Personally, I must say this is one of my favorite battles in the game. I like the energy that the three of them add to the battle. This is one of my favorite moments of the game. Also this fight is one of the last real challenges that the game has to offer. For one side, the enemy has a full team of Knights, easy to kill but for the other hand, this fight include the Beoulve Brothers. Zalbaag has good stats and high HP, fitting to be a Knight while his Special Class, Ark Knight has a odd set of abilities. While his skill set has a kickass name (Blade of Ruin), the effects are not that good. They work to lower the enemy unit's stats but I won't rely on them to win. Dycedarg, on the other hand, is a wild card. His Special Job Class, Rune Knight, has all of Agrias' and Melia's Swordskill attacks and the Magicks command of Cletienne but this one only has the -Aga Spells. Dycedarg, all by himself can be deadle foe.

But wait! We have the full power of our amazing party! I'll advice you to kill those Knights to gain EXP and JP while someone goes to help Zal. Your Dragoon/Thief will work because Dragoons can ignore heights. Meanwhile, the rest of your party must walk the regular path to get to Zalbaag but attacks like Spells or Swordskills can work wonders since they can ignore heights and damage Dyce. Zal can help but in a mano a mano with Dycedarg, he won't last long. Killing the bastard of Dyce won't take you too long. You can also see some awesome dialogue between Dycedarg and Zalbaag, talking about Justice, leadership, etc.

Once you defeat Dycedarg, the Zodiac Stone of Capricorn will react, turning him into Adrammelech, the Wroth, the Lucavi of Capricorn, who kills Zalbaag with ease and now wants to take revenge on Ramza. Adrammelech is just like Dycedarg: A major threat, well, it would be if weren't five against one. This part is easy as hell, focus all your attack on him and you'll win quickly. And don't worry about his attack, they take too long to work. Afterwards, Ramza, after seeing the deads of his brothers, losing all House Beoulve knows that he must find Alma quickly but that will be later, we have to do Sidequests first but that is for the next page.