I'm not on the mood to write a intro, let's move on. I am TenzaZangetsu.
Fort Bessalet (Continued)
[
]
Battle Number: 47
Skirmish to Prevent Battle
Location
Fort Besselat Sluice
Foes
4 Knights, 2 Archers, 2 Black Mages
Allies
none
Formation

X X X  |  X X X
X X .  |  X X X
front       X
          front


Objective
Open the Sluice
Terrain
Grass, Stone, Water
Geomancy
Tanglevine, Contortion, Torrent.
Difficulty
Easy, Easy.
Recommended Level
Level 36.
Enemies
[
]
Arthur
Icebrand
Crystal Shield
Crystal Helm
Black Robe
Guardian Armlet
Arts of War
'
'
Reequip
'




Grimbald
Icebrand
Platinum Shield
Crystal Helm
Carabineer Mail
Magepower Glove
Arts of War
Martial Arts
'
Equip Shields
'




Willielmus
Icebrand
Platinum Shield
Circlet
Black Robe
Jade Armlet
Arts of War
Fundaments
Vigilance
Reequip
Jump +1




Addison
Icebrand
Crystal Shield
Circlet
Black Robe
Magick Ring
Arts of War
Geomancy
Bonecrusher
Reequip
'




Vyncent
Artemis Bow
none
Gold Hairpin
Black Garb
Shoulder Cape
Aim
'
'
Reequip
Jump +1




Lambert
Mythril Bow
none
Gold Hairpin
Gaia Gear
Mage's Cloak
Aim
'
Gil Snapper
Reequip
'




Johannes
Wizard's Rod
none
Gold Hairpin
Black Robe
Protect Ring
Black Magicks
Time Magicks
'
Reequip
'




Lowell
Wizard's Rod
none
Lambent Hat
Luminous Robe
Leather Cloak
Black Magicks
Fundaments
'
Reequip
Treasure Hunter



Strategy
[
]
I must say I was kinda scare the first time I came here. I mean, eight units! I haven't seen so many since the battle in Golgollada, only this one is far from being an actual challenge. At least we can see explosion afterwards, yes, Ramza, blow all this thing up.
Let me tell you something: This is by far the worst enemy team of all Chapter 4. Seriously. Sure, this might have been a threat back on Chapter 1 but right now is a total walk around the park. The Knights and Archers are totally useless at this point of the game while the Black Mage can do some damage, they are far from being dangerous due to their low defense. Is very boring write a walkthrough if the game doesn't offer any challenge whatsoever at this stage.
To win this battle, you only need to kill one of the Knights on the tops of that wall or kill them all, let's got with the latter one, it is more fun. To kill those Black Mages, send your best stuff. Ramza, Beowulf/Balthier, Agrias/Luso can kill the Mages while the other two units attack the Archers. Your Dragoon/Thief with a Black Mage to support him can do this job. Seriously, I'm not feeling any challenge at all, I think I might be losing the little integrity I got left.
After Battle
[
]
Ramza, Orran and Valmafra enter to the Thunder God's cell. When in hell Orran and Valmafra appear. The Thunder God knows Ramza since he was three years old. After some stories and chating, the Thunder God decides to join our party. So, behold! The strongest character in the game:
Playable Character: Cidolfus Orlandeau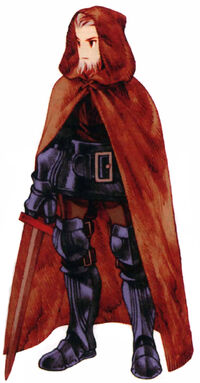 Sprites:
Zodiac Sign: Scorpio.
Special Job: Sword Saint.
Weapons: Knives, Swords, Knight Swords, Ninja Swords and Katanas.
Command Ability: Swordplay.
Cidolfus Orlandeau: Is by far the strongest character in the history of Final Fantasy. This guy is so insanely strong that makes the rest is so easy that you don't have any for a walkthrough ever again. No other character makes a FF this easy. He is also the Cid of this game, which is weird because FFXII has his own Cid and they are from the same world (Ivalice).
The Thunder God is one the Swordskill characters, but he is a special case. He has all of Gaffgarion's Fell Sword attacks, all of Agrias' Holy Sword attacks and all of Melia's crushing attacks. He also has all around high stats, he can wield any type of Sword. And he comes wielding the Excalibur, the second strongest Knight Sword in the game and it gives Auto-Haste. Leave it to the Thunder God. A total Godsend, you don't have any excuse to lose a battle anymore.
With the Thunder God in our party, we can continue on the next page.