Please, help TenzaZangetsu to defeat the Archfiends in FFIV DS, man, everything in this game is harder than the PSX version.
Battle Number: 44
Borne on the Desert Wind
Location
Beddha Sandwaste
Foes
Barich, 2 Knights, 2 Archers, 1 Black Mage
Allies
none
Formation

X X X X X
X X X X X
  front  


Objective
Defeat Barich
Terrain
Sand, Man-made
Geomancy
Sandstorm, Tremor
Difficulty
Medium
Recommended Level
Level 34
Enemies
[
]
Barich
Glacial Gun
none
Lambent Hat
Luminous Robe
Nu Khai Armband
Aimed Shot
Arts of War
'
Beastmaster
Move +1




Halsten
Platinum Sword
Platinum Shield
Crystal Helm
Black Robe
Leather Cloak
Arts of War
'
'
Attack Boost
Ignore Terrain




Kinnison
Diamond Sword
Platinum Shield
Circlet
Black Robe
Protect Ring
Arts of War
Martial Arts
'
Reequip
'




Eadbert
Mythril Bow
none
Gold Hairpin
Gaia Gear
Germinas Boots
Aim
Steal
'
Reequip
'




Bardolf
Windslash Bow
none
Gold Hairpin
Gaia Gear
Shoulder Cape
Aim
Arts of War
Archer's Bane
Reequip
'




Orrick
Wizard's Rod
none
Gold Hairpin
Black Robe
Nu Khai Armband
Black Magicks
Time Magicks
'
Arcane Strength
'



Strategy
[
]
On our way to Fort, Besselat, Barich Fendsor is here to stop us but he seems very happy and proud. It must be something really evil. The Templar throws a brown thing to the entire battlefield and the whole party gets the Poison Status. Now we must fight this way, great but at least that give us a reason to kill him.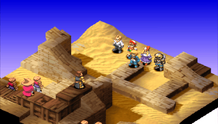 You may this fight will get nasty since you are starting with the Poison Status, right? WRONG! Poison is nothing but a really small amount of damage, you can live with that. With now have to take care of Barich and his boys. The Knights are no real issue since they need to get closer to you and that's when you kill them. The Archer are not a threat but they are rather annoying since they can attack from long range while you lose HP by Poison.
Let's talk about Barich's special Job Class. He is a Machinist, exactly like Mustadio in every single way only with a high attack. He can disable and inmobilize your units with "Leg Shot" and "Arm Shot". He is also using a Glacial Gun, a very powerful Gun for Balthier. Send the Sky Pirate and your Dragoon/Thief to steal the Weapon. Afterwards, Barich will try to fight us with his bare hands. Sad, man. Kill him.
Your Dragoon/Thief and Balthier can take care of him. Agrias and Luso must go to attack those Archers while Ramza and/or Beowulf attack those Knights. You can bring a Samurai and/or a Ninja. Mages are not really necessary here but you can bring a Black Mage to deal heavy damage, if you want.
After Battle
[
]
At Besselat, the Thunder God gets arrested by the Southern Sky, for plotting against the Duke, apparently. Then Goltanna enters, saying that the Thunder God was seing talking to the Church. I'm not buying this crap. The Thunder God will never do such a thing. I think I know who did this. And there is, the man himself, Delita, who is now a Knight Devout, man, this guy is surely ascending fast, isn't he?
We continue this amazing and arrogant Walkthrough on the next page.