From now on, I'll be using my signature to introduce my awesome name,TenzaZangetsu, any problem? Yes? I don't care!
Super Units' Training
[
]
Before we leave to talk with Delita, there is some things we need to do before going there. First of all, buy the new equipment of the stores if you haven't buy it already. You should have money thanks to Beowulf's sidequest. We know need to train Balthier and the Templar so they can learn new abilities.
Balthier needs a lot more training than Beowulf because his abilities's set is a lot more expensive than Beowulf's. Your main goal is to teach him "Barrage" if you haven't taught him that already. If you want to teach him the Plunder skills, be my guest but this isn't the time yet to learn those skills because there's nothing worth stealing until several battles in the future.
Now is time for Beowulf. Since his skill's set is a lot cheapier, you can teach him more abilities. Notable abilities will include "Dispel", "Disable", "Silence" and "Chicken". "Confuse" can be a good idea too but I have seen great mistakes by using that negative status, it was horrible. After that, you can move to the next battle, a horrible, horrible nightmare.
Battle Number: 42
Birds of a Feather
Location
Finnath Creek
Foes
Random
Allies
none
Formation

X X X X X  |  X . X X
X X X X X  |  . . X X
X X X X .  |  . . X X
X X X . .  |  . . X X
X X X . .  |  X X X X 
  front        front  


Objective
Defeat All Enemies
Terrain
Geomancy
Unknown
Difficulty
A total nightmare.
Recommended Level
Level 33
Enemies
[
]
Mike

Choco Break
Choco Pellets
'
'
'




Ike

Choco Break
Choco Pellets
Choco Meteor
'
'




Muster

Reckless Charge
'
'
'
'



Strategy
[
]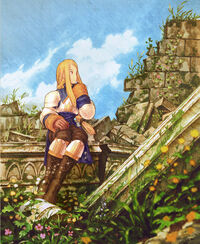 Screw the battle in Golgollada, screw the battle with Wiegraf, this is the hardest battle in the game. The fact that the enemy's formation is totally random is one of the reasons, another point, you see, one of the water's deepthness is 2. Set a foot there and your unit will lose their turn. Awful.
Let's see what are we dealing with. The Black and Yellow Chocobos are no problem. Please, I could kill them just with Agrias but the real threat are those Red Chocobos. They are the most powerful monsters in the entire game. Far stronger than the Ultima Demons or even the Dragon species. The "Choco-Meteor" can kill most of your units or leave them with low HP to those who survive. You may get five of the damn things, if that happens, restart. The Pig is the same one of the sidequest with Beowulf, tame it so you can two Pigs and a double source of Ribbons.
Now you, the player. The one who has to feel all this pain and suffering deep inside of your heart. If you get Black Chocobos, send Agrias, "Hallowed Bolt", dead. Send a physical unit with Agrias if that isn't enough to kill it. The Yellow Chocobos are really annoying thanks to "Choco-Cure", heavy things like a strong Knight, your Dragoon/Thief's "Jump", "Laido" or "Throw" are all excellent ideas to kill those things. Luso can also be a good sport for that Generic group, focus your Special Units on the Red Chocobos, if they appear.
For the Red Chocobos, send all the strongest things you have. Ramza's "Crushing Blow", Balthier's "Barrage", Beowulf's "Vengeance", "Ultima", etc. All good options to take down this monster. Also, you may lose a unit or two, bring a White Mage to revive them. Black Mages can be helpful but they have very low defense, not a good idea. A hard core battle, this is a test for your skills at FFT, you may lose a few times but eventually, you will succeed.
There isn't a after battle because this fight has no plot at all, so we are now in Zeltennia and guess what? It's FMV time!
Well, you saw it for yourself: Delita is willing to kill Ramza. I wonder what would have happened if Zalmor hasn't appear there. I guess we are never going to know it. Anyway, now we fight!
---
Battle Number: 43
Gears in Motion
Location
Zeltennia Castle
Foes
Zalmour, 3 Knights, 2 Mystics
Allies
Delita
Formation

X X X X X
X X X X X
  front  


Objective
Defeat Zalmour
Terrain
Grass, Rock, Man-made
Geomancy
Tanglevine, Tremor
Difficulty
Facil.
Recommended Level
Level 33
Enemies
[
]
Zalmour
Wizard's Rod
none
Celebrant's Miter
White Robe
Elven Cloak
Priest Magicks
Aim
Counter Tackle
Defend
Move +1




Morgant
Platinum Sword
Platinum Shield
Circlet
Black Robe
Germinas Botts
Arts of War
Fundaments
'
Equip Swords
'




Drake
Platinum Sword
Platinum Shield
Circlet
Black Robe
Nu Khai Armband
Arts of War
Steal
'
Defend
'




Voyce
Platinum Sword
Platinum Shield
Circlet
Black Robe
Diamond Bracelet
Arts of War
'
Parry
Defend
'




Charlys
Gokuu Pole
none
Gold Hairpin
Black Robe
Nu Khai Armband
Mystic Arts
Items
'
Reequip
'




Albin
Gokuu Pole
none
Gold Hairpin
Black Robe
Guardian Bracelet
Mystic Arts
White Magicks
'
Reequip
Treasure Hunter



Allies
[
]
Delita
chaos blade
Platinum Shield
Circlet
Carabineer Mail
Bracer
Holy Sword
ultima
Counter
defend
Move +3
Strategy
[
]
Zalmour, Zalmour, Zalmour...You're just like Gafgarion and Wiegraf, always trying to defeat us but never manage to do it. How sad.

This fight is very easy. Delita can defeat the enemy by himself, you don't need to lift a finger to win. All the enemies are in that building, they can't reach you but you can. Units with high Jump like Balthier or your Dragoon/Thief can get to Zalmour quickly. Delita can also do that by his own means. The enemy is a sad little joke. The Knights are useless at this stage of the game and the Mystics were never that useful to begin with. Although, one of them knows White Magic.
As I said before, Balthier and your Dragoon/Thief can reach your enemy quickly. But what about the rest of the team? Good question, kids. Your other units with low Jump can use attacks that ignore heights, such as "Hallowed Bolt", "Sanguine Sword", "Flare", "Holy", "Throw" and "Ultima". I would advice you to bring a Archer but they suck too much.
A fight simple as hell, you shouldn't have a problem to win.
After Battle
[
]
After killing Zalmour, Ramza and Delita are deciding their next move. Ramza needs to find the Thunder God to avoid a bloodshed and obtain his aid, while Delita gets watched by one of the Spies of Mullonde, Valmafra. Ramza will leave to find the Thunder God in Fort Besselat while Delita becomes the head of the Blackram Knights.
When Ramza leaves, Delita says he is also controling him. Valmafra piss him off by that. I never thought Delita will have such low tolerance, I mean, once a girl told me I had no heart and I didn't even get angry. You should have more patience, dude.
This journey will continue on the next page.