Now that I finally have money, I can buy a special Mega Man X PSP game that has all the X series in one CD, you know how long has been since I played a Mega Man game?
Finding the Sky Pirate
[
]
This is going to be the first of many sidequests to get new units, if you don't want to get the secret characters, ignore this page but if you do want to get them, listen to me. Now that you have defeat Melia, from now to the end of times, you can do this sidequest but is better do it now since Balthier is quite powerful. Go to Gollund (the place where we save Orran)and read the rumor "Rash of Thefts", this is one of the few times rumors are actually helpful in the game.
It seems that a godless thief is stealing precious items from the Church, is good to know that we're not the only ones pissing off the Church. Now go to Dorter and read the rumor "A Call For Guards", now the godless thief is stealing stuff from Bervenia, damn, this guy is fast. When you try to leave Dorter, a battle will start.
---
Battle Number: 37
The Sky Pirate
Location
Dorter Slums
Foes
3 Archers, 1 Monk, 1 Thief, 1 White Mage
Allies
Balthier
Formation

X X X X X
X X X X .
  front  


Objective
Defeat All Enemies
Terrain
Grass, Dirt, Man-made
Geomancy
Tanglevine, Wind Blast, Tremor.
Difficulty
Easy.
Recommended Level
Level 31.
Enemies
[
]
Wadard
Diamond Sword
Diamond Shield
Black Cowl
Power Garb
Power Armlet
Aim
Item
'
Equip Swords
'




Hadrian
Windslash Bow
none
Black Cowl
Power Garb
Diamond Bracelet
Aim
Steal
'
Reequip
'




Lambert
Gastrophetes
'
Black Cowl
Power Garb
Power Gauntlet
Aim
Arts of War
'
Reequip
'




Redwald
Platinum Sword
none
none
Black Garb
Diamond Bracelet
Martial Arts
Arts of War
Counter
Equip Swords
'




Brice
Assassin's Dagger
none
Black Cowl
Gaia Gear
Mage's Cloak
Steal
Jump
Sticky Fingers
Concentration
Move +2




Dametta
Golden Staff
none
Black Cowl
White Robe
Nu Khai Armband
White Magicks
Fundaments
'
Defend
'



Allies
[
]
Balthier

Ras Algethi
none
Thief's Cap
Mirage Vest
Germinas Boots
Piracy
'
'
'
'
Strategy
[
]
Before the fight, we have the best FMV of the entire game! There is only one way to describe this FMV: BADASS! We see two of the most badass characters of the series in action!
EmbedVideo is missing a required parameter.
Ramza walks in the slums of Dorter, thinking on his sister and then he gets attacked by some mercenaries, thinking that he was the thief. Ramza kicks the ass of two of them but when the third was goiing to hit him, Balthier comes to action to give us a hand. A Alliance is certainly not a bad thing right now.
This fight is a total joke. The enemy doesn't have a good balance of units, all of them are light units and they don't stand a chance against your team. Althought, "Steal Heart" can be annoying. The Monk has "Chakra" and the White Mage can obviously heal too, that will make them last longer in this battle. Achers sucks. Don't pay attention to them.
Let's talk about Balthier. He fights with a Gun, like Mustadio but unlike Mustadio, Balthier can kill pretty much every light unit with one shot, amazing. Throw there Agrias and Ramza as a Dark Knight and you can't lose. Luso and Mustadio can come too. A Black Mage can help killing the Monk and the White Mage. The enemy's Archer has a Gastrophetes, the best Crossbow of the entire game and the White Mage has a Golden Staff, a great weapon for your White Mage, send your Dragoon/Thief to steal those weapons. This fight is pretty easy, you can try any job you want, this is one of the few times I'll give you total freedom in this battles.
After Battle
[
]
Ramza and Balthier chat for a while after defeating the enemy. Balthier claims that he came to the Ivalice of FFT thanks to the Cache of Glabados and that he wants to find it to go back. Ramza knows that he will probably die searching for it but Balthier wants a little bit of danger. Afterwards, Balthier will join our party, proclaiming that he has experience chaperoning kids. Let's see how awesome Balthier is:
Playable Character: Balthier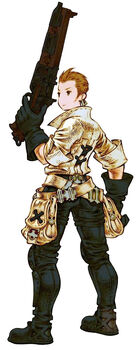 Sprites:
Zodiac Sign: Leo.
Special Job: Sky Pirate.
Weapons: Guns, Swords, Spears, Knight Swords and Knives.
Command Ability: Piracy.
Ffamran "Balthier" Mid Bunansa: Is considered by many FF fans like the leading man of Square's masterpiece, Final Fantasy XII. I'm not one of them because I know who is the real leading man. But he is still pretty damn cool. He is the type of character that this game needed to be even better. Too bad he is not going to talk throughout the game, just like Luso, bummer. But I'm still asking myself why Balthier was choosed to be here when Basch is more the style of FFT, why, Square? Why don't you want the best heroes of Ivalice (Basch and Ramza) fighting together, why?.
As a unit, Balthier is incredeble. His special job class, Sky Pirate, gives him the innate ability "Safeguard", so Balthier can't lose equipment in this job (that would have being very useful against Melia). He can also fight with a Gun and almost every type of weapon of the game but leave him with a Gun. His Job's command, Piracy, has all the abilities of Mustadio's Machinist class and all the ons of a Thief. He also has his own unique ability, "Barrage", this skill allows Balthier to attack four times on a row for half of damage, making overall, double damage. Now that you have Balthier, Mustadio is out of the main team but you're going to need him for more sidequests.
Now that you have Balthier, is the end of this sidequest and the end of this page.