You know, I had a weird dream last night, I don't know it was because I was editing here until 10:30, but I dreamt that I was the leader of the wiki and the best walktrough writer. A message from the future maybe?
We are now in a flashback, these things are always interesting. We are in the Magick City of Gariland, in a room with a lot of Chemists and Squires. We also see Ramza and Delita, talking about a group called the Corpse Brigade - they are a group of soldiers who fought and protected Ivalice from the Fifty Years' War, but the high born people for whom they were working for never paid them and they created this little army to get revenge. I agree with them, years of war and no money? That's unfair to me.
Well, we are on the side of the high born, of course. Our little friends Ramza and Delita have to protect the rich people. After a few minutes, a Knight enters and starts giving us a speech about our lives now that we've graduated. A female Knight enters and tells the other Knights that Gariland is under attack, so now we must go outside and kick some Corpse Brigade ass!
You now have Ramza, two male Squires and a male Chemist, two female Squires and a female Chemist. For this fight, you only are going to need two Squires and Two Chemists with Ramza (regardless of gender). This battle can be very tricky because it's the first battle in the game where you can control your entire party. Also, Delita joins the party as a guest, so I can make another of these awesome character boxes:
Ally Character: Delita Heiral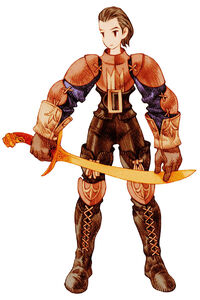 Sprite:
Zodiac Sign: Sagittarius.
Special Job: Improved Squire.
Weapons: Swords, knives and Hammers.
Command Ability: Mettle.
Delita Heiral is Ramza's best friend but after Chapter 1, this friendship will change a lot and Delita will change too. Right now is the low-born version of Ramza, but later he will turn into a different person, someone more tricky, more manipulative, someone a lot more badass and with a cool outfit if you remember.
Delita's special job class is an improved Squire, like Ramza; unlike Ramza, Delita's only new move is "Chant", a move that Ramza already has. This ability sacrifices a little bit of HP and heals twice that HP to a unit, very useful at the end of the game. After this fight, turn Delita into a Chemist, because you can't train ally units (you can only use them in battles of the storyline. You need to turn him into a support unit, then when he learns the Support Ability "Throw Items", turn him into a Archer so he can deal damage from heights and heal you from long distance. So don't waste JP in other Chemist's abilities, just learn Potion and Phoenix Down, after that save JP to learn the Support Ability.
Delita right now is not amazing - as a character and as a unit - but when the story progresses, you won't believe the type of person and playable character that Delita is. He will become in someone a lot smarter than Golbez, Exdeath, or even Kefka.
Battle
[
]
Battle Number: 2
The Knight's Apprentice
Location
Gariland
Foes
4 Squires, 1 Chemist
Allies
Delita
Formation

. . . . X
X X X X X
X X . . .
  Front


Objective
Defeat All Enemies
Terrain
Stone, Building, Grass, Water
Geomancy
Contortion, Tanglevine, Torrent, Will-o'-the-Wisp
Difficulty
Easy
Recommended Level
Level 1
Enemies
[
]
Sigurdh
Broadsword
none
Leather Cap
Clothing
none
Fundaments
'
'
Reequip
'




Esperaunce
Broadsword
none
Leather Cap
Clothing
none
Fundaments
'
'
Reequip
'




Aldous
Dagger
none
none
Clothing
none
Fundaments
'
'
Reequip
'




Temperance
Dagger
none
none
Clothing
none
Fundaments
'
'
Reequip
'




Blackburn
none
none
Leather Cap
Clothing
none
Items
'
'
Reequip
'



Allies
[
]
Delita

Broadsword
none
Leather Cap
Clothing
Battle Boots
Mettle
'
'
Reequip
'
Strategy
[
]
A bunch of soldiers from the Corpse Brigade came to Gariland to claim what is theirs, but we are not going to allow that, are we? Here we go! Now that we are graduated from high school, we can start killing things.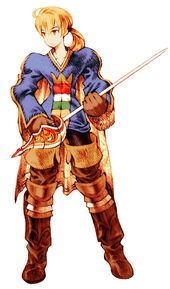 This is the first battle of the game where you control the entire party (except Delita), so be prepared. You see the Chemist and the Squire with the different portrait? Those are your biggest threats. Delita will jump to attack the Squire without thinking, so move Ramza and a backup Squire close to the Squire of the Corpse Brigade to help Delita and kill the Squire. Your other three units should focus on the Chemist so the enemy can't heal.
Besides the Squire with the different portrait and the Chemist, there are three other Squires through the battlefield separates. Focus your units on killing the Squire and the Chemist, the rest should be easy because Delita and Ramza are quite powerful with their improved Squire class, so with a few of his attacks, this battle won't be a problem. It might take you a little bit because the Chemist can heal the enemy's units, but you should win this fight with ease if you kill him from the very begining of the fight. You only have five Potions and one Phoenix Down, so don't waste them - use them only when your units are in critical or they are already dead. Ramza's and Delita's Chant can be very helpful.
Level up trick: The enemy's Chemist has an infinite stock of Potions, so you can kill all the enemy's units and leave the Chemist alive. Use weak attacks to gain EXP and JP, and the Chemist will keep healing himself and you keep on doing this until you have tons of EXP and JP and your PSP ends up without batteries (unless you plugged the PSP) and keep fighting, but this trick will make the next battles very easy and believe me, you want a challenge in this game.
After Battle
[
]
Every time you win a battle, you earn gil and sometimes items, equipment and weapons (but only in storyline fights you get those things). On a weird note, when you win a battle the normal victory fanfare in every other Final Fantasy doesn't sound, one of the few bad things that this game has.
These are the equipment and skills of your default party roster:
Ramza
Broadsword
none
Leather Cap
Clothing
Battle Boots
Mettle
'
'
'
'




Foxe
Broadsword
none
Leather Cap
Clothing
none
Fundaments
'
'
Reequip
'




Osric
Dagger
none
Leather Cap
Clothing
none
Fundaments
'
'
Reequip
'




Fulke
Dagger
none
Leather Cap
Clothing
none
Items
'
'
Reequip
'




Caesaria
Broadsword
none
Leather Cap
Clothing
none
Fundaments
'
'
Reequip
'




Elsebee
Dagger
none
Leather Cap
Clothing
none
Fundaments
'
'
Reequip
'




Clarimond
Dagger
none
Leather Cap
Clothing
none
Items
'
'
Reequip
'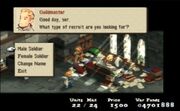 After the battle ends, you will appear on a world map. Don't go to the next place yet!! You have to check your party in the Party Roster. If you have units with Faith and Bravery under 60, take off their equipment and dismiss them. In the Warrior's guild, hire three with high Bravery (over 65) and two units with high Faith (also over 65). You can hire another unit, with high Bravery or Faith (that's your decision). If you don't have enough money, sell the equipment of the units that you dismiss to the outfitter to make more money (don't worry, the units that you hire have their basic equipment). You can also name them: choose cool names because this is going to be your party for the rest of the game.
Now it's time to talk about the jobs of every unit. Ramza should stay as a Squire until he learns "JP Boost", "Move+1", "Tailwind" and "Focus". Delita should become a Chemist (as I said in his character box), your units with high Bravery should turn into Squires, and your units with high Faith should become Chemists.
After that, you can use the money that you have left to buy equipment and Potions, or you can wait until after the next battle to buy those things.
Now, the next page!