TenzaZangetsu has been thinking in the worst torture that a person could suffer and he has come to three ideas: A knive on your testicles, play all FFX-2 and the last one, and the worst one...Watching all the Hugh Jackman's movies! NNNNNNNNOOOOOOOOO!!!!!!!!!!
First Level
[
]
Battle Number: 27
Thrall of the Church
Location
Monastery Vaults First Level
Foes
Wiegraf, 2 Knights, 2 Archers, 1 Black Mage
Allies
none
Formation

 X X X
 X X X
 X . X
 front


Objective
Defeat Wiegraf
Terrain
Stone, Man-Made
Geomancy
Contortion, Tremor
Difficulty
It's only Wiegraf! How hard it can be?
Recommended Level
Level 24.
Enemies
[
]
Weigraf
Diamond Sword
none
Crystal Helm
Hempen Robe
Elven Cloak
Holy Sword
Arts of War
Counter
Doublehand
Move +1




Jocelyn
Sleep Blade
Flame Shield
Diamond Helm
Wizard's Robe
Spiked Boots
Arts of War
Items
Parry
Reequip
'




Amelia
Sleep Blade
Ice Shield
Diamond Helm
Diamond Armor
Shoulder Cape
Arts of War
Geomancy
'
Equip Shields
Ignore Terrain




Emblyn
Mythril Bow
none
Headband
Jujitsu Gi
Shoulder Cape
Aim
Items
Gil Snapper
Reequip
'




Aubrey
Poison Bow
Aegis Shield
Headband
Jujitsu Gi
Shoulder Cape
Aim
Arts of War
'
Equip Crossbows
'




Avelyn
Poison Rod
none
Headband
Jujitsu Gi
Spiked Boots
Black Magicks
Items
'
Reequip
'



Strategy
[
]
Wiegraf Folles, ex-leader of the Corpse Brigade and a new member of the Knight Templars is back to face us one more time, unlike many other villains, Wiegraf seems to hold some respect towards Ramza. That's another thing that makes this game better than the rest of them. Wiegraf is better than your average villain Meanwhile, Alma is being kidnapped, you see, Ramza? I told you to take her with us but you didn't wanna, now your sis is screw. But that is not important now, we must defeat Wiegraf, AGAIN!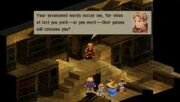 Wiegraf's entire team is behind that wall and thanks to that, they can't be make any attack to you, well, those Archers can hit you but their attacks aren't that strong. Since you have more thing to your favor than the enemy, you can kill Wiegraf really fast. Really, use this opportunity, this game doesn't give that advantage that often.
Even thought you have a easy fight here, Wiegraf is insanely strong. He has all of Agrias's "Holy Swords" attacks except "Divine Ruination" and thanks to the Diamond Sword, he is even stronger. Send your Time Mage to use "Stop" on Wiegraf, now that he is freeze, your Dragoon/Thief can steal that Diamond Sword for you. Try it just three times, if you don't it, kill him.
Now that you have stole the weapon or not, it is time to finishing off. A "Hallowed Bolt" of Agrias and a "Blizzaga" of your Black Mage will be enough. If it isn't, send the good ol' Ramza to finish the job.
After battle
[
]
We see Isilud escaping in a Chocobo with Alma but before he left, he see that Wiegraf was defeated by us. Isilud basically leaves Wiegraf to his own dead to save his own ass. But Wiegraf is about to die and the Auracite wants to give him one more chance to get his own revenge. The Knight Templar is now the vessel of the Aries Lucavi.

When Ramza finds Wiegraf to rescue his sister, then the ex-leader of the Corpse Brigade transforms into Belias the Gigas. Ramza still wants to fight and he kicks his ass, but according to Belias he now has the strengh and wisdom of thousand of years but he doesn't want to finish Ramza for some reason. If the guy would attack Ramza, this would have been the hardest battle of the game.
Elder Simon gives Ramza a book, this book is Scriptures of Germonique, a book that Simon has been translating his entire life. A bunch of crappy and boring information, something that this Wiki's staff will love to read, I'm sure. Afterwards, Simon dies, boy, everyone dies in this game, I haven't seen so many deads since I read Hamlet. If you really want to, you can read the Sciptures, it tells a lot of Ajora's life.
When you go to Dorter, a scene will appear, an Outland Mage will appear to confront you. He tell us that Alma is in Riovanes Castle, a place far in the north. He also ask you if you have read the book. Say yes or no, it doesn't affect the plot. He will also ask us to bring the book to that place.
We will continue in the next page, when we're back, we will meet the first new character of the War of the Lions.