TenzaZangetsu, tell me a name more badass than that.
Once you enter to Lesalia, no battle happens, instead we get to see Ramza talking to his brother, Zalbaag. After a year without seeing each other, one would think that they will get all emotional but I think people is more tough in this game, emotionally speaking. Ramza wants to end this war in a peaceful way but Zalbaag has other plans and he gets even more angry after Ramza says that Dycedarg may wanted Ovelia dead.
Zalbaag banished Ramza, then he goes to the Northeast to deal with the Thunder God. After that, you return to the World Map, prepare your units, when you try to go to another place, a battle will start:
Battle Number: 24
The Heretic's Brand
Location
Leselia Castle Postern
Foes
Zalmour, 3 Knights, 2 Monks
Allies
Alma
Formation

         |
  X X X  |  X X X
         |
  front     front


Objective
Defeat Zalmour
Terrain
Grass, Stone
Geomancy
Tanglevine, Contortion
Difficulty
Medium.
Recommended Level
Level 23.
Enemies
[
]
Zalmour
Musk Pole
none
Wizard's Hat
White Robe
Elvan Cloak
Priest Magicks
Aim
Archer's Bane
Halve MP
Lifefront




Caudien
Ancient Sword
Flame Shield
Diamond Helm
Diamond Armor
Leather Cloak
Arts of War
Aim
'
Reequip
'




Augustine
Ancient Sword
Aegis Shield
Diamond Helm
Wizard's Robe
Power Gauntlet
Arts of War
Martial Arts
'
Reequip
'




Galfrid
Coral Sword
Golden Shield
Close Helmet
Silken Robe
Shoulder Cape
Arts of War
Fundements
'
Reequip
Ignore Terrain




Theresa
none
none
none
Jujitsu Gi
Spiked Boots
Martial Arts
Aim
'
Reequip
'




Isolde
none
none
none
Jujitsu Gi
Spiked Boots
Martial Arts
Aim
'
Reequip
'



Allies
[
]
Alma

Healing Staff
none
Barette
Wizard Clothing
Red Shoes
Holy Magicks
Items
Counter Tackle
Reequip
Move +1
Strategy
[
]
Ramza is leaving Lesalia but his little sister, Alma, stops him. She realize that Ramza is not going to return and she wants to go with him to fight. Dude, say YES! You will see what I mean in just seconds...
Confessor Zalmour Lucianada of the Holy Office of the Inquisition (I need a moment to recover after saying that name) has come to Lesalia to brand Ramza as a Heretic. Great, why all the bad things happen to us?. The charges are apparently killing a poor Cardinal (you had to see that dude when we kill him) and Ramza uses the Auracite to became stronger and profane their God. Real nice. Since we're fugitives now, we must kill Zalmour, at least being a heretic has their good things.
This battle is quite interesting. You can see two new classes: Zalmour's and Alma's. Alma's Cleric class is total ripoff of Ovelia's Princess class but that's okay because she can support us with "Aegis", the best Spell of the game. God bless those teachers at Orbonne, they have given me two of the best units my team has ever had. Zalmour's class is like a combination between a White Mage and a Mystic. He has some of the best White Magics: "Esuna", "Curaga", etc. But he can also give you some status effects (lame). He can attack with his Pole but that isn't so much of a threat. The guy also has "Lifefont" to heal himself. "Leg Shot" him the second Mustadio can hit him.
The rest of the enemy's team is quite challenging but nothing to be afraid of. Those two Monks have "Aim" as a backup command so don't let them get too close to you. Those Knights have some of the best pieces of equipment and weaponry so far, a potential danger. Zalmour is actually your biggest threat.
Equip Ramza the Blood Sword so he can fight and heal himself at the same time. Since the rest of your party is behind that enter, Alma's "Aegis", "Tailwind" and "Focus" should be Ramza's support. Every turn you can't attack with Ramza use "Focus", after you have use it three times, use "Tailwind" another three times. But since you only need to kill Zalmour to win, that isn't so bad.
But wait, as I say before, those Knights have some of the best equipment until now. Bring your Dragoon/Thief to do some nasty stealing. A Time Mage will be a nice choice to boost the team's speed with "Hasteja". Don't forget to bring Agrias's hot ass to this battle. Attack those Monks with Agrias's "Hallowed Bolt". Steal all the Knights's equipment. ALL. You will prefer steal than buy it, believe me. Mustadio's "Leg Shot" and your Time Mage's "Slow" should do the delaying job. After you steal all that equipment, kill the old geezer without mercy.
After Battle
[
]
Ramza has a theory that the Church maybe is the one who is supporting Delita and his plot. That makes sense, in what other way Zalmour will know about the Auracite? Alma knows where a Auracite might be but she will only tell us if she comes with us. Oh, man, little sisters are so annoying.
The Auracite is in Orbonne, so we must go there but wait, Alma joins our party so it's time for a character box:
Ally Character: Alma Beoulve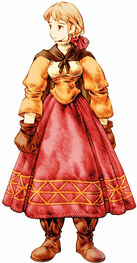 Sprites:
Zodiac Sign: Virgo.
Special Job: Cleric.
Weapons: Bags and Staves.
Command Ability: Holy Magicks.
Alma Beoulve: Is Ramza's little sister. Nothing less and nothing more. Like Ovelia, she lacks personality but unlike Ovelia, that's because of the fact that she doesn't get enough screen time. But somehow, she manage to become one of the most important characters in the storyline. This hasn't been done since a certain flower girl for who the fanboys cry now.
As a playable character, Alma's Cleric job class is a direct copy from Ovelia's. Bu that's not a bad thing since she can use "Aegis" to buff you, truly a beautiful Spell. And just like Ovelia, you can't use her, so just remove her equipment and give it to another units. Those Red Boots are great for Mages.
Alma isn't a memorable character but with a Spell like "Aegis", who needs personality?.
Now that we have finish that, buy the new equipment of Lesalia. The Crystal equipment is very good for this moment of the game and remember equip all the equipment you stole in the last battle. If you want to train a while, teach Agrias "Counter" to cover herself. Ramza can learn one or two "Laido" skills.
We will continue in the next page.