Why I must keep doing this? What is my motivation to keep writing snappies intros just to name my username in a clever way? Why? TELL ME!!!!!!!!!
Southern Sky Reunion
[
]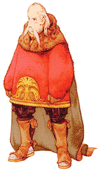 You remember the Marquis we saved in Chapter 1? Well, he now join forces with Goltanna to fight them. It's that nobody isn't loyal to anyone around here? For the first time in a political manner, people is stating to doubt about both sides' leaders, well, at least people in this game are not stupid. But come on this is War, competent leaders are useless right now, they need people who can resolve things with a Sword.
But the Count Cidolfus Orlandeau (for ever known as The Thunder God in this Walkthrough because that name is awesome) doesn't want to give me the right on this one, saying that both sides will colapse eventually, the man could have a point there, I must say. But The Thunder God only get laughs of those idiots when he suggests peace to end this war quickly and they start calling him a "Coward". Please, you will soon see the power of this Count and you will start crying like little dogs.
Meanwhile, Ramza has decide to not take sides and talk to Zalbaag to try to stop this war as soon is possible. I always found interesting when a hero doesn't take sides and prefers do things to his own way, that's pretty cool. When you are going to see Zack Fair doing that?
Trainning and Shopping
[
]
Before you go to talk to Ramza's brother, there's a few things you must do before that: If you run out of Items, you can buy them in any town of Ivalice at the same price. Eagrose hold all that heavy equipment for your Heavy Generics (Dragoon, Knights, Geomancers) and your Specials like Agrias and Ramza. Then go to Dorter to buy equipment for your light Units like Mustadio and your Generics. You can also buy a Lance for your Dragoon/Thief. The Magepower Glove accesory is a great boost for your Mages and the Green Berets are so far superior to the Headbands.
Now, let's talk about training: Ramza will have the toughest one. He needs to unlock the Samurai and Ninja job classes but not for this moment if you don't want to, at least try to unlock one of them, I suggest the Ninja. Mustadio can now become a Chemist, he must learn how to use Phoenix Downs, Ethers and X-Potions, you can also teach him "Safeguard" if you want to protect his equipment. Your train a Geomancer with almost all his Geomancy skills if you're really into them. Teach your Time Mage "Hasteja", I cannot tell you how useful this can be. Agrias must be turn into a Knight so she can learn "Equip Swords", that way she can use Classes where normally she can't use Swords and use her Swordskills.
This is important: Turn your White Mage into a Orator. Then, teach that White Mage "Entice" and "Beast Tongue". You would be needing those two abilities in a couple of battles. You can also unlock the Ninja and Samurai job classes for your Generics, you won't be needing the Knight anymore. There isn't anything else you need to do now, so let's continue the storyline.
Battle Number: 23
Orran
Location
Gollund
Foes
1 Orator, 3 Thieves, 2 Chemists
Allies
Orran
Formation

X X X X X 
X X X X X
  front


Objective
Protect Orran
Terrain
Snow, Man-Made
Geomancy
Snowstorm, Tremor
Difficulty
Not that easy but still, not a challenge.
Recommended Level
Level 23.
Enemies
[
]
Kain
Platinum Dagger
none
Green Beret
Hempen Robe
Germinas Boots
Speechcraft
Mystic Arts
'
Reequip
'




June
Platinum Dagger
none
Green Beret
Brigandine
Shoulder Cape
Steal
Arts of War
'
Reequip
'




Gerthrude
Platinum Dagger
none
Green Beret
Brigandine
Shoulder Cape
Steal
Items
'
Defend
'




Concessa
Main Gauche
none
Headband
Jujitsu Gi
Spiked Boots
Steal
Fundaments
Sicky Fingers
Reequip
'




Clifton
Mythril Gun
none
Headgear
Jujitsu Gi
Shoulder Cape
Items
Arts of War
'
Reequip
Jump +1




Blackburn
Mythril Gun
none
Headgear
Jujitsu Gi
Power Gauntlet
Items
Fundaments
Sticky Fingers
Reequip
'



Allies
[
]
Orran
Beastiary
none
Wizard's Hat
Gaia Gear
Hermes Shoes
Astrology
Items
'
Beastmaster
'
Strategy
[
]
Orran Durai, the adoptive child of the Thunder God is under the attack of a band of Rogues. For some reason, he is alone, why the son of the Thunder God doesn't have protection? and who the hell is this guy and why are attacking him? So many questions and any answer.
I always thought that this is fight can be pretty hard or pretty easy but that depends of Orran. If he dies, that's it, game over and thanks to his isolated position, that makes things harder than easy in my opinion. But the enemy acts pretty stupid everytime I fought them, they always do crap like attack you instead of killing Orran, giving you time to get to him and heal him. Bring your White Mage to heal the poor guy with "Curaga".

But there's a bright side: Orran has a attack called "Celestial Stasis". This attack affects only the enemy's units and gives them Stop, Immobilize and Disable, making the rest of the battle impossible to lose. But the attacks only works a 50% of the times so don't depend on that ability to win. But abesides that, there isn't a lot Orran can do to defend himself in this fight and he needs your help, badly.
Now, the enemy's team: It's crap. The Orator is squack in this fight, it isn't a threat at all. Those female Thieves can use "Steal Heart" on your male units and turn them against your gals. For the first time in the game, the Chemists are using Guns (better than yours, by the way) to attack you by Long Range with a 100% accuraccy attack and heal the enemy. A 50-50 team.
Now, your team: To kill those Thieves, bring our hot Paladin to kill them with a little bit of "Hallowed Bolt", send a female Ninja or Samurai to support Agrias. Your Dragoon/Thief must steal those Mythril Guns, steal them all, the more, the better, after send him to use "Jump" on the Orator. Ramza and Mustadio must go to protect Orran, "Chant" and X-Potions are your friends to heal him. Not a tough battle, you don't have a excuse to lose here except for Orran.
After Battle
[
]
Nothing exciting happens. Ramza and Orran talk a little after the battle and Orran leaves. I think this is a good chance to finish this page.