Hello, universe, It's God talking to you, I waste one good week of my godly existence writing the first page of this walktrough but finally we can see the actual second page, so let's begin the actual walktrough.
Opening
[
]
EmbedVideo is missing a required parameter.
After such a interesting opening (I always found those draws FMVs very good, it's a nice touch for this game), we are now in the world of Ivalice, if you have play Final Fantasy XII, you probably remember this place, well, this place no longer have any of those cool airships or battles Star Wars style, wich is kind of sad and the worst part of all: Basch is dead now, "If he is not the main character of this game, then who is our hero, Tenza?", patient, little boys, we will found out who is our hero in the next section.
The world of Ivalice was once in a huge war call the War of the Lions, according to the books of history, a man named Delita Heiral save the world from this Chaos but the history also says that there was another man, one man that was selfish and evil, that he was the one who start all this war, after such a good history, the old man who told the history ask you about your name and Date of Birth, write a decent name or at least the default because is hard to be a good character when you have a stupid name.
After the opening, you see a beautiful cathedral and now the characters forms change from cool draws FMV to those tiny sprites. You will see a princess praying, she should be careful, the last time in a FF that someone was praying, she got impaled by the Masamune. But whatever, we also see a old man who is talking to the princess, there's also the princess's bodyguard, she's not bad looking but I must separated pleasure from Walktroughs.
After some chat, enter a Dark knight (you would expect that he was cool but no) and his two students, it turns out that we are mercenaries, I was want it to be a hire sword but when the dark knight (now forever known as Gafgarion) and the good looking knight, Agrias Oaks were about to start fighting, a hurt soldier comes in, saying that were are under attack, what are we waiting for? Let's go to the first battle of the game!.
Remember when the old guy in the opening ask you about your name and your Date of Birth?, well the guy with the purple badass armor is our new hero and that's his name and his Date of Birth. I hope you keep the default name because that's how I'm going to call him in the Walktrough, also FFT gets the honor of haveing my first character box:
Playable Character: Ramza Beoulve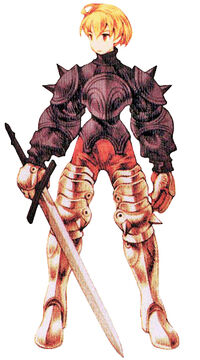 Zodiac Sign: You decide.
Special Job: Improved Squire.
Weapons: Knives, Swords, Knight Swords, Hammers.
Command Ability: Mettle.
Ramza Beoulve: Or whatever you call him gets the honor of being the first playable character who I'm giving this kickass character boxes and he is the hero of Final Fantasy Tactics. Ramza is one the best heroes in Final Fantasy, it's a man of honor who always tries to do right no matter the situations, even if he doesn't gain anything for his actions, Ramza will always do the right thing to protect everyone, as you progress in the story, you will learn to love Ramza.
Ramza's special job class is a improved Squire, that doesn't sound very good but Ramza is actually quite powerful with this job, he also has all the tricks of a regular Squire and his own personal moves (all to boost his stats and the stats of your units), he can equip all the equipment of a Squire with the equipment of a knight and his weapons, what makes him a lot stronger. Ramza is also one of the two characters in this game capable of learning Ultima, a powerful spell, Ramza has very good stats with this class, it can be a great physical attacker or a great mage. But Ramza is different from every other unit in the game, if Ramza is crystalized, it's game over and in every storyline battle, you have to use Ramza, so make him strong character. Because you have to use him in every storyline battle, it's the perfect unit to give the Dark Knight job, when you are done with him, he can be strongest warrior of your party if you follow my instructions step by step.
Ramza is overall, a great character, Gameplay and Stroryline Wise and you should know how to use it so he can become helpful through your journey.
You can also see this table to see Ramza's equipment and skills:
Ramza
Mythril Sword
none
Mythril Helm
Chainmail
Battle Boots
Mettle
'
'
'
'
After the first character box, we now have our first battle in the game:
Battle
[
]
Battle Number: 1
Ovelia's Prayer
Location
Orbonne Monastery
Foes
3 Archers, 1 Chemist, 1 Knight
Allies
Gaffgarion, Agrias, Ladd, Alicia, Lavian
Formation
N/A
Objective
Defeat All Enemies
Terrain
Grass, Stone
Geomancy
Tanglevine, Contortion
Difficulty
Easy
Recommended Level
Level 9
Enemies
[
]
Biggs
Longbow
none
none
Leather Clothing
none
Aim
Items
'
Reequip
'




Fuchs
Mythril Knife
none
Plumed Hat
Clothing
none
Items
Fundaments
'
Reequip
'




Lezalas
Iron Sword
Mythril Shield
Iron Helm
Chainmail
none
Arts of War
Fundaments
'
Reequip
'




Diesch
Longbow
none
Leather Cap
Leather Clothing
none
Aim
Items
'
Reequip
'




Wezlef
Longbow
none
Leather Cap
Leather Clothing
none
Aim
Items
'
Reequip
'



Allies
[
]
Gaffgarion
Mythril Sword
Golden Shield
Plate Mail
Close Helmet
Power Gauntlet
Fell Sword
'
'
'
'




Agrias
Mythril Sword
Mythril Shield
Golden Armor
Golden Helm
none
Holy Sword
'
'
'
'




Alicia
Iron Sword
Buckler
Iron Helm
Linen Cuirass
none
Arts of War
Fundaments
'
'
'




Lavian
Longsword
Escutcheon
Bronze Helm
Bronze Armor
none
Arts of War
Martial Arts
'
'
'




Ladd
Iron Sword
none
Red Hood
Ringmail
none
Fundaments
Black Magic
'
'
'



Strategy
[
]
A bunch of soldiers of the Order of the Northern Sky came here for Ovelia, our princess, and they dare to threat Agrias, I'm agree with Gafgarion, let's kill them all.
This battle is just a tutorial to teach you how to play the game, you can only control Ramza, so my advice is that you go and kill the Chemist first so the enemy can't heal themself, you can also see the swordskills of Agrias and Gafgarion, really cool, this battle is very easy because most of the enemies are Archers and they don't have the height on there side to be a threat. The other three units, Ladd, Alicia and Lavian are just physical attackers but Ladd knows Black magic, is not that powerful but is cool to watch.
After Battle
[
]
After we kicked some ass, a FMV happens, two in one page?, this game shows a lot of FMV you will think, but actually you will see them just in a few occasions, in a interesting note, this is the first of the two only FMV where you hear Agrias talk, not good, Square, not good, they should give her more lines:
EmbedVideo is missing a required parameter.
I must say that the voices of the characters in this game are quite good, Agrias's voice is the best one in my opinion, really good voice acting, apparently, that guy in the gold and red armor (cool outfit) that punch Ovelia (very gentle with the ladies) is Delita Heiral and Ramza seems to know him, what past does Delita and Ramza share?
We will found out in the next page!