I actually write the intro for this page but for some weird edit conflict, I couldn't add it, sorry. By the way, I'm TenzaZangetsu
Lionel Castle
[
]
Before you go to Lionel, you need to know something: There will be a series of battles in this place and if you can't win one battle, you'll be stuck there for ever. To not make that mistake, create a backup file, that way you won't have to restart the whole game. This is one of what I said: Duel with Gaffgarion and Ramza. And be sure to train Ramza to the greatest job (You choose). You might want to become a Dark Knight but you need more patience for doing that. This battle is not like the previous ones where Ramza fights with the entire team. In this case, it's Allies vs. Enemies and Ramza vs. Gaffgarion.
Battle Number: 20
The Chill of Defeat
Location
Lionel Castle Gate
Foes
Gaffgarion, 3 Knights, 2 Archers, 1 Summoner
Allies
none
Formation

  front        front
   X X   |  X X X X X X
   X X   |  X X X X X X
         |  X X X X X X


Objective
Defeat All Enemies
Terrain
Stone, Grass, Water
Geomancy
Contortion, Tanglevine, Torrent
Difficulty
Very, very, hard.
Recommended Level
Level 21
Enemies
[
]
Gaffgarion
Ancient Sword
Golden Shield
Close Helmet
Golden Armor
Battle Boots
Fell Sword
'
'
Beastmaster
'




Juliana
Coral Sword
Golden Shield
Golden Helm
Silken Robe
Battle Boots
Arts of War
Items
'
Reequip
'




Letita
Coral Sword
Golden Shield
Golden Helm
Silken Robe
Battle Boots
Arts of War
Items
'
Reequip
'




Theda
Coral Sword
Golden Shield
Golden Helm
Plate Mail
Battle Boots
Arts of War
Fundaments
'
Reequip
'




Esperaunce
Poison Bow
Golden Shield
Green Beret
Brigandine
Battle Boots
Aim
'
'
Equip Crossbows
'




Reynard
Lightning Bow
none
Wizard's Hat
Wizard's Clothing
Battle Boots
Aim
Items
Archer's Bane
Defend
'




Jeger
Mage's Staff
none
Wizard's Hat
Wizard's Robe
Battle Boots
Summon
'
'
Reequip
'



Strategy
[
]
Ramza goes into the Castle to let the rest of his party in but Gaffgarion has other plans and challenge Ramza to a fight while his own party attacks ours.
This fight is pretty tough but it's not like the one in Golgollada, this is one isn't a chinese torture. You will have two teams: One with Ramza alone against Gaffgarion while the other four will be against the Fell Knight's party. Ramza can join your party if he opens the door of the gate, it's in the right side of the door from Ramza's side, go there and select "Attack" to the switch and you'll open the gate. Gaffgarion will be there to use "Shadowblade" to stop you. Equip Ramza with the Blood Sword to heal yourself and hurt on your way to the switch.
The rest of your party is pretty much screw in this fight. Even with Agrias's Swordskills, you will have a hard time here. Those three Knights have Coral Swords, the best Swords of Chapter 2, those Archers can attack you from long spots while you can't do anything to them and finally the Summoners, they tend to be a pain in the ass on this Chapter. And because of the fact that your party is sorrounded by enemies and that makes things more hard.
Bring a White Mage to heal your units as a group, it's better than heal one by one. A yellow Chocobo's "Choco-Cure" is a great aid in this fight and Monk's "Chakra" too. Bring Knights in a high level, Black Mages with the three "Agas" Spell and Agrias using "Hallowed Bolt" to those Summoners. You can speed up your party with "Haste" and lower your enemy's with "Slow" if you have a good Time Mage. Your Dragoon/Thief can use "Steal Heart" on those female Knights to gain new allies. If you keep healing yourself until Ramza arrives, you'll be just fine, just don't kill Gaffgarion until you defeat the rest of the enemies.
After defeating all the enemies, let's focus on Gaffgarion. The guy has a Ancient Sword, a very powerful Sword that you want to have for the next battle since you won't be able to use the Blood Sword. Send Mustadio to use "Arm Shot" to disable the old geezer. After stoping the bastard's "Shadowblade", send your Dragoon/Thief towards Gaffy to use "Steal Weapon" as many times you need to get the weapon and the rest of the Steal abilities to get Gaffgarion's Golden equipment. You can use that time to get the crystals from the dead units and gain new abilities.
Once Gaffgarion dies, he will turn into a crystal but you can't learn "Shadowblade", bummer. This is the end of Gaffgarion, his dead, for good. Once you won the battle, you will get your money and you can save, remember save in your backup file.
Delita rescues Ovelia from her jail since he is working with the both Lions as a double agent without the knowledge of both sides. Ovelia doesn't want to be save by a bastard like Delita but she has no choice. Then The Northern Sky Forces comes to attack Bonny and Clyde. All I know is, they are in an ambush.
With this, Ovelia becomes a ally and Delita a playable character so it's time for a character box:
Playable Character: Delita Heiral (Bastard)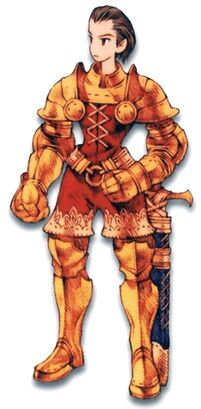 Zodiac Sign: Sagittarius.
Special Job: Holy Knight.
Weapons: Swords, Knight Swords.
Command Ability: Holy Sword + Chant.
Delita Heiral: Has become a bastard in this Chapter, seriously, this dude was nothing special before but now he has become a jackass. He will tend to manipulate everyone, it's not as annoying as the bastard but someone who you will like that much. As you can see the guy isn't one of my favorites characters but you may like him if you're someone who watch MTV.
But Delita could be the a perfect final boos for this game but for some reason, Square didn't use him. Why? You never know when it comes to Square.
As a playable character, Delita is a almost invencible unit. He is a Holy Knight, like Agrias but living aside the sexy voice of Agrias, Delita has almost perfect stats, there's only one character stronger than him in this game and you will meet him on Chapter 4. He has all the Holy Swords attacks of Agrias plus Chant. You will only use him a couple of times and none of those fights aren't that hard, what am I saying? Those fights are incredible easy!.
Delita is a sucky character but a amazing unit, so try to enjoy his super powers while you can.
Battle Number: 21
The Emptiness of Promises
Location
Zerchele Falls
Foes
1 Knight, 1 Archer, 1 Black Mage
Allies
Ovelia
Formation
none
Objective
Defeat All Enemies
Terrain
Stone, Grass, Water
Geomancy
Contortion, Tanglevine, Torrent
Difficulty
Easy as FFVII
Recommended Level
Who cares? This fight is so easy!
Enemies
[
]
Werner
Silver Bow
none
Red Hood
Ringmail
none
Aim
'
Counter Tackle
Concentration
Jump +1




Willielmus
Iron Sword
Round Shield
Iron Helm
Chainmail
Shoulder Cape
Arts of War
'
Parry
Reequip
'




Ellerete
Flame Rob
none
Red Hood
Hempen Robe
none
Black Magicks
'
'
Arcane Magicks
'



Allies
[
]
Ovelia

Mage's Staff
none
Celebrant's Miter
White Robe
Elven Cloak
Holy Magicks
White Magicks
Counter Tackle
Reequip
Move +1
Playable Characters
[
]
Delita
Defender
crystal shield
Golden Helm
Golden Armor
Germinas Boots
Holy Sword
divine ultima
first strike[[Media:Example.ogg--112.210.64.122 13:29, December 21, 2013 (UTC)
---
]]
Safeguard
Move +3
Strategy
[
]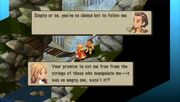 You don't actually need a strategy for this fight, is so easy. Send Delita to use "Hallowed Bolt" to those units when they are close and you can kill them by one attack. And if you don't manage to do that, it will take you another turn. Easiest fight of the game, no doubt.
After this battle, you can save your game again in your backup file. A very important note: Take off Ramza's Blood Sword and give him the Ancient Sword, that's very important.
Let's continue our search to destroy the Cardinal on the next page.