Since I'll be having texts the next two weeks, don't expect many edits from me, TenzaZangetsu.
Golgollada Terror
[
]
The next is one of the hardest fights in the entire game. Even if you're a expert in this game, you're going to lose a lot here, I almost wet my pants every time I have to fight there (no kidding), god, the horror... The hardest because of that damn Shadowblade of Gaffgarion, and that boy will just flee when he get killed and you need to kill all of the enemies!!
Leaving aside my childhood fears, this fight is pretty damn tough. Normally, I will let you use any kind of team but if you want to win, you will have to listen to me, carefully. First of all, since we can't return to Mandalia to train, you will have to train in Balias Swale. This place has many hard as hell enemies, be careful to not lose any important units. And of course you need a backup: have enough phoenix down when an improtant unit is KO'ed.
You need many things for this fight, I'll tell you what you need:
Ramza as a Squire, a Coral Sword and a mastered "Martial Arts" as a backup command.
Agrias should learn "Hallowed Bolt".
Mustadio must learn "Leg Shot" and "Arm Shot".
A Monk who knows "Revive", "Chakra" and "Counter".
2 Choices for you on these, you may choose one or even two of these, it will make the battle easier:
Your Dragoon/Thief must learn "Steal Weapon".
Your Knight must learn the "Rend Weapon".
In that case, when Gaffgarion lost his weapon, he can't use his "Shadowblade" and will fight you with his hand. NOTE: When stealing or rending Gaffgarion's weapon, make sure you are at the back of Gaffgarion for more chance of rending and getting his weapon. If you're in front of him, the less chance to get his weapon.
You might wanted reach Level 20 for this fight. After that, you're ready to fight in the Golgollada Terror (the horror)...
Battle Number: 19
The Fell Knight
Location
Golgollada
Foes
Gaffgarion, 3 Knights, 2 Archers, 2 Time Mages
Allies
none
Formation

X X X X X  |  X X
X X X X .  |  X X
  front      front


Objective
Defeat All Enemies
Terrain
Stone, Grass, Man-made
Geomancy
Contortion, Tanglevine, Tremor
Difficulty
The hardest battle in the entire game.
Recommended Level
Level 20.
Enemies
[
]
Gaffgarion
Blood Sword
Mythril Shield
Close Helmet
Wizard's Robe
Shoulder Cape
Fell Sword
Arts of War
'
Reequip
Lifefont




Gyles
Coral Sword
Golden Shield
Golden Helm
Silken Robe
Battle Boots
Arts of War
Fundaments
'
Reequip
'




Wymon
Mythril Sword
Golden Shield
Golden Helm
Plate Mail
Shoulder Cape
Arts of War
'
Parry
Reequip
'




Sigurdh
Mythril Sword
Mythril Shield
Mythril Helm
Wizard's Robe
Shoulder Cape
Arts of War
'
'
Reequip
'




Jeanne
Crossbow
Golden Shield
Green Beret
Wizard's Clothing
Battle Boots
Aim
'
'
Reequip
Jump +1




Hilda
Ice Bow
none
Wizard's Hat
Wizard Clothing
Shoulder Cape
Aim
'
'
Reequip
'




Isemeine
Oak Staff
none
Wizard's Hat
Hempen Robe
Shoulder Cape
Time Magicks
Fundaments
'
Reequip
'




Giselle
White Staff
none
Wizard's Hat
Hempen Robe
Shoulder Cape
Time Magicks
'
'
Reequip
Treasure Hunter



Strategy
[
]
We found our favorite princess about to get excecuted by a mysterious man but when our party comes in, it turns out that it was Gaffgarion and Ovelia is an enemy Archer in disguise. That bastard, let's kill him for some revange!
This fight is pretty heavy. Gaffgarion and his team are a very powerful group of units, you shouldn't under estimate anyone in this fight. You have to make two teams in this battle: As usual, one with Ramza and another with anyone you want. Add in Ramza's team, (if you have follow my instructions in the training section) Mustadio and a Monk Meanwhile in the second team, add your Dragoon/Thief and our dear Holy Knight, Agrias. So my strategy can work, you need to have those five units in those five positions.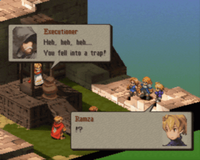 Gaffgarion's team is, as I said before, is pretty strong. In fact the strongest team you have faced until now. The Archers are the weakest enemy here but one of them still has a great power thanks to her Ice Bow (remember what happen with the Lighting Bow in the last fight) but the other Archer isn't a threat. You see those two Knights close to Gaffgarion? They are very powerful, their physical attacks can kill your weak units so don't try to bring them. Finally, the real deal, those Time Mages. You would think that Time Magic isn't very useful but you're wrong. If you let those Time Mages live, soon you'll be facing an enemy team who can move two times faster and you can only halve your speed, not cool. If you get to that point, just restart. Oh, I forgot about Gaffgarion. The rat bastard can use his old "Shadowblade" Swordskill to hurt your units and heal himself and he also has the Blood Sword as his weapon, which does the same effect of "Shadowblade", every time he attacks with that sword, he will heal himself with the same amount of damage.
With all that you will think that you're screwed, huh? Well, just follow my plan and this fight won't be such a horrible nightmare: Send Mustadio and your Generic Monk towards the Time Mage who is close to them, Mustadio can use "Arm Shot" to disable them and stop the boost to the enemy's speed. The Monk will have to support and protect Mustadio since our Machinist won't be able to survive on his own in this fight. Agrias will be on the second team (as I said before), remember when I told you to teach her "Hallowed Bolt"? Well, with that Swordskill, she can attack enemies, regardless of the height, that will help you to kill that Knight on top of Agrias and the Time Mage on his right if Mustadio hasn't disable her yet. Ramza should go kill those Archers, they might not be a major threat but it's better to get them out of your way soon, when you can't attack them use "Tailwind" and "Focus" to boost Ramza's stats.
That only leaves our rat bastard, Gaffgarion. After you defeat everyone, leave Gaffy for last so you can steal that Blood Sword off him with calm and you don't have to worry about the enemies, that's why I told you to bring your Dragoon/Thief. Use Mustadio to disable Gaffy and later send your Dragoon/Thief to steal that Blood Sword, it's a very rare weapon with a great effect. This is your only chance to get it in a battle of the storyline. Once you get the weapon, kill Gaffgarion, this is also a good chance to take the Crystals and Chests of the enemy's units once they get crystalized. You can also see some interesting dialogue between Ramza, Gaffgarion and Agrias if you bring the Holy Knight to this battle. Gaffgarion will run away once you defeat him.
One of the hardest battles of the game, might be the hardest one and you're going to lose a lot but you will feel very proud of yourself once you win, like me, after 167 tries, I freaking did it!
After Battle
[
]
We're now in Lionel, in Ovelia's jail to be specific. She then gets a visit from Delita who's trying to make his move towards Ovelia but she isn't on the mood right now (cold, man, cold).
Then enters the Cardinal and the guy who pay a mercenary to kill us in Dorter. They tell Ovelia that she isn't actually a princess. HOLD ON!! so you're saying that we were working our asses off, fight that battle of Golgollada, and all for a chick who is not even a princess? What a bunch of...I will calm down for the sake of the Walkthrough.
They also tell Ovelia that she isn't more than just piece for their plans and that her entire life is a lie, if Ovelia had any kind of personality, she would have a more interesting reaction. You're now back with Ramza's party, you can return to Lionel but you will have one final scene before going to face the Cardinal.
Lenalian Platue
[
]
We see the leader of the already dead Corpse Brigade, Wiegraf, watching his sister's grave, remember her? The one that you killed? Wiegraf is pretty upset and is ready to kill Ramza for revenge. Conveniently, a man comes in to make that exact same offer to him, Loffrey Wodring, a member of the Knights Templar, the Church's army (why a church will need soldiers? Maybe has to do with the age this game was based on). Wiegraf obviously accepts Loffrey's offer and we now have another enemy against us, boy, who isn't our enemy these days, huh?
With that done, I can finally put to rest this page.