TenzaZangetsu is pretty pissed off because the next week he has texts, so try to not disturb him.
Once you take the boat to Warjilis, an FMV will happen: <div> [[File:Final Fantasy Tactics (PSP) Delita's Warning|425 px]] </div>
If you don't understand this FMV too much, I'll explain for you: Delita is acting like a dick and tells Ramza to stay out of his way so he can be the hero. Well my friend are wrong. I mean, Ramza is on the cover of the game and you're just a secondary character (maybe a little more important in the plot.) Now let's move on.
In this shop you can buy weapons for your Ninja and Samurai if you already have those classes (probably not), and new staves and armor for your mages. You can also do a few errands with your generics coming from Warjilis to Goug several days to get the money and improve your units's levels.
Gaffgarion and Baert
[
]
With the help of Dycedarg, the Church of Gablados and the White Lion are allies and Gaffgarion has power over them, the Fell Knight is now planning something to finish Ramza and his party, that rat bastard.
Our dear friend Baert is talking to the Cardinal, who is tired of him and decides to give a reward for his "hard work" and that's how the leader of the Baert Trade Company dies. After the scene, you're back with Ramza in the World Map, go to the red zone if you're ready for the next fight.
Battle Number: 18
The Holy Knight
Location
Balias Swale
Foes
2 Knights, 2 Archers, 2 Black Mages
Allies
Agrias
Formation

X . X X X  |  X X . . X
. . X X X  |  X X . . .
. . . . .  |  X X X . X
  Front         Front


Objective
Protect Agrias
Terrain
Grass, Water
Geomancy
Tanglevine, Torrent
Difficulty
Medium, almost hard
Recommended Level
Level 17
Enemies
[
]
Boyle
Mythril Sword
Mythril Shield
Mythril Helm
Hempen Robe
Battle Boots
Arts of War
Aim
Parry
Reequip
'




Habreham
Coral Sword
Golden Shield
Golden Helm
Silken Robe
Shoulder Cape
Arts of War
Aim
'
Reequip
Lavawalking




Edithe
Lightning Bow
none
Wizard's Hat
Wizard's Clothing
Battle Boots
Aim
'
'
Reequip
'




Gylda
Longbow
none
Wizard's Hat
Wizard's Clothing
Battle Boots
Aim
Fundaments
'
Reequip
'




Wilham
Poison Rod
none
Wizard's Hat
Wizard's Robe
Shoulder Cape
Black Magicks
'
'
Reequip
'




Osric
Poison Rod
none
Wizard's Hat
Wizard's Clothing
Battle Boots
Black Magicks
Fundaments
'
Defend
'



Allies
[
]
Agrias

Coral Sword
Mythril Shield
Golden Helm
Golden Armor
Diamond Bracelet
Holy Sword
Arts of War
'
Reequip
'
Strategy
We found our favorite Holy Knight running from Delacroix's soldiers, we must go to support her and finish those scums (how they dare to insult my dear Agrias!? They're dead).
The goal of this battle is to keep Agrias alive which isn't very good considering how strong the enemy is.
Those Knights are going for Agrias since the very beginning and one of them is very strong thanks to the Coral Sword, the strongest Sword until now. The Black Mages are insanely strong as usual but thanks to the fact that they are separate, you can kill one while you send another unit to kill the other Mage. One of the Archers can be very annoying thanks to her Lightning Bow, which means that every time you get hit by that Bow, a Thundara Spell may appear to hurt you.
In this fight you have to make two teams: One with Ramza and another with just generics. Since Ramza is closer to Agrias, bring Mustadio and a backup unit (a Black Mage will be my choice). The other team is very far from the real action, bring units with high Jump, maybe your Dragoon/Thief and a Red Chocobo, if Boco already had one of those. Units like Knights and Monks are better in the first team due to their low Jump but actually, Archers are quite useful thanks to their long ranged attacks, try to use new classes like Ninja or Geomancer if you already have one of those classes.
When it comes to Magic Classes, a Time Mage will be nice to speed up your units and if you already have learned "Stop", use it to stop all the enemy's units, also, a White Mage can be a great asset to Agrias, "Protect" is specially useful. Mustadio can help you by disabling the enemy with "Arm Shot" so they can't use any action, especially those Black Mages. Agrias can be very powerful as usual with her Swordskills, killing everything with ease. You are going to lose a lot here, so try not to lose your patience.
After Battle
[
]
Ovelia is going to be executed and Agrias needs Ramza's support this will be your happiest day of your life (Because Agrias has a special job which is the holy knight: Recommended: Have the Hallowed Bolt, it's very strong.). With Agrias in our party, we have a new character box:
Playable Character: Agrias Oaks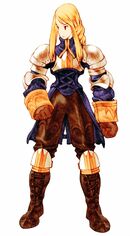 Sprites:
Zodiac Sign: Cancer.
Special Job: Holy Knight.
Weapons: Swords, Knight Swords and Bags.
Command Ability: Holy Sword.
Agrias Oaks: Is one of the hottest girls of the entire Series, I don't know why. Maybe because she make Ramza and Mustadio look like a couple of little girls selling cookies and there's something hot about that. And there's also that sexy voice of hers, hot. Square even created a copy of her, Beatrix, a proof of Agrias's hotness. Enough talk to being hot about Agrias, I think.. Yeah. I hope you already know it :).
As a playable character, Agrias is even better. You already know those nasty Holy Sword's attacks but you have been missing the best ones: "Hallowed Bolt" and "Divine Ruination", two attacks strong as hell. When Agrias learns all the Holy Sword's skills, teach her the "Attack Boost" Support Ability of the Geomancer class and the "Counter" Reaction Ability of the Monks so Agrias can become even stronger. You also need her for a couple of Sidequests, specially the Tynar Rogue one. And that's what I'm saying, don't dismiss Agrias's guards: Alicia and Lavian. You will need them to get the Tynar Rogue. Get it when it's Agrias' birhtday.
Now the page is done. We will continue in the next page with one of the hardest fights in the entire game. Not really, you just need to be trained.