I'm going to give you a advice in this page: Play FFVI!. If a RPG expert like myself, TenzaZangetsu, is telling you this, is because is freaking awesome, now let's continue this awesome walkthrough.
Battle Number: 16
Fen of Restless Souls
Location
Tchigolith Fenlands
Foes
Random (Ghosts and Skeletons tend to appear a lot)
Allies
Mustadio
Formation

X . X . X
X X X . X
. . . . X
  Front


Objective
Defeat All Enemies
Terrain
Swamp, Wood, Grass, Stone
Geomancy
Sinkhole, Tanglevine, Contortion
Difficulty
Easy
Recommended Level
Level 16
Enemies
[
]
Aisa

Ectoplasm
Sleep Touch
'
'
'
Strategy
Before you enter to this battle, teach Mustadio "Seal Evil" and you'll be just fine here.
This fight is actually a random battle, a bunch of mosnters which levels are average to yours, this is just a random fight and there isn't any human unit, making this fight so freaking easy. There is a new type of monster, the Ghoul, this monsters can Teleport (but this is the avergae Time Mage Teleport which don't allow him to move every where) through the entire battlefield and hit you but the problem is that those Ghoul aren't that strong and you will have no problem killing them, specially if Mustadio has "Seal Evil", thanks to that skill, he can petrify any undead unit and almost all the enemy's party is undead, you now get the idea, right?
This battlefield is kinda dangerous. If a unit move and stop on the swamp, they will lose a turn and they will get the Poison Status. Believe it or not, that's the most dangerous thing of this fight. For the first time in the Walkthrough, you have total freedom to choose your party, this can be a good chance to try new classes, like the Time Mage or the Geomancer. As usual, kill the enemies quickly so you can go to the next battle. Another thing is make sure your whole party have "Items" as their 2nd ability. This will help because of Phoenix Down. But actually is costs much but is good. It's an instant kill for the undead (if you don't know). But also I recommend you to bring Chemists here to have the ability to throw Phoenix Downs as well as Potions. You may also not choose Chemist but make sure have the ability "Throw Items" just by the items.
After Battle
[
]
You now have clear way to Goug, before you go, remove Mustadio's equipment andgive him the support ability, "Reequip", he will need that ability soon. When you enter Goug, nobody is in the streets, it looks like a ghost town. Mustadio will go to see his father and Ramza will take a look around the town.
After the scene, you're in the world map again. You can now buy items in Goug, this place has very good accesories, they can be very helpful in the future. When you try to go to another place, a battle will pop out.
Battle
[
]
Battle Number: 17
On Quiet Rooftops
Location
Goug Lowlands
Foes
2 Thieves, 2 Archers, 2 Summoners
Allies
Mustadio
Formation

X X X X X
X X X X X
  Front      


Objective
Defeat All Enemies
Terrain
Man-made, Stone, Grass
Geomancy
Tremor, Contortion, Tanglevine
Difficulty
Easy/Medium
Recommended Level
Level 16.
Enemies
[
]
Brice
Platinum Dagger
none
= Wizard's Hat
Wizard's Cloths
Battle Boots
Steal
Fundaments
Vigilance
Reequip
'




Anselm
Mage Masher
none
Wizard's Hat
Adamant Vest
Shoulder Cape
Steal
'
'
Reequip
'




Pelinne
Ice Bow
none
Wizard's Hat
Adamant Vest
Shoulder Cape
Aim
Fundaments
'
Reequip
'




Collys
Long Bow
none
Wizard's Hat
Wizard's Clothing
Battle Boots
Aim
Fundaments
'
Reequip
Jump +1




Banderon
Poison Rod
none
Headgear
Hempen Robe
Battle Boots
Summon
'
'
Reequip
'




Guston
Oak Staff
none
Wizard's Hat
Wizard's Robe
Battle Boots
Summon
Fundaments
'
Reequip
Treasure Hunter



Strategy
Mustadio hasn't come to the spot meeting and it turns out that the Baert Trade Company kidnapped him and his old man, Besrudio. Mustadio manages to escape but killers of the Company are after him (this seems Prison Break to me), now we must keep more ass and it also turns out that the Cardinal was working with Baert, that snake. Baert wants the Auracite in exchange of Mustadio's father, Ramza follows the order and after they take the Auracite, they still want to kill us, we're not going to let that happen, aren't we?
Let's rumble!
This fight is one of the hardest battle until now. When I was a kid, I lost so many times here that I almost destroyed my PS1. Why do I hate this battle so much? All the enemy's units here are very powerful and you can't take any of them lightly, specially the Summoners (you should know why by now).
Mustadio doesn't help either. Remember when I told you to strip his equipment and give him "Reequip"? If you don't take his equipment, he will still be naked and you'll lose armor for nothing, "Reequip" would help our Machinist friend to recover his equipment, that will happen if you're lucky, if you're not, Mustadio will try to kill the enemies with his bare hands, dying painfully.
Send your strongest units to this fight. Ramza can use his best attacks and skills to finish this battle, you know, stuff like "Aurablast" and "Shockwave". Your Knights and Monks will take care of damage while your Dragoon/Thief can use "Steal Heart" on the Summoners and "Jump" on the rest of the units. Black, Time and White Mages are all great ideas to support your physical units. If your Time Mage knows "Stop", you'll find this battle much more simple.
I already explained your unit's roles in this fight, now let's talk about the enemy units's roles: Those Archers will tend to find a good spot to hit you with "Aim", send one physical attacker (maybe Ramza) to end their lives. Those Thieves will use "Steal Heart" on your female units so don't bring them here. And finally, the real pain in the ass, the Summoners. Like the battle in Balias Tor, they can be very powerful, kill them quickly. Before finishing the battle, take that Platinum Dagger from the Thief with "Steal Weapon".
After Battle
[
]
Mustadio saves his father and tells Ramza that the Auracite that Baert take from us is fake and we still have the real one, nice, Mustadio. But now Ovelia and Agrias are in danger, Ramza and Mustadio must go to Lionel to save the girls.
With this, Mustadio joins our party as a playable character:
Playable Character: Mustadio Bunansa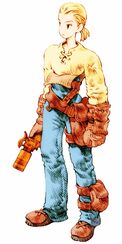 Mustadio Bunansa: Is one of the most incredible characters of this game for one reason: the guy doesn't have any kind of personality, none. Forget of Mustadio as a storyline character, which is kinda sad because he used to have potential to be a good character. In an interesting note, he shares the same last name with Balthier from Final Fantasy XII, the so-called leading man and another gunner of the series and Ivalice (only that he has a nose). But at least Mustadio has good taste on women, you will see that soon.
As a playable character, Mustadio is very good. He is a Machinist and he fights with a gun. His attacks are perfectly accurate and has a very decent attack. Talking about his stats, Mustadio is a light unit and he can be killed with just two hits, that isn't very good. His "Aim Shot" ability is very good, "Arm Shot" and "Leg Shot" are awesome movements to disable a strong unit when you're having a bad time.
When Mustadio learns all his Machinist's skills, turn him into a Chemist, he can still use Guns and heal your units from long range. You need to have Mustadio in your party anyway if you want to do pretty much every Sidequest in the game but soon you'll get someone who is far superior to him and he'll lose his position in your main team.
Now in our next page, we will have to save our very hot lady Paladin, Agrias.