Just do this thing, Tenza!
Battle Number: 13
Reunion with Delita
Location
Zeirchele Falls
Foes
Gaffgarion, 5 Knights
Allies
Delita, Ovelia
Formation

. . X X X
. . . X X
  Front      


Objective
Protect Ovelia
Terrain
Grass, Stone, Water
Geomancy
Tanglevine, Contortion, Torrent
Difficulty
Easy
Recommended Level
Level 12.
Enemies
[
]
Ywain
Longsword
Bronze Shield
Iron Helm
Hempen Robe
none
Arts of War
Aim
'
Reequip
'




Chamberlain
Mythril Sword
Round Shield
Barbut
Chainmail
Shoulder Cape
Arts of War
Items
'
Reequip
'




Davyd
Iron Sword
Bronze Shield
Iron Helm
Silken Robe
none
Arts of War
Aim
'
Reequip
'




Phillippe
Broadsword
Round Shield
Barbut
Hempen Robe
none
Arts of War
Fundaments
Counter
Reequip
'




Mansel
Longsword
Round Shield
Barbut
Mythril Armor
Should Cape
Arts of War
Items
'
Reequip
'



Allies
[
]
Delita
Coral Sword
Mythril Shield
Barbut
Plate Mail
Battle Boots
Holy Sword
'
Counter Tackle
Beastmaster
'




Ovelia
White Staff
none
Wizard's Hat
Wizard's Robe
none
Holy Magicks
Arts of War
'
'
'



Strategy
[
]
When the battle scene starts, Delita and Ovelia are surrounded by forces of the Order of the Northern Sky. When we are ready to enter to fight, Gaffgarion shows his true colors: he has been working with Dycedarg to capture Ovelia. Gaffagarion offers Ramza to join the Order of the Northern Sky but he will rather save Ovelia and Delita, let's do this thing!
Gaffgarion now fights for the enemy's party but you can turn him a totally useless unit if you have follow my plans of the last page, remember? When I told you that you must take off Gaffgarion's equipment and turn him into a White Mage with no spells? Well, Gaffgarion will fight against you with no equipment and abilities if you have follow my strategy, one attack of Ramza as a Monk and he is dead but unlike Generics units, he will teleport out of the battlefield because he is a storyline character.
After you kill the traitor, you won't have problem to defeat the other units, with Agrias and Delita (both Holy Knights) can kill all the enemies by themself, they are all Knights anyway. Ovelia has to survive this battle, that won't be a problem thanks to her wonderful ability, Aegis, a spell that gives any type of good status effects. This is a good time to train your weak units or use Boco if you really want to use him.
This fight is really easy and you won't have a problem to win with Delita, Agrias and Ovelia supporting you.
After battle
[
]
FMV time!
EmbedVideo is missing a required parameter.
Since I'm a bit tire, I'll skip the summary because the FMV explains the situation. Delita leave us and Ovelia joins the party as a ally:
Ally Character: Princess Ovelia Atkascha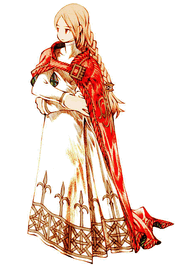 Sprites:
Zodiac Sign: Taurus.
Special Job: Princess.
Weapons: Staves, Bags
Command Ability: Holy Magicks.
Princess Ovelia Atkascha: Is the princess of this FF and the closest thing that this game has to a love interest (thing that makes me a happy TenzaZangetsu). I will say something about her personality but I never saw any kind of personality from her, Square was a bit sloppy with this character. She is like a more mature version of Alma, Ramza's sister.
As a playable character, Ovelia is a awesome unit. Her Aegis spell is truly a beautiful thing, just beautiful but even if Ovelia join your party, she won't participe it in future battles so strip her from all her equipment, that equipment is too good for a unit that you won't be able to use in the future.
Now that I finish this character box, we must go to the Lionel Castle but that will happen in the next page of this walkthrough.