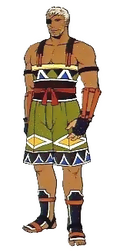 Vuroja is the team captain and midfielder of the Kilika Beasts.
At level 99, Vuroja is tied with Linna for the best PA stat in the game, as well as top-tier ratings in EN, AT, and BL. This makes him a perfect cornerstone for any team when playing at high levels.
In Final Fantasy X-2 Vuroja can be seen living in Kilika and taking part in protests against New Yevon, suggesting he is part of the Youth League.
Stats
[
]
Location
Kilika Port - Swimming near the ferry
Key Techniques
Anti-Nap
Nap Pass
Wither Tackle
Stats
[
]
| LV | 3 | 5 | 10 | 15 | 20 | 25 | 30 | 35 | 40 | 45 | 50 | 60 | 70 | 80 | 90 | 99 |
| --- | --- | --- | --- | --- | --- | --- | --- | --- | --- | --- | --- | --- | --- | --- | --- | --- |
| HP | 139 | 191 | 355 | 567 | 829 | 1,139 | 1,499 | 1,907 | 2,365 | 2,871 | 3,427 | 4,685 | 6,139 | 7,789 | 9,635 | 9,999 |
| SP | 60 | 60 | 60 | 60 | 60 | 60 | 60 | 60 | 60 | 60 | 60 | 60 | 60 | 60 | 60 | 60 |
| EN | 7 | 8 | 10 | 12 | 14 | 17 | 19 | 22 | 25 | 28 | 32 | 39 | 47 | 56 | 66 | 75 |
| AT | 6 | 7 | 9 | 11 | 13 | 15 | 17 | 20 | 22 | 25 | 27 | 32 | 37 | 43 | 49 | 54 |
| PA | 9 | 10 | 13 | 16 | 20 | 23 | 27 | 31 | 36 | 40 | 45 | 55 | 67 | 80 | 93 | 99 |
| BL | 6 | 7 | 8 | 9 | 11 | 13 | 15 | 17 | 20 | 23 | 26 | 32 | 39 | 47 | 56 | 65 |
| SH | 4 | 5 | 6 | 7 | 9 | 10 | 11 | 12 | 14 | 15 | 16 | 19 | 21 | 24 | 26 | 28 |
| CA | 1 | 2 | 3 | 4 | 5 | 6 | 7 | 8 | 9 | 10 | 11 | 13 | 15 | 17 | 19 | 20 |
See also
[
]